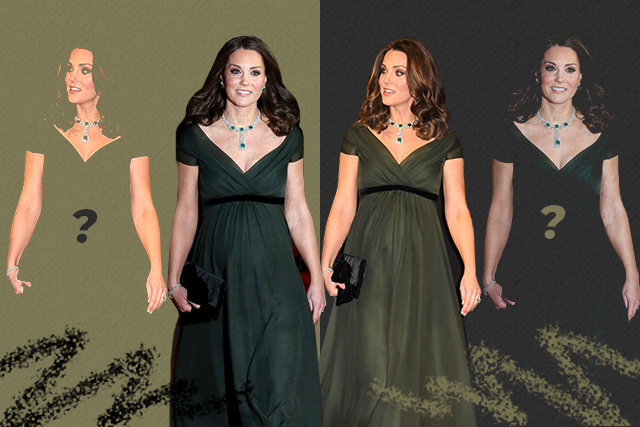 The BAFTAs was the latest awards show to implement a blackout in solidarity with the Time's Up movement. Stars like Angelina Jolie, Margot Robbie, and Lupita Nyong'o showed up on the red carpet in their best black dresses; many also wore Time's Up pins. Meanwhile, Duchess of Cambridge Kate Middleton is being criticized for not following the dress code.
The duchess arrived in a dark green Jenny Packham gown accessorized with a black sash belt and clutch. According to Elle, Kate "isn't allowed to show any political affiliation or bias" as part of the royal family. However, UNILAD noted that the Time's Up movement isn't affiliated to any political party, so Kate may face backlash for her outfit choice.
Either way, netizens had varying reactions to it. One emphasized that standing up against sexual harassment in the workplace isn't political, but something that women should fight against. Journalist Rachel McGrath also called out Kate for not wearing black for a few hours at the BAFTAs.
Disappointed in #KateMiddleton #DuchessofCambridge not wearing black to the #EEBAFTAs It's not a political thing. Its a woman thing! #TimesUp #StandTogether

— Nikki Long (@Nikki_L87) February 18, 2018
I know the Royals aren't supposed to get involved with "protests" or anything… but would it really have been THAT bad for Kate Middleton to wear black??? #BAFTAs2018

— Rachel McGrath (@RachelMcGrath) February 18, 2018
Meanwhile, many also defended Kate's decision and explained the strict royal protocol. Netizens praised Kate for choosing the dress that she wanted to wear. At the same time, finding a middle ground with the color and accessories to show support to the Time's Up movement.
I feel like even if it isn't techically a "political" stance, it's still controversial for a member of the Royal Family to make any statement whatsoever on issues like this. I think the black sash was her way of making a nod while remaining impartial.

— Madison (@themadisonanne) February 19, 2018
Ahhh nice to see the feminists out in full force tonight criticising Kate Middleton for having the cheek to CHOOSE whatever she wants to wear tonight! I think she looks gorgeous, this movement doesn't give you a right to dictate how people dress #Katemiddleton

— Siobhan Bennett ??‍♀️ (@shivversss) February 18, 2018
I'll tell you what's pissing me off. All this bullshit about Kate Middleton "snubbing" the black dress code at the BAFTAS.
LET. WOMEN. DECIDE.
If she wants to wear black – fine.
If she doesn't want to wear black – fine.
Mind your own chuffing business.

End of rant.

— Rachel Hawkins (@ourrachblogs) February 19, 2018
The Duchess of Cambridge has always been vocal with causes close to her heart. One is the Head's Up charity, which aims to end the mental health stigma. So it's understandable for people to question her stand on sexual harassment in the workplace.
But this also raises the question: Should an outfit choice define your stance in social issues?
Actress Blanca Blanco was also criticized earlier this year for wearing a red gown at the Golden Globes. To which she responded, "The issue is bigger than my dress color." She also got the support of fans, saying that the people who shamed her were part of the problem. And they made some valid points.
The issue is bigger than my dress color #TIMESUP

— Blanca Blanco (@blancablanco) January 8, 2018
https://twitter.com/cocomnay/status/950893568624939008
I think you look classy and elegant, & I am not sure why to some, a woman cannot be smart & attractive, and still make a point. If you felt good, that's all that matters. The haters are going to hate no matter what. They trip over the pebbles. Red = Passion! Bravo!!' pic.twitter.com/bW8VoILbUp

— Maximus-TheAmerican?? (@FranklinMan25) January 9, 2018
Maybe Kate did wear black accessories and a darker shade of green as a subtle nod to Time's Up without breaking protocol. It's also important to note that the Royal Family has spoken out about sexual harassment too. In the BAFTA's program foreword, Prince William referenced the movement as "a year when many brave people spoke up about bullying, harassment and abuse." Likewise, the Duchess of Cornwall Camilla has been an active voice against rape and sexual assault, and pledging support for victims since 2015.
What do you think? Should people give Kate Middleton a free pass for not wearing all-black at the BAFTA Awards? Or did she lose the opportunity to show her support to the cause?
Art by Lara Intong
Follow Preen on Facebook, Instagram, Twitter, and Viber
Related stories:
Emma Watson and Other British Actors Sign an Open Letter to Their "Sisters"
Kate Middleton Wears Princess Diana's Favorite Tiara and People Get the Chills
A History of the Royal Family as Told Through Tiaras
#TimesUp: This is Why Celebrities Wore Black to the Golden Globes