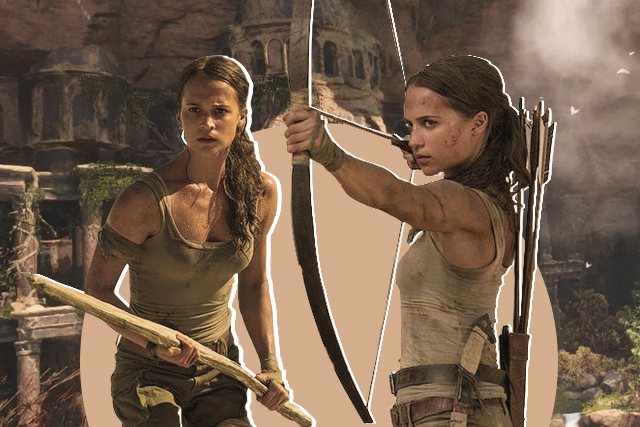 Ever since watching the trailer for the reboot of Tomb Raider,  I was looking forward to see how Alicia Vikander would carry out the role of Lara Croft. We've seen Alicia play different roles from drama to action, but this looked like a physically challenging role. I was able to catch the last full showing of the movie last night and I was impressed by Alicia's badass moments. From running through the forest and fighting off bad guys in the dark, she did it all. If you've already seen the film, here are some of our favorite action scenes.
Chasing thieves
While searching for the man who sold a boat to his father in Hong Kong, Lara encounters a group of thugs. At first they pretend to help her only to snatch her backpack right after. In true Lara Croft fashion, she chases them through the docks, weaving through a crowd of people, and jumping from boat to boat.
Walking on the wing of an airplane
After thrashing through a river, Lara manages to save herself from falling down a waterfall by clinging to an abandoned airplane. The plane, however, is breaking down from the rust so she has to carefully walk on its wing to get to safety.
Racing through the tomb
Just like any treasure hunt-like movie, the tomb or underground ruins always falls apart in the end. As the structures and bridges start to crumble, Lara has to make her way to the exit. With just a hook-like tool in hand, she manages to leap through the air and make it out just in time.
Jumping off a boat
While traveling to the island to find out what happened to her father, their boat went through a storm. The boat was being torn apart by the waves and rocks. To save herself, she had to jump off the boat and into the sea. She then braved through the storm and swam to the shore of the island. This scene was too intense.
Art by Faith Endaya
Related stories:
Alicia Vikander Replaces Angelina Jolie in New Tomb Raider Film
Here's the Problem With Kobe Bryant's Oscar Win
The Shape of Water Is Worth the Hype
An Open Letter to the Rise of LGBT+ Films