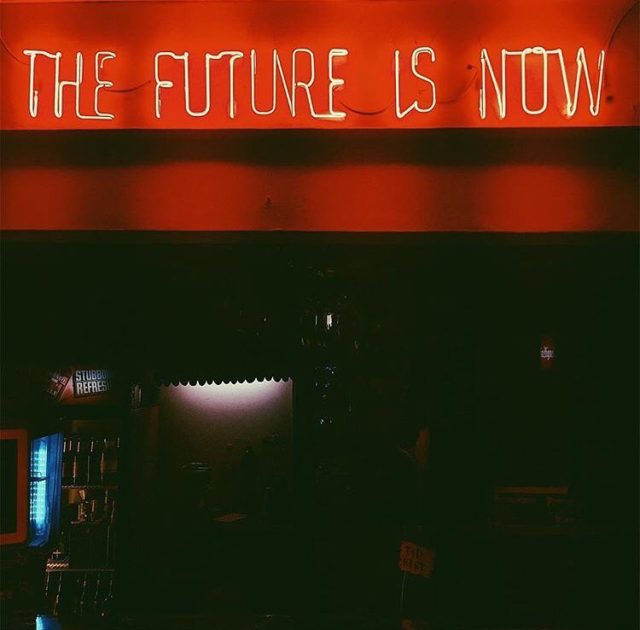 Social media unofficially dubbed Today x Future, a bar in Quezon City, a safe space for anyone to have fun and be themselves. This mostly rings true to the LGBTQ+ community that frequent the place. But that changed overnight when a group of people accused one of its promoters, Austin Castañeda (AKA, DJ Kill Your Boyfriend), of sexual harassment and assault.
The claims began with Twitter account @MeToodayxFuture. Based on their tweets, it seems it's handled by a group of people who were victimized by Austin. "How can TxF keep presenting itself as a safe and LGBT-friendly space when one of its owners is a f*cking perv?" they said in an initial tweet. What followed were a series of testimonies from TxF regulars, dating as early as 2012. These ranged from unwanted sexual advances to physical assault.
— Make the Future safe again! (@MeTooDayXFuture) March 15, 2018
Apparently, this has been going on since 2012. Aside from this one, we also have a couple of other stories from that time. This should stop. pic.twitter.com/IAoRRxY06Y

— Make the Future safe again! (@MeTooDayXFuture) March 16, 2018
He has female victims too. pic.twitter.com/QOvKchuwJ3

— Make the Future safe again! (@MeTooDayXFuture) March 16, 2018
According to several victims, it mostly happened when Austin became drunk. But some alleged that they they were harassed while Austin was still sober.
Ayan na. He can't keep using drunkenness as an excuse, especially if he does the same things when he's sober too. pic.twitter.com/HoTjNsAyZe

— Make the Future safe again! (@MeTooDayXFuture) March 16, 2018
They also pointed out that Austin would allegedly threaten to ban people from TxF if they turned down his advances.
A common factor among several of these testimonies is the claim that Austin has threatened to ban his victims from the Future if they don't comply. He does this jokingly, of course, but it surely has discouraged many of these people from confronting him. pic.twitter.com/Z7GFiP0KGd

— Make the Future safe again! (@MeTooDayXFuture) March 16, 2018
Austin using his status as a threat: Exhibit A pic.twitter.com/etkhBGTnCU

— Make the Future safe again! (@MeTooDayXFuture) March 16, 2018
Sadly, this doesn't just happen in TxF. These incidents would also happen in other bars where Austin was present.
Tsk tsk tsk pic.twitter.com/jQV4SK5VeE

— Make the Future safe again! (@MeTooDayXFuture) March 15, 2018
More evidence of physical violence after the victim's refusal to comply pic.twitter.com/LBpmMsUdYX

— Make the Future safe again! (@MeTooDayXFuture) March 16, 2018
Since @MeToodayxFuture went live, Today x Future released a statement on their Twitter account saying that they're handling the situation internally. The bar's staff was also accused of being complicit of Austin's actions. According to one victim, being harassed and assaulted by this man is "like an open secret" to many people who went to TxF.
We recognize the severity of this situation. We are dealing with this internally and are taking steps to address this issue properly. Please know that this pains us in every way but are determined to make things right. Thank you for your continued support.

— TodayxFuture + Futur:st (@TodayxFuture) March 16, 2018
Likewise, Austin posted his own apology. "I've been working on dealing with my drinking problems ever since. I am sorry for making you feel unsafe and uncomfortable around me. Drinking is not an excuse. It just really worsens the habit and brings out the worst in me, which I never, ever really intended to do," he said. He ended his post by saying he will deal with the matter privately. We've also reached out to Austin for additional comments.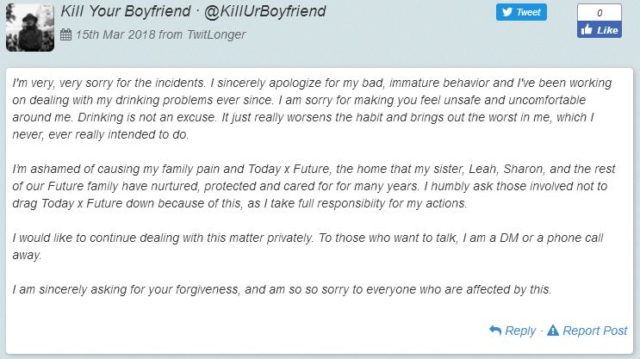 It's true that drunkenness is never an excuse for such actions, but he also didn't address the allegations of his actions while he was still sober. Also if there were efforts to fix the problem, then how come there are accounts from 2012 until today? If no one spoke up then these allegations wouldn't be addressed by Austin.
You can also clearly see how power played into this—"I'm a promoter, I'll get my way." Victims couldn't speak up in the past because of his status. But what about the staff? Did they not speak up because they didn't know or because he's a well-known figure in their circle?
That said, fellow DJ Paulo Castro also released a statement. He apologized for not seeing the problem with Austin as he was "focusing on a different problem, and was not aware of this." He added, "What I can tell you now is that Poison will be meeting to discuss the necessary actions to ensure that we keep our spaces safe."
— Paulo Castro (@pawawawofficial) March 16, 2018
As of writing, there are no updates on Today x Future's end and what they'll do. We also reached out to @MeToodayxFuture for comment.
No one deserves to feel unsafe in any public place. No one is encouraging people to stop going to Today x Future, but if this problem is unresolved, the people's trust will diminish. Austin should be held accountable for his actions for the sake of the victims and the others affected by them.
Photo courtesy of Today x Future's Instagram account
Follow Preen on Facebook, Instagram, Twitter, and Viber
Related stories:
Women vs. Sexual Harassment: Here Are the Laws You Should Know
The Rise of Sexual Harassment Accusations Is Not a Witch Hunt
What Are the Effects on Women Who Come Forward About Sexual Assault?
Social Media Brought Down the Local Artist Who Preyed on Minors
READ: One Woman's Story Against a Local Artist Who Allegedly Groped Her