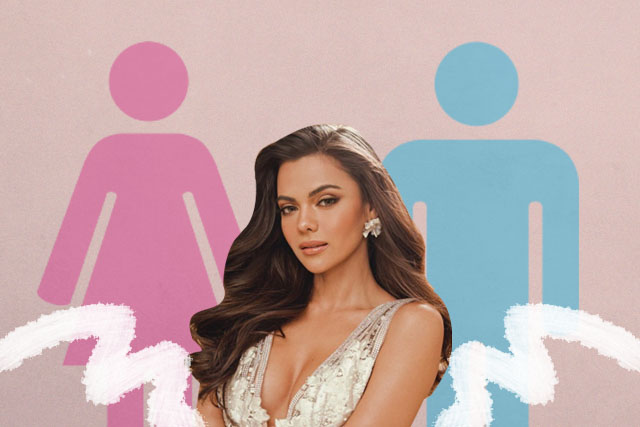 To recap, Bb. Pilipinas-Intercontinental 2018 Karen Gallman is being criticized for her stance on transgender restrooms. She said during the Q&A, "I definitely agree that there should be a third restroom for transgenders because as women, we would also want our privacy, and also with men. We have a separate room for the transgenders. It just serves as equality, [privacy.]"
She later posted on Instagram that if she could change her answer, it would be: "Yes I believe there should be a third restroom for transgender. However, only as an alternative, for those who are yet to fully embrace such a transitional change. Everyone is equal no matter what shape, sex, religion or race but in today's world, it's upsetting that we still have discrimination."
We hate to break it to you, but both her statements are problematic. Karen is speaking for equality but her responses don't seem to reflect that. That said, we've broken down her answers and clarified why this can be troubling for the trans community.
"I definitely agree that there should be a third restroom for transgenders because as women, we would also want our privacy, and also with men."
First off all: No, transgender people don't need a separate restroom. Second: They won't intrude anyone's privacy. Being transgender or transsexual means that one has a different gender identity and expression than what they were assigned at birth. If they identify as male or female, then why do they have to use a restroom assigned for what's implied as "the third sex"?
According to Lambda Legal, using restrooms that correspond to their gender identity is 1. an essential part of their transition and 2. gives them the right to live as normal people in society and doesn't make them feel ostracized.
"We have a separate room for the transgenders. It just serves as equality, [privacy.]"
There's nothing equal about isolating transgenders. BBC reported in 2016 that a transgender woman was kicked out from a bar's restroom because she didn't look feminine enough. She was later forced by the staff to use the handicap restroom. That's about the same concept as what Karen was saying.
Designer Martin Bautista weighed in on Karen's response. "I don't think a third restroom is the answer to solve the issue. We can put up 'gender neutral' bathrooms instead. With this, we aren't putting more labels at all."
"However, only as an alternative, for those who are yet to fully embrace such a transitional change."
This shouldn't be seen as an alternative, it should be a must. Many are already embracing this change by putting up gender-neutral restrooms. In 2015, some local airports started constructing said restrooms. The following year, Ateneo de Davao did the same for their LGBT students. Other examples include Resorts World Manila and the portalets during the Yes to Equality rally last Saturday.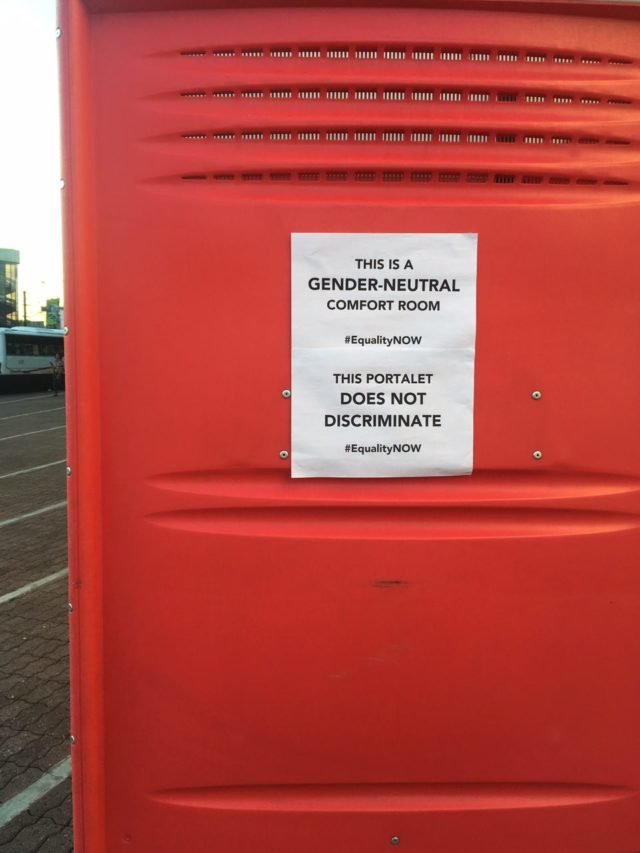 On the other hand, this statement may also be alluding to people who judge or, worse, harm transgender people. But CNN reported that countries and cities that have anti-discrimination laws have lesser incidents of public violence in restrooms. So it will be a huge help too if Karen would support the Anti-Discrimination Bill (SOGIE Equality Bill) if she wants equality for the trans community.
"Everyone is equal no matter what shape, sex, religion or race but in today's world, it's upsetting that we still have discrimination."
No one should adjust for the people who discriminate. Yes, it's upsetting that they exist. But if you want to fight for equality, do it for those who are struggling; those who are receiving the short end of their rights. Don't fight discrimination with another discriminatory act.
Art by Faith Endaya
Follow Preen on Facebook, Instagram, Twitter, and Viber
Related stories:
People Aren't Happy With Karen Gallman's Views on Transgender Restrooms
Debunking Some Misconceptions About the SOGIE Equality Bill
Clubs Don't Give a Damn About Your Gender
LGBT Terms We're Not Getting Right