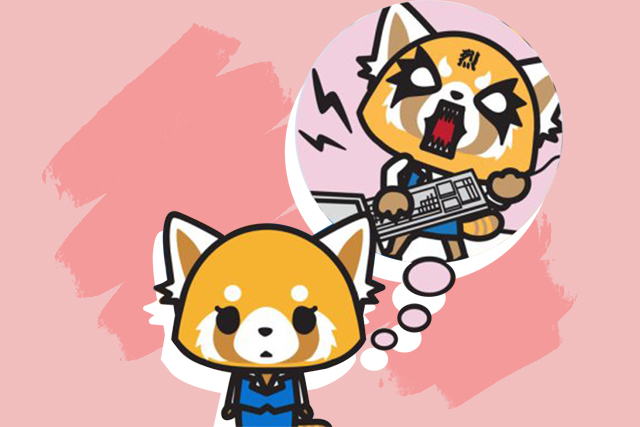 Growing up, Hello Kitty was probably your favorite Sanrio character. She's cute, sweet, and dresses pretty well too. Some even consider her a celebrity. Little did you know, however, you would actually grow up to become another Sanrio character: Aggretsuko.
Not familiar with who she is? According to Sanrio, she's a red panda who is 25 years old and "works as an office associate in an accounting department." Just like everyone else in the world, she deals with stress and frustration. And she blows off steam in an interesting way: Heavy metal karaoke sessions.
She was first introduced in May 2016 but because of her popularity she now has a show on Netflix and we can relate. There are 10 episodes that show her mostly at work but there are scenes out of the office as well. You'll see how she transitions from taking things head on but ultimately being filled with rage. And we totally get it. Her heavy metal songs are a bit of a stretch but we can definitely relate to how she feels towards certain situations. Keep reading for some of our favorite moments from the show.
When you're the only one left at the office
When a project gets delayed… and it isn't your fault
And just when you're about to leave, this happens
Us on Friday afternoon
We know, photocopying isn't for everyone
Dear saleslady, please leave me alone
Heading back to work after a split second of rage
When you're not sure how you feel about your day
Just, no
Follow Preen on Facebook, Instagram, Twitter, and Viber
Related stories:
Sanrio's Newest Character Aggretsuko Is All of Us
Four Work Terms We Should Really Retire
Hello Kitty Is More Than Just a Character, She's a Celebrity
Would You Buy Makeup Inspired By Your Favorite Cartoon Characters?