Twitter was buzzing last night because of the small debacle involving Ellen Adarna and a high school student. Last night, the former shared on Instagram Stories that a girl was allegedly taking a photo or video of her in Mendokoro Ramenba, a famous ramen place in Makati City. "When you PAP us, we PAP you. It's a tie. #PAParazziMoves," she wrote.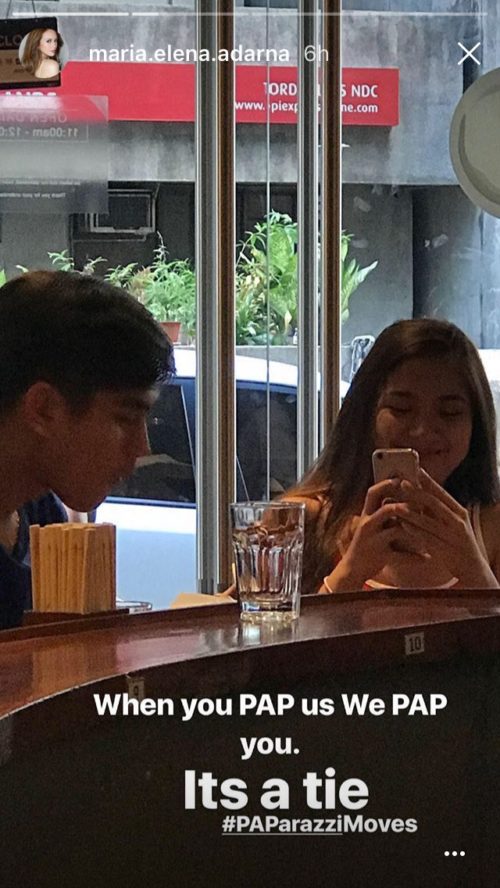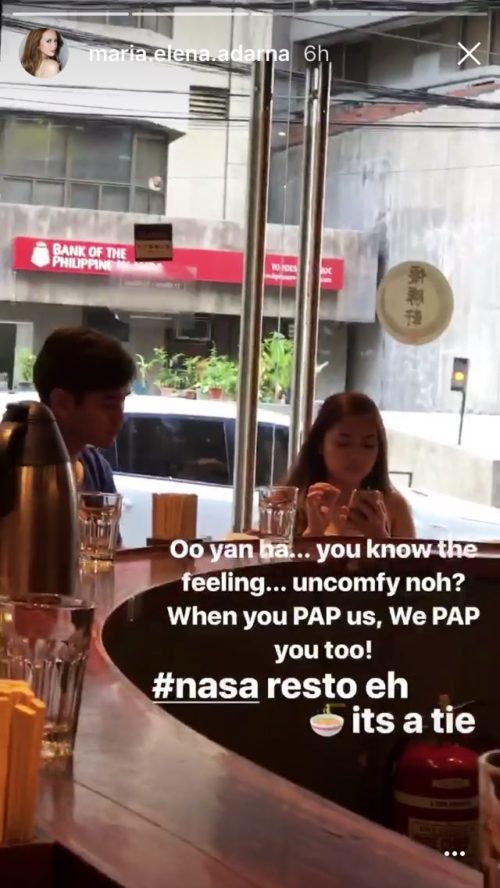 But then the girl in the video, whose real name is Eleila, reacted via Twitter, saying that she was simply taking a video of her ramen and the interiors of the restaurant. You can also see Ellen from across the counter with her phone pointed at the girl's direction.
sarap pa rin ramen! although it's just wrong to assume things pic.twitter.com/kUR2gM1gVa

— Eleila (@Eleiluh) May 4, 2018
Ellen then took to Instagram Stories (again) to call out the girl. "Your reaction in the video that I took explains it all. Like, you looked so guilty, you didn't even know what to do if you should pick up your chopsticks. You looked so conscious because you panicked, because I was doing what you were doing," she said in a video. "Girl, you can deny all you want but before your food arrived, you guys knew what you were doing. But whatever, feeling na kung feeling pero 'di kami tanga." (We're not fools.)
Ellen also insisted that Eleila was rude and that she wouldn't include the people in the background, or even the interiors, if she meant to only take a video of her food. She said that it's not a big deal but at the same time, she also tagged the owner of Mendokoro Ramenba and their neighbor, Elbert Cuenca, to hopefully provide CCTV footage of what happened.
"So you can justify what you want to justify, and I can do what I want also because I am patol like that," she said. "Girl, you can stop acting like a victim and know that there's always two sides of the story, and people will always choose a side. You can deal with your bashers because me, I can handle them pretty well."
True enough, Eleila received some backlash from her tweets. But that didn't stop her from standing her ground and further explain her side. She also replied to a couple skeptical fans.
Another, that was the only video that I took when we were eating. It isnt that I did not know what to do but I only fixed the SPOON that was placed in my bowl because it was going to fall off and then I posted my story 🙂

— Eleila (@Eleiluh) May 4, 2018
I don't follow her in any social media account so I was really surprised when we were on her story. Di lang din naman siya yung tao sa story ko andun din si kuya ramen chef na nagluluto kasali rin. And how was that a body language response?

— Eleila (@Eleiluh) May 4, 2018
If I knew I was at a fault I would admit it pero yun nga I really had no clue na nasama pa pala siya sa story ko if my story was inappropriate for her she couldve confronted me in the restaurant

— Eleila (@Eleiluh) May 4, 2018
I have no problem at all if she gets a cctv of what happened i hope you see that the video that I took wasn't even focused at her. I took a video of the restaurant even other people were in it. what she did is also illegal since we're minors, it's said upon the law.

— Eleila (@Eleiluh) May 4, 2018
Hi I don't see the big issue with in din naman kasi clearly seen in the video na di ko alam she was taking a video of me. I didn't panic or anything cause I had no clue. If I had I would be definitely bothered by it.

— Eleila (@Eleiluh) May 4, 2018
So… that was interesting. What are your thoughts on the whole situation? Did Ellen successfully pull a Cole Sprouse/Camera Duels snap, or did she wrongfully accuse the customer? Our comments section is open for reactions.
Photo courtesy of Ellen Adarna's Instagram account
Follow Preen on Facebook, Instagram, Twitter, and Viber
Related stories:
How Many Ways Can Ellen Adarna Hide Her Baby Bump?
Did Ellen Adarna and John Lloyd Cruz Hint About Their Wedding?
Ellen Adarna Wants to Have a Baby at 30, No Husband Necessary
How Ellen Adarna Doesn't Miss a Single Gym Day