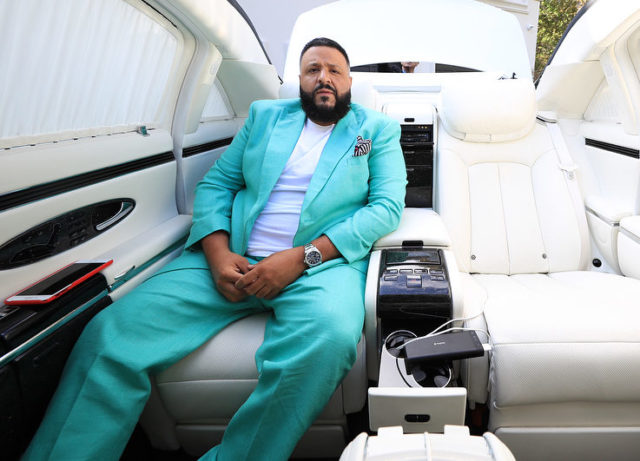 News flash: DJ Khaled admitted to not performing oral sex, but expects it from her because he thinks he's "the king." Meanwhile, Dictionary.com tore him a new one by placing him under the definition of "double standard."
Double standard. A code containing different provisions for one group of people than for another, especially an unwritten code of sexual behavior permitting men more freedom than women.

See also: DJ Khaled? ? https://t.co/OISC53qTde https://t.co/AeAg5pl84T

— Dictionary.com (@Dictionarycom) May 4, 2018
But the sentient dictionary isn't the only one coming (pun not intended) for the rapper. Actress Evan Rachel Wood and singer Richard Marx told him that he's "missing out."
https://twitter.com/evanrachelwood/status/992513906139512832
1. He's missing out. 2. I bet some other guy isn't. https://t.co/pvUzRTPToK

— Richard Marx (@richardmarx) May 4, 2018
Many netizens have tweeted hilarious reaction images and videos to represent Khaled and his wife.
dj khaled's wife: pic.twitter.com/mE1KQs545X

— nathan zed (@NathanZed) May 5, 2018
https://twitter.com/scholaurship/status/992549812099837953
*dj khaled's wife trying to put his head between her legs*

Him: pic.twitter.com/vdyTpju2MW

— KHADI J BLIGE (@KhadiDon) May 5, 2018
https://twitter.com/AllDefDigital/status/992559633934897152
Comedian Billy Eichner and YouTuber Andrea Russett sent "thoughts and prayers" for his wife (and her vagina).
Sending thoughts and prayers to DJ Khaled's wife's vagina.

— billy eichner (@billyeichner) May 4, 2018
LMFAOOOO y'all say a prayer for dj khaled's wife ??‍♀️?? https://t.co/YpzajQVXGK

— Andrea Russett (@AndreaRussett) May 4, 2018
All jokes aside, many also called out DJ Khaled's misogynistic views. Aside from not performing oral sex, he believes that "the woman should praise the man." He also said, "My way of praising is [asking,] 'How was dinner? Do you like the house you're living in? You like all the clothes I'm getting? I'm taking care of your family and I'm taking care of my family.' You know, [I] put in the work." Do you want a cookie for that?
https://twitter.com/JeffreeStar/status/992610663158562816
Dj Khaled got some growing up to do, some misogyny to shed and some ass to eat. #YouPlayedYourself

— Rahul Kohli (@RahulKohli13) May 5, 2018
If oral sex isn't DJ Khaled's thing, WHATEVER, but professing that you withhold sexual pleasure from your wife because you support her financially is misogynist and suggests an abusive mindset.

— Emily Lindin (@EmilyLindin) May 4, 2018
Dj Khaled said "my praise to her is "did you like that dinner? Do you like this house? This car? The clothes?" It made me gag because a lot of rich men think you owe them your body and soul when they buy you shit. They're the first to offer to do it, then act like you owe them.

— Arya✨ (@StoveAllergy) May 4, 2018
What's the lesson here? For starters, a woman—most especially your wife—is not an accessory, nor is she an object for your sexual desires. Don't be a d*ck like DJ Khaled.
Photo courtesy of DJ Khaled's Instagram account
Follow Preen on Facebook, Instagram, Twitter, and Viber
Related stories:
Lack of Sexual Education and Awareness Goes Beyond Unwanted Pregnancies
What Are the Three Moves to Make a Woman Orgasm?
"Likes to Give Oral Sex:" A Closer Look at Josh Duggar's Sad Sexual Fantasies
WATCH: Kendall Jenner, Mary J. Blige, and Justin Timberlake Sing "Where Is The Love?"