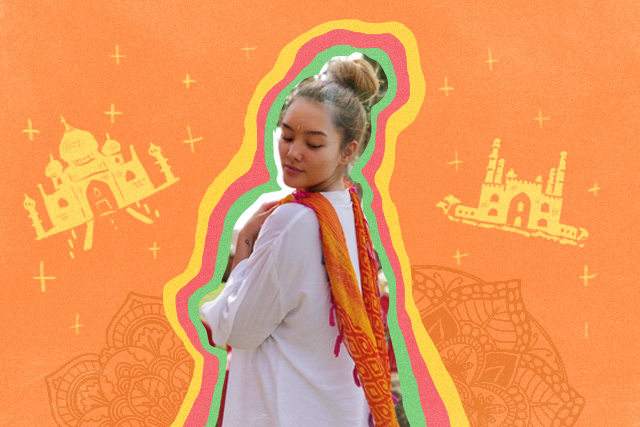 Summer isn't over yet so you still have time to book your next vacation. How about a few days in India? Not many people visit this Asian country but Lauren Reid was there recently and she shared her experiences on Instagram. As expected, she marveled at their architecture, posted about the food she had, and also talked about keeping the sarees she wore. She posted, "On second thought I might keep the sarees na lang! This blue one was my favorite. The locals were even asking me for photos!"
With each photo, she wrote some facts and tidbits that would help anyone planning a trip to India anytime soon. If you need more convincing, check out Lauren's suggested spots to check out.
Delhi
Delhi is India's capital territory and the streets are lined with food carts, sweet shops, and spice stalls. Here, she picked up a hand-embroidered denim jacket "depicting an elderly woman from the Arunachal Apatani tribe in North Eastern India."
Akbar's Tomb
Lauren visited the tomb of Mughal Emperor Akbar. It is built in an area covering around 119 acres in Agra City. When you enter the gateway of the fort, you will see gardens and different animals like monkeys. In the photo that Lauren posted, you will see the architectural design of the structure and the colorful patterned ceilings.
Taj Mahal
An obvious must-see in India is the Taj Mahal. Considered as one of the wonders of the world, this structure is made of white marble and red sandstone. "The Taj Mahal was built by the famous Mughal emperor Shah Jahan in memory of his beloved wife Mumtaj Mahal." Aside from the structure itself, there is also a reflecting pool with fountains.
Jaipur
Lauren also spent some time in Jaipur. It is the capital of India's Rajasthan state and there are many things you can do while you're there. Lauren had proper Indian meals, mehndi drawn on her hands, and visited the city palace.
Chand Baori
Another tourist attraction is Chand Baori, which is a stepwell that was built over a thousand years ago. Lauren also shared a fun fact about the place on Instagram. "The Chand Baori was the prison location in Dark Knight Rises (2012)."
Art by Marian Hukom
Follow Preen on Facebook, Instagram, Twitter, and Viber
Related stories:
Lauren Reid Goes on a Haiku-Writing Spree In Japan
A Celebrity-Approved Guide to London
What I Learned From Traveling Solo 2.0
Mapping Out Italian Landmarks With Seve Soriano and Olivia Reyes