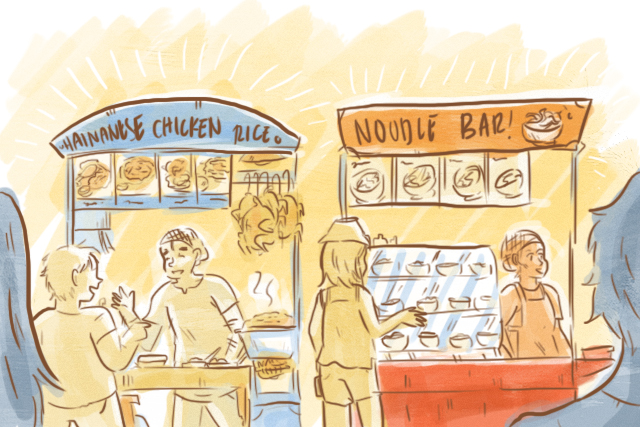 I visited Singapore for the first time last week and aside from the numerous malls and shopping destinations, I enjoyed the food. There were many cuisines to choose from like Chinese and Japanese so I wanted to try a little bit of everything. My family and I didn't eat anywhere fancy and just went for in convenient places called hawkers that offered delicious food. These ranged from Hainanese chicken rice to big servings of curry. We also went to different dessert spots because that's always the best way to end the meal. Now that I'm back in Manila, I wanted to share some of my favorites with you guys so you have a list to refer to if you ever find yourself in Singapore.
Tian Tian Hainanese Chicken Rice
One of the dishes I was looking forward to eating on this trip was Hainanese chicken. I've had it before but I was excited to try the authentic one in SIngapore. We had a few Hainanese chicken meals but my mom took us to Tian Tian located in a hawker close to Chinatown. This food stall originally started in 1987 and has received several awards, including the Michelin Bib Gourmand. There was a line when we got there but the staff moved so quickly that we didn't have to wait long at all. The rice was fragrant, the chicken was soft, and the sauce was flavorful. Located at 1 Kadayanallur Street, #01-10/11 Food Center, Singapore.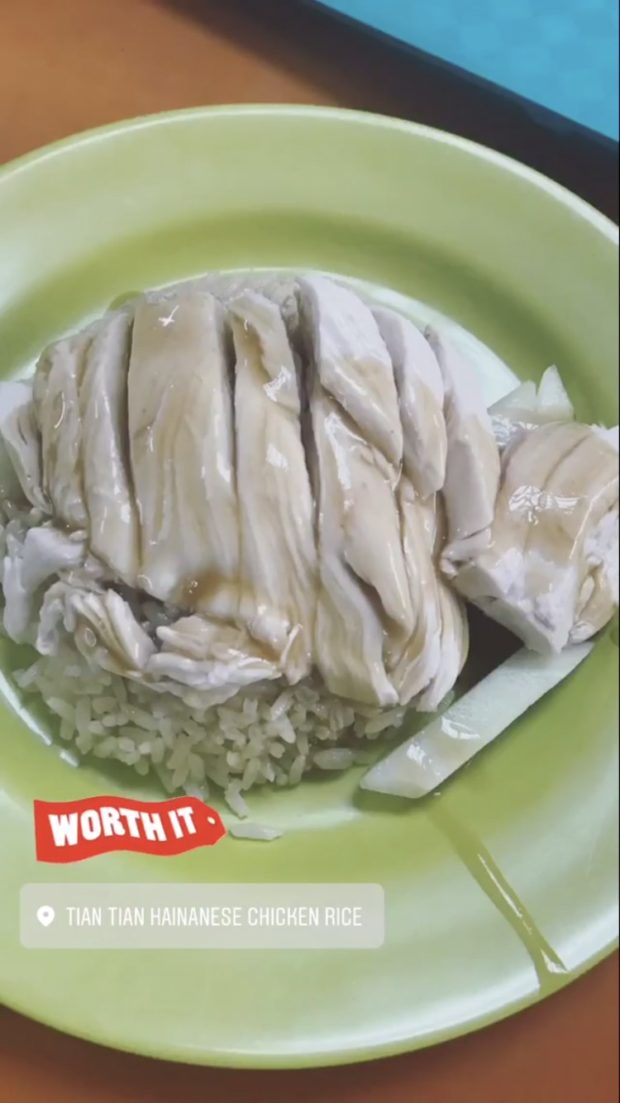 Fantasy Desserts
When I travel, I always try to find different ice cream spots to try. My favorite find on this trip was Fantasy Desserts in Orchard Gateway. What first caught my attention was the facade of their stall as it was covered in polka dots. Looking at their menu, they offered more than just ice cream. They had sorbet, eggettes topped with gelato, milkshakes, and frozen yogurt cones covered with cotton candy. They also had many flavors to choose from but I picked cookie, cake & bits, which came in a black color. The lady gave me a generous serving and added gold sprinkles and a star cutout. It had a creamy consistency and big chunks in it too. I enjoyed it so much that I went back a few times. Located at 277 Orchard Road, Orchard Gateway #01-15, Singapore.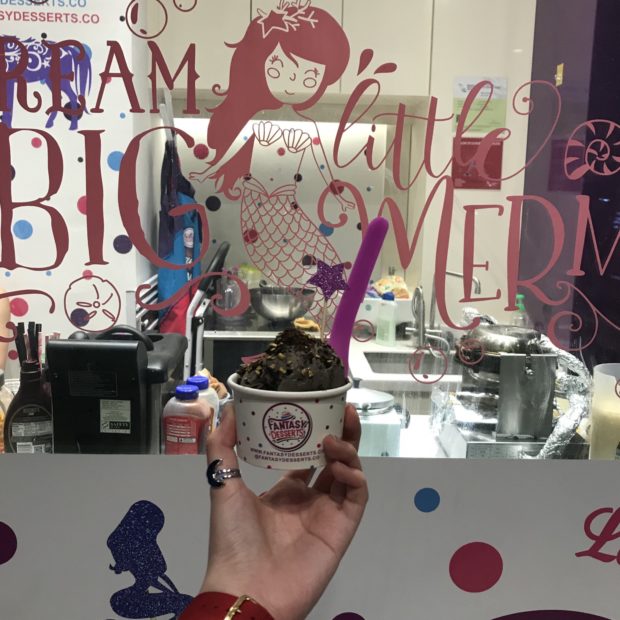 Ya Fu Mini Wok
The salted egg craze isn't going anywhere just yet. If you're a fan of this flavor, you have to try Ya Fu Mini Wok's salted egg yolk chicken rice. The dish is aptly served in a mini wok but don't be fooled because it's enough to make you full. It starts off with a bed of white rice and then topped with pieces of fried chicken. They then add the salted egg sauce, a fried egg, and vegetables. This is a great option if you're really hungry and find yourself in one of Food Republic's branches. I also suggest washing everything down with a can of Pokka's sparkling Fuji apple juice. Located at Food Republic Branches.
Tong Heng
After having lunch at Tian Tian, I wanted something sweet. While walking to the hawker, I remembered that we passed a small pastry shop. We went back to Tong Heng and got some sweet treats. They have egg tarts, shortcake, moon cakes, and cookies. I got a walnut cookie. It was golden brown and was flaky. It wasn't too sweet either. If I ever go back, I'd pair it with their almond coffee. Located at Jurong Point Shopping Centre, Singapore.
Monster Curry
During one of our morning cab rides, we asked the driver if he had any food recommendations and he suggested we try Monster Curry. When we entered one of their branches, we saw huge plates of curry on the tables. Some were sharing just one plate while others had three or four. After trying to figure out what to order, my mom and I decided to share a single plate of pork katsu curry while the others shared one of their combo meals. When the food arrived I was shocked at how big the plates were but we ended up finishing everything. For those of you who don't like spicy food, you can pick between their different heat levels to suit your preference. Check their website for full list of branches.
Art by Marian Hukom
Follow Preen on Facebook, Instagram, Twitter, YouTube, and Viber
Related stories:
Why Singapore and Manila are the places I call home
5 things you definitely have to do in Singapore
Five tips for making the big move
A guide to Michelin-starred restaurants found in Manila