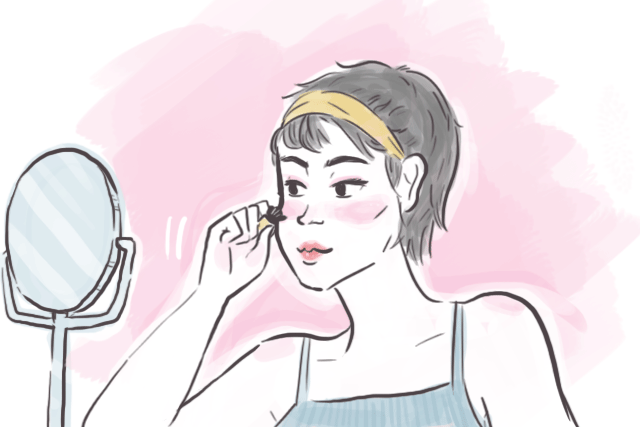 I've already talked about how I don't wear heavy makeup, but when I do wear some it's usually a bit of eyeshadow. Or rather, blush that I use as eyeshadow. I have this medium-sized pot of red blush that has flecks of glitter in it. I don't wear blush so I decided to apply it on my lids instead. Unlike eyeshadow, blush products aren't as pigmented since it's supposed to add a light flush to your cheeks. I like this because it makes the powders more buildable. I can add just a light wash on my lids or go for a full-on red look if I'm in the mood. For the ladies who do love makeup, this is a quick tip if you're in a rush to get ready. All you need is one product that you can use for your eyes and cheeks. Interested in trying this out? Check out our blush recommendations below.
Max Factor Crème Puff Blush in Nude Mauve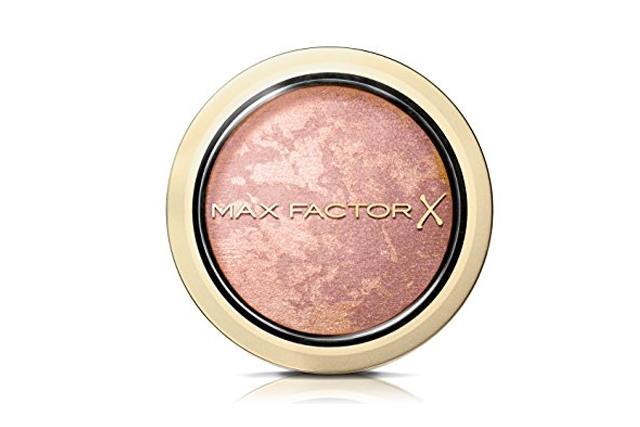 Blush shades don't always come in bright pink, there are more neutral ones too. And these also act as great eyeshadow hues. Max Factor's Crème Puff Blushes have two marbled shades in one compact. Nude Mauve comes with a light champagne color and a dark brown. Apply the darker shade all over the lid and use the lighter one to add some highlight and shine. Swirl your blush brush to combine the two colors and apply it on your cheeks. Available at Beauty Bar branches.
Marc Jacobs Beauty Air Blush in Lines & Last Night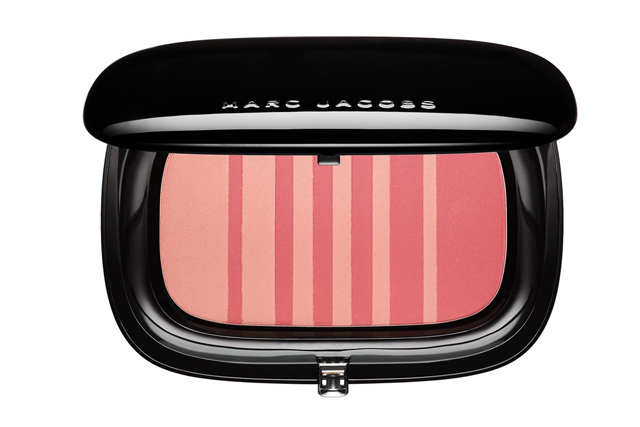 There are also coral options that you can use on your cheeks and lids. Marc Jacobs' Lines & Last Night blush compact comes with a light coral shade and one that's on the dark pink side of the spectrum. You can use the darker color to contour your lids by applying it on the crease, creating a V shape. Use the coral shade as an overall base shade and along your lower lash line. Depending on your mood, pick between the two colors or mix them or your blush. Available on Sephora PH.
Estée Lauder Pure Color Envy Sculpting Blush in Poppy Passion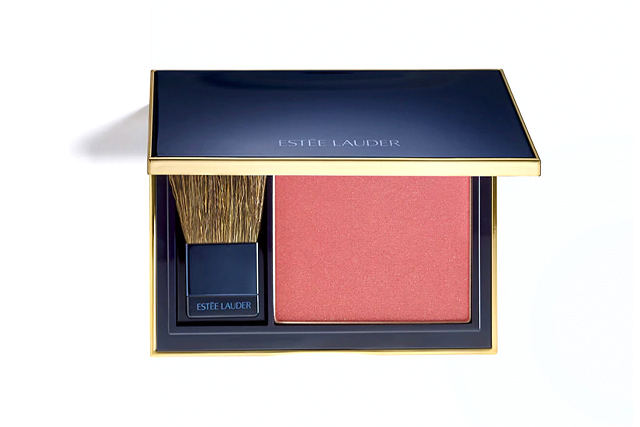 If you want a striking bold color on your lids, a single blush compact will do. For this we suggest Estée Lauder's Sculpting Blush in Poppy Passion. It has an ultra-silky texture, which will feel lightweight on the lids. This is a deep berry color that you can use all over the lid for something quick. Once you're finished, add a bit of this to your cheeks too. Available at Rustan's The Beauty Source.
MAC Extra Dimension Blush in Fairly Precious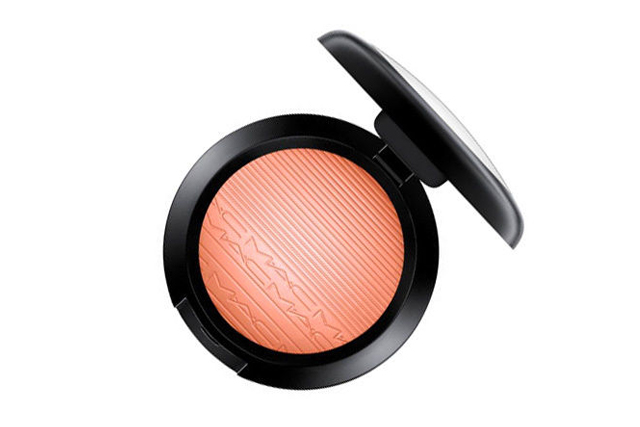 We're all about shimmer so here's an option you can use on your lids and cheeks. This has a smooth consistency that blends like a liquid product but with a powder finish. It is long-wearing and has prismatic reflection. So you will notice a glow when light hits your face. Apply this strategically like on the center of your lids or all over for a dramatic look. After applying this on your cheeks, we suggest pairing this with their Extra Dimension Skinfinish in Doublegleam. Available at Glorietta 4.
Clinique Soft-Pressed Powder Blush in Mocha Pink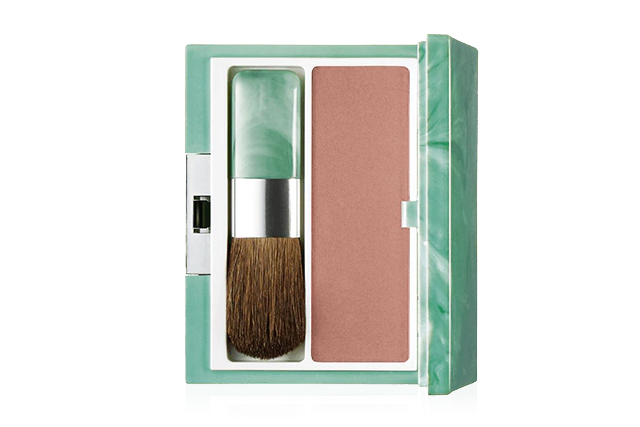 You can also keep it simple with a brown shade. This is great as an option for work. This brown color has a hint of pink that will add a bit of depth to your eyelids. Just add this lightly to your lids and cheeks as well. It comes in a small compact so you can throw this in your bag for quick touch-ups. Available at SM Makati.
NARS Liquid Blush in Dolce Vita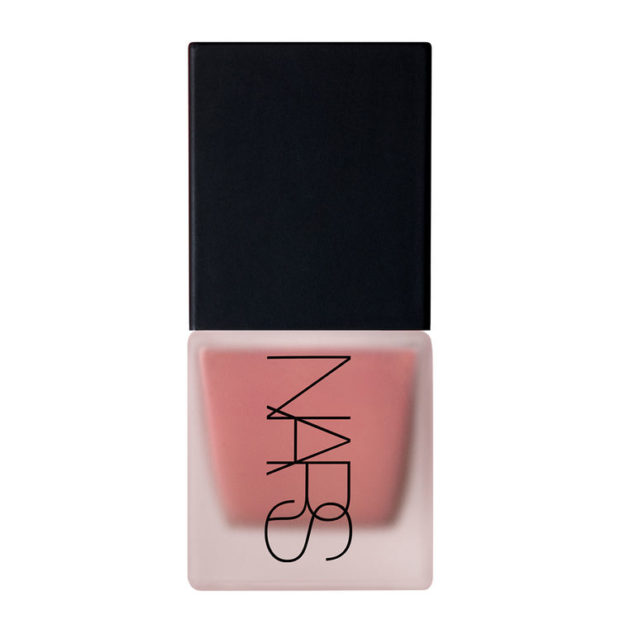 Blush also comes in liquid form so why not test that out as eyeshadow? This is highly pigmented and brings out natural color to your skin. Dolce Vita is a dusty rose shade and has a matte finish. This is also described as being buildable so apply as little or as much as you want, depending on how dramatic you want your look to be. Available at Rustan's The Beauty Source. 
Art by Marian Hukom
Follow Preen on Facebook, Instagram, Twitter, YouTube, and Viber
Related stories:
You don't need to match your blush with your lipstick
6 blushes to get that pink flush like Sarah Lahbati and Ellen Adarna
Work-appropriate eyeshadow products you can amp up for a night out
The bold eyeshadow shade that Kim Kardashian is obsessed with