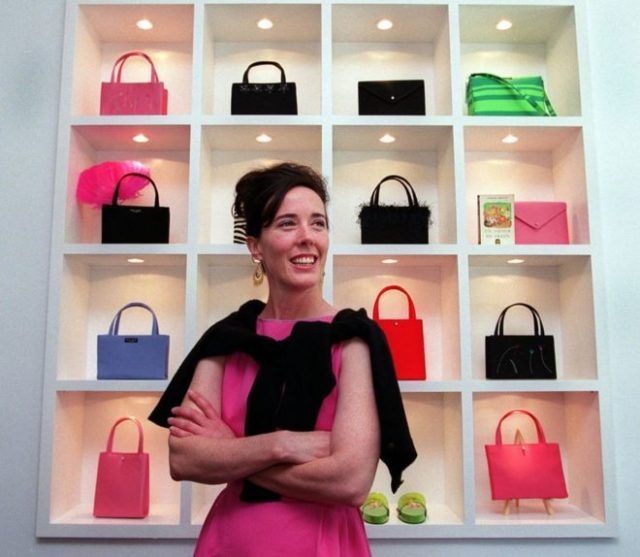 Heartbreaking news from the fashion world today. Accessories designer Kate Spade was found dead in her New York apartment. Police are investigating it as an apparent suicide. She was 55 years old.
According to CNN, police responded to a call from Kate's housekeeper, who found her body in the apartment. NYPD chief of detectives Dermot Shea said that a suicide note was found, and other sources said that it was addressed to Kate's daughter, Frances Beatrix.
Associated Press also reported that Kate's husband, Andy, was in the apartment at the time. Their daughter was in school.
Kate Spade New York also confirmed the sad news with a statement on Twitter. "Although Kate has not been affiliated with the brand for more than a decade, she and her husband and creative partner, Andy, were the founders of our beloved brand. Kate will be dearly missed. Our thoughts are with Andy and the entire Spade family at this time."
— kate spade new york (@katespadeny) June 5, 2018
As of now, there are no reports yet of what might've pushed Kate to take her own life. A source alleged that Kate and her husband Andy were having problems the past few months, but it's still not a clear indicator for what Kate might've gone through.
Kate is known for her namesake brand, which she started with Andy. The brand is well-loved for its colorful and versatile handbags.
Later on, Kate and Andy distanced themselves from the brand. In 1999, they sold 56 percent of Kate Spade New York's shares to Neiman Marcus for $33.6 million. And just last year, Coach announced that they're acquiring the brand for $2.4 billion. The couple also launched an accessories brand named Frances Valentine in 2016.
Still, the brand is a hit among young working women. Chelsea Clinton and other netizens shared stories of how they got their first Kate Spade bag. As CNN put it, "For many women, a Kate Spade handbag functioned as a symbol of professional achievement."
My grandmother gave me my first Kate Spade bag when I was in college. I still have it. Holding Kate's family, friends and loved ones in my heart.

— Chelsea Clinton (@ChelseaClinton) June 5, 2018
https://twitter.com/ChayaBaliga/status/1004050203920351237?ref_src=twsrc%5Etfw&ref_url=https%3A%2F%2Fwww.cnn.com%2F2018%2F06%2F05%2Fus%2Fkate-spade-dead%2Findex.html
I was 22 when I moved to NYC and got my first real job and it even paid overtime. My first check that had OT hours in it, I set aside that money and bought myself a @katespadeny bag. It was 1998 and I felt so proud and successful. #RIPKateSpade ♥️

— alyssa mastromonaco (@AlyssaMastro44) June 5, 2018
I am heartbroken about the news of Kate Spade. I have worn her clothes many, many times. They were colorful, bold, cheerful, and encouraged women to find the twinkly person inside them. You couldn't walk into her boutiques and not smile. Rest In Peace, Kate.

— Mindy Kaling (@mindykaling) June 5, 2018
In a landscape where It Bags carry an "I'm-better-than-you" subtext, Kate Spade made adorable, accessible designs "where you have to have [it] because you like it, not because you're supposed to have it."

Thanks for spreading joy in a dreary world, Kate. You will be missed. 💔

— Ceej Tantengco (@ceejtheday) June 6, 2018
Kate brought joy to women who were looking for bags that were both functional and lasted a long time. However, what a person shows you isn't always reflective of what they're feeling.
To hear about Kate Spade is so devastating 😞 you never know the struggles people are facing so please remember to be kind to those you meet ❤️ I know first hand how hard anxiety and depression are to deal with and we all need to be more mindful of our words.

— Manny MUA (@MannyMua733) June 5, 2018
We might not know what went on inside Kate's head and we want to extend our condolences to her family. For people who are going through something similar, please do not be afraid to seek professional help.
Photo courtesy of Getty Images via BBC News
Follow Preen on Facebook, Instagram, Twitter, YouTube, and Viber
Related stories:
Kate Spade to receive nothing from brand's recent sale
Kate Spade founders will launch new accessories line this February
Love dachshunds or French bulldogs? Show it with Chinese new year pieces
Cindy Crawford and Dita Von Teese mourn the death of Hervé Léger