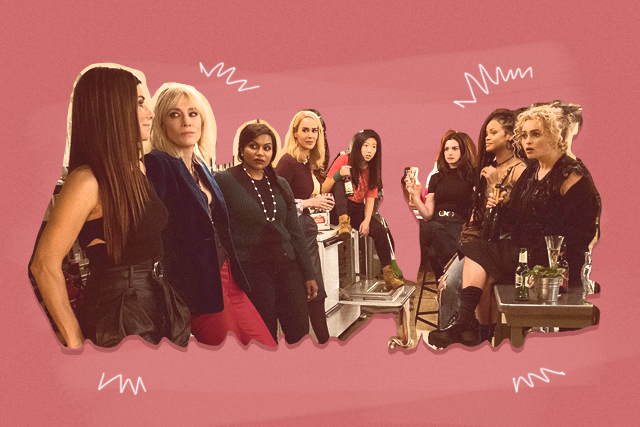 The Ocean's franchise is probably one of my favorites of all time. They were able to stay pretty consistent with all three, except for that time Julia Roberts pretended to play herself. But, I'll let that one slide. Ever since the movies were added to Netflix, they have been my go-to when I can't find anything else to watch. Sometimes I watch intently or let it play in the background while I'm working. My boyfriend and I also enjoy watching it together and we add our own sort of commentary like the little things we noticed only during the 50th time seeing it.
So, you can imagine my surprise when I heard that there was going to be an Ocean's 8. No, they weren't bringing back the original cast (sorry, George Clooney and Brad Pitt) but a fresh new one composed of all women. Uhm, hell yeah. The trailer was intriguing enough. Imagine a group of women trying to steal diamonds off of the neck of an actress walking the red carpet at the Met Gala. Now that's a heist movie I would love to see. After much anticipation, I finally got to watch it and I was not disappointed. If you have seen it, join me as I break down some elements of the film.
Where the f*ck is Danny Ocean?
In the first scene of the movie, it is already revealed that Danny Ocean is dead. Yes, they killed off George's character. And then his sister Debbie, played by Sandra Bullock, even visited his grave. Somehow, though, I couldn't really believe his character was dead. I mean, nothing is ever as it seems in this franchise. At the end of the film, however, Debbie is seen sitting by Danny's grave again and preparing a martini. You almost feel like he's about to pop up but, no, he does not. Let's just take a moment to mourn his character please.
The female Rusty Ryan
In the original movies, Brad Pitt plays Rusty Ryan who is sort of Danny's right-hand man. In Ocean's 11 he is seen teaching old child actors how to play poker, and failing miserably. In Ocean's 8, I got the same vibe from Lou played by Cate Blanchett, who was probably my favorite character. She is the first one Debbie goes to after getting released from jail and makes sure that everything goes according to planned. They even had similar outfits. Oh, and she was the only other one who knew about the bigger plan of the heist.
Always eating
One thing my boyfriend and I noticed from the Ocean's franchise is that there are a lot of scenes wherein characters are eating, especially Rusty. Don't believe me? Rewatch the Ocean's movies and spot him munch on burgers, nachos, ice cream, and more. In this installment, they added some of that in like Debbie and Lou having breakfast and Japanese meals together.
The return of (some) of the boys
Danny Ocean might be dead but that doesn't mean that the old team didn't make an appearance. The first time Debbie visits his grave, she is greeted by Reuben played by Elliott Gould. He had aged a little but he still wore his iconic thick frames. Another character who surprised everyone was Yen. Debbie and Lou recruited him without the other girls knowing. He helped with the bigger task.
The twist
In the trailer and majority of the movie, the plot revolved around stealing the Toussaint, a diamond necklace that weighed six pounds. They hacked The Met's security cameras, created new pieces from the necklace to transport them undetected, and didn't get caught. But all of that was a diversion. What they were really after were the royal jewelry pieces on display at the museum. An amazing twist that I wasn't expecting and true Ocean's fashion, they broke the process with so much finesse.
Women, women, women
We have to talk about how amazing these women were in the film. For someone who loves the franchise, it felt good to see a heist movie wherein women took the lead. Each character had a specialty, which they used to accomplish the task. There was a fashion designer, jeweler, hacker, etc. With the success of this film, I would really want to see them all come together for another one.
Art by Marian Hukom
Follow Preen on Facebook, Instagram, Twitter, YouTube, and Viber
Related stories:
Mindy Kaling was asked this sexist question during an interview for Ocean's 8
Sandra Bullock, Cate Blanchet, and Rihanna rob the Mat Ball in new film
String female leads in movies inspire us to break gender stereotypes
Film & Food: Movies to watch for every craving