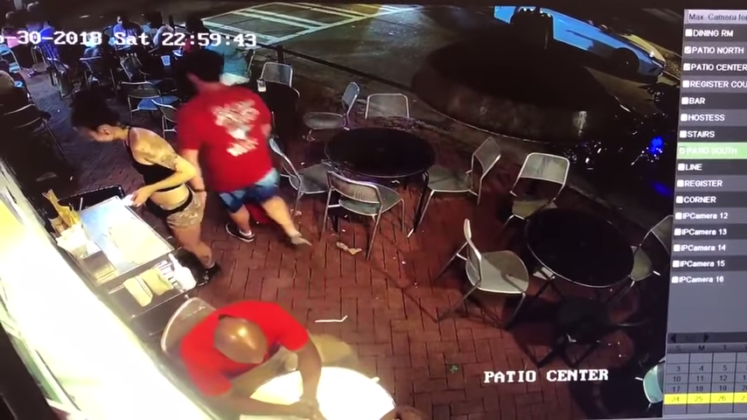 With sexual harassment stories constantly popping up on our feeds, we can't help but feel discouraged. But, sometimes, we find a gem that gives us hope. A viral video has been going around from last month. At a bar in Savannah, Georgia 21-year-old waitress Emelia Holden was groped by a passing customer. Right in that moment, she didn't even second guess herself. She went after him, pulled him by his shirt, and threw him to the ground. You can even see her say a few words to him. Yes, girl!
Speaking to People, Emelia said, "I didn't even think, I just reacted. I don't know how I reacted the way I did. I've never done that before." But we are glad she did. It's not easy to defend yourself in situations like that but she is giving us major courage.
According to Buzzfeed News, the man who groped her was a 31-year-old man named Ryan Cherwinski. He was taken into custody for sexual battery. However, he was released on $2,500 bond. But we think he doesn't deserve to be set free. "The guy claimed that he was just trying to push me out of the way and, 'Oh, I barely touched you,'" Emelia said. "Once the police saw the video, they immediately arrested him. There was no doubt that he did it."
Now, let this video serve as inspiration to all women. Yes, we can defend ourselves when we are harassed. Thanks for the reminder, Emelia.
[Vice]
Photo courtesy of YouTube
Follow Preen on Facebook, Instagram, Twitter, YouTube, and Viber
Related stories:
GLOW season 2 showed the different sides of sexual harassment
Rashida Jones and Donald Glover created a PSA about sexual harassment at work
Demi Lovato and her prank: Why sexual harassment is a bad punchline
Kate Upton accuses Guess co-founder of sexual harassment