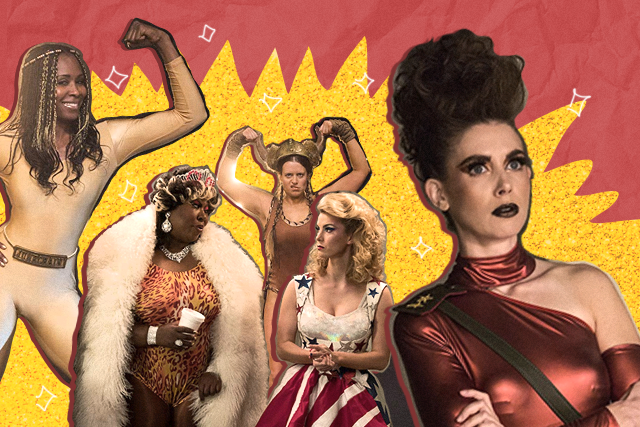 If you've watched season one of GLOW, you might think that it's just a comedy show about women trying to make their acting careers work in the '80s. But, season two shows that it's more than that. Yes, it was still funny but they tackled some issues and the plot got real. Aside from wrestling, the ladies had to deal with their sexuality, personal problems, and their careers. From being inclusive to championing women empowerment, here are the reasons to watch GLOW season two.
Racial representation
Just like the first season, there is still a mix of races in the new season. Although, since it is set in the '80s and it's about wrestling, the characters can be racially insensitive. They definitely have to hinge on stereotypes to keep the show going. However, they do try to break from them especially Tammé Dawson and Arthie Premkumar who start to see the negative effects of playing along with the stereotypes. But, still, GLOW doesn't just highlight white girls but Asian, Hispanic, European, etc.
LGBTQ+ community
In season two, they also introduce a lesbian character named Yolanda Rivas. The other girls didn't welcome her at first but she eventually won them over with her dance moves and friendly attitude. The introduction of her character might have also made another character explore her sexuality more.
Women empowerment
Aside from wrestling, the women also showed that they can do more than that. They showed the men in charge that they can contribute to the show too. Debbie Eagan became a producer of the show, and she had some very good input. Ruth Wilder also took the opportunity to help write and direct some episodes. Oh, and of course, the ladies themselves choreographed their skits.
Family issues
No family is perfect, and GLOW tackles that too. In this season, they show different kinds of family issues. One story is that of Debbie Eagan, her baby, and soon-to-be ex-husband. They also focus on the relationship between Sam Sylvia and his teenage daughter Justine. Because he just found out that he had a kid, he was having a difficult time taking care of her. He wasn't sure how to bond with her but in the end he found that they had some things in common like film and directing.
Sexual harassment
In one of the episodes, Ruth is sexually harassed by Tom Grant from show's network. But, before things could get worse, she leaves the room. Because of this, GLOW is moved to a graveyard timeslot as punishment for Ruth bailing on Tom. When she explains this to Debbie, she goes off on Ruth. She explained that that's how it was for actresses and they were just supposed to go along with it. The topic of sexual harassment goes on for a few other episodes. This shows why some women are afraid to come forward and how men can take advantage of women.
Art by Marian Hukom
Follow Preen on Facebook, Instagram, Twitter, YouTube, and Viber
Related stories:
From the wrestling ring to the news room: How women rule in these TV shows
Ocean's 8 proves women can pull off a heist too
These Filipino heroines showed that women stood their own in the battlefield
You can now read about a plus-size superhero and a Muslim Ms. Marvel