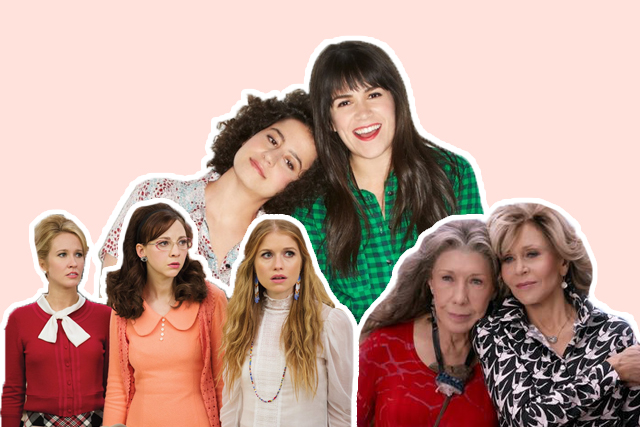 Not all feminist shows are created equal. Some of them are covert in their women empowerment themes, others take on a real-life issue for fictional glorification. Over the years, even before streaming sites, we've had feminist shows or female-centric programs that figured differently in the way we create our narratives, i.e. questions like "Which Sex and the City girl are you?" or "Are you a Blair or a Serena?"
But now the TV shows we watch are splitting away from the worn-out formulas. Orange Is the New Black proved to be more than just about the usual female struggles and even veered away from the TV setting we are used to. Even the brutal Game of Thrones has feminist tones in it. We also got The Handmaid's Tale recently in direct response to the socio-political climate. If these whet your appetite for more feminist stories, we listed down five different series to watch that show the diverse ways we women rule.
Glow
There was a time when everyone in our office kept talking about Glow. The comedy is a fictional take on the Glorious Ladies of Wrestling which is why you're going to get kick-butt characters. On one hand, it's an ode to the female transgressors who challenged overt misogyny. On another, one must also dissect how the laughs in the show are derived from the sexist mechanism it tries to dismantle. So that in itself makes it good material for some feminist discourse.
Broad City 
What started out as a web series is now a full-blown TV show with a cult following. I like Broad City for its scripted take on real life. Scripted, in order to exaggerate the ordinary occurrences that can either be frustrating or funny. But it's still real as it handles the issues of the everyday working girl sans the Sex and the City-colored frames or the pretentiousness of other shows about females. It is also proving to be a testament to good TV writing with recurring gags and various Easter eggs.
Grace and Frankie  
If you want something that can be both funny and serious, try tuning in to Grace and Frankie. The Emmy-nominated show stars Jane Fonda and Lily Tomlin who find themselves as each other's best friends when their respective husbands fall in love with each other. Beyond the obvious issues, The Telegraph also applauds it for its depiction of older characters, "It's lighthearted in celebrating the continued vigour of people in the later years of their lives, addressing their concerns without reducing its characters to fumbling old biddies with a lost sense of purpose, and the excellent leads bring life and plausibility to a story that might otherwise have fallen flat."
Good Girls Revolt 
Good Girls Revolt is said to be a good follow up to Mad Men. Set in the '60s, it's equally stylish and on-point in recreating the aesthetic but more importantly, it captures the nuisances of a real life complaint by female Newsweek staffers who were doing all the work while men were the only ones getting the byline. It's not just about big office politics in its sweeping ways, but it's also about how each woman in the group, despite their individual differences, wakes up to the realization that this inequality thing just isn't right.
Queen Sugar
If you've ever had sibling problems, you might be able to relate to this drama series. Produced by Oprah Winfrey, the show follows how three siblings get together to manage the sugar plantation their deceased father left behind. It is further complicated when the lead character, Charley, is now confronted with the fact that her famous basketball player husband is faced with gang rape allegations. Other characters also pop up to show three dimensional version of how women and black people love each other.
Art by Lara Intong 
Follow Preen on Facebook, Instagram, Twitter, Snapchat, and Viber
Related stories:
Why Sansa Stark Had Every Right to Speak Up Against Jon Snow
Why 'The Handmaid's Tale' Is the Anti-Woman Series You Need to See Right Now
Billions, Sense8, and Other Shows You Need to Binge Watch
Here's an Easy, No-Jargon Guide to Feminism
Men Ask: If 'Doctor Who' Is a Woman, Should There Be a Male Wonder Woman?