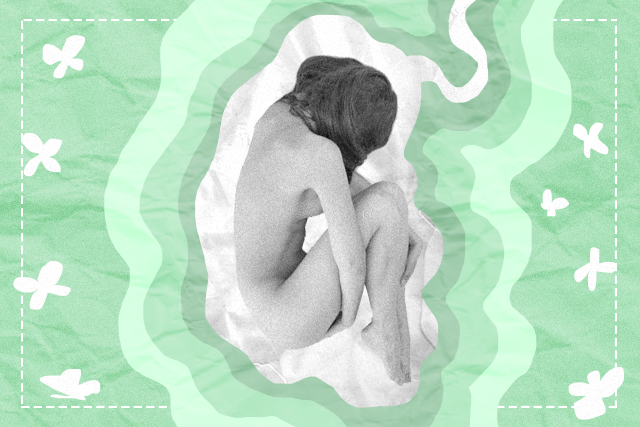 You know how sometimes you get so stressed out, all you want to do is curl up under a blanket? Well, this relaxation technique takes that concept to a whole new level.
Known as Otonomaki, which means "adult wrapping," this odd relaxation method was first introduced in 2015 by a midwife in Japan. Originally, it was meant as a form of physical therapy for new mothers experiencing postpartum physical difficulties such as stiffness in shoulders and hips. It's said to have come from another japanese practice, Ohinmaki, which involves wrapping up babies in a cloth to help with their physical development.
This practice is achieved by getting wrapped up tightly in a breathable cloth while staying in a curled up position, and then rocked gently back and forth for about 15 to 20 minutes. It is said to help alleviate stress, and get rid of posture problems and body stiffness. The fetal position supposedly improves spine flexibility and relieves any tension on the neck and lower back, while the blanket provides security, similar to a womb. In other words, you escape the stress by figuratively crawling back to your mother's womb.
The whole trend may seem odd to onlookers. Aside from being deemed as "adult swaddling," it has been compared to a cocoon. So in a sense, you could look at it as like hibernating and then coming out of your cocoon refreshed, and ready for the world like a butterfly.
While still not considered as mainstream, more and more people are steadily picking up on the trend. Its practitioners claim to have experienced therapeutic effects, while professionals remain skeptical about it.
Check out this video of an Otonomaki session by Quartz, and tell us if you're willing to try it too.
Art by Marian Hukom
For the latest in culture, fashion, beauty, and celebrities, subscribe to our weekly newsletter here
Follow Preen on Facebook, Instagram, Twitter, YouTube, and Viber
Related stories:
How meditation apps can help you de-stress
The ultimate guide to achieving relaxation in the tub
Achieve instant relaxation—five minutes, tops
5 local hiking spots that will de-stress you from your busy week