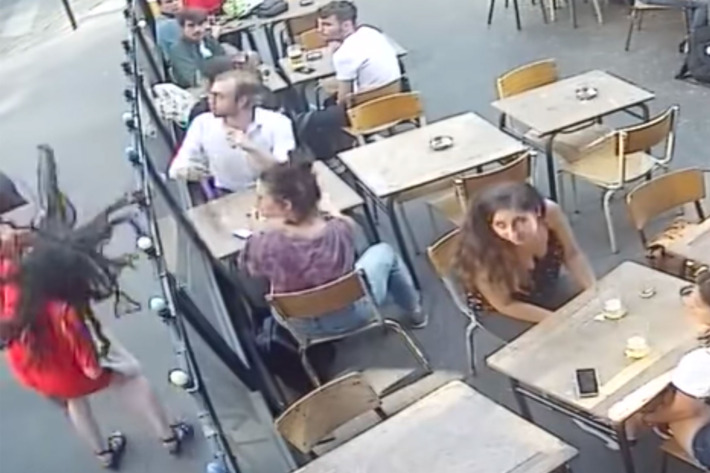 A CCTV video of a woman slapped by her harasser has been circulating in France, and now has garnered more than a million views, effectively sparking outrage from its citizens.
According to reports given to police, Marie Laguerre was on her way home last Tuesday when a man made lewd comments and "noises with sexual connotations" at her. The victim shared that "It wasn't the first time—that day, that week, or that month, It had been building up. I got angry and said 'shut up.' I didn't think he'd hear, but he did."
The man visibly got angry over this and threw an ashtray at her, missing her by inches. They then share insults, then the man walked towards her and slapped her on the cheek while shouting at her. She said she was aware he would hit her. "I could have run off but there was no question of that. I wasn't going to look down and certainly wasn't going to apologize."
People at the café were thankfully supportive, and the owner turned over the CCTV clip to her. After the incident, Laguerre went home but returned to the café to take witness statements and file a police complaint.
The harassment coincides with France's new law imposing fines of 90 Euros on street harassers, currently set to be adopted by Parliament this week. Fine for the harasser will reportedly be handed out in the fall.
Watch what ensued below.
[
BBC
and 
The Cut
]
Image screen grabbed from Youtube via The Cut
For the latest in culture, fashion, beauty, and celebrities, subscribe to our weekly newsletter here
Follow Preen on Facebook, Instagram, Twitter, YouTube, and Viber
Related stories:
How do I deal with catcalling?
Misogyny and catcalling are officially hate crimes in Nottinghamshire, UK
Catcalling was never a compliment, so why do people still think it is?
Finally, an anti-catcalling ordinance was passed in Manila