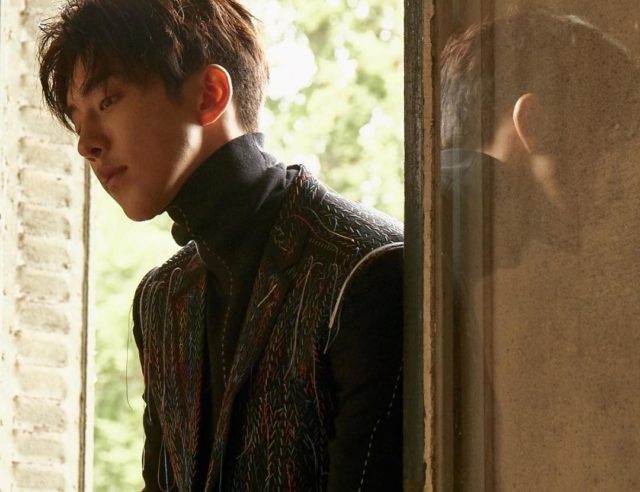 Weightlifting Fairy star Nam Joo Hyuk reportedly received scratches on his arm during his recent meet and greet here in the Philippines. These were spotted by concerned fans who saw the photos from the event.
South Korean entertainment website Koreaboo obtained footage that showed fans getting too excited with meeting NJH and Sandara Park. Some were hugging him and grabbing his arm, even after they got their group photo taken with the stars. You can also see the guards trying to get persistent off the stage when their turn was over, and many tried to hold on to NJH while they were being escorted away. The result were what looked like small scratches and redness on his arm.
WTF did you do to NAM JOO HYUK!!! Fck those btches who harassed him! I'm so mad!!! You btches dont fckn own him. My poor joohyuk #penshoppeFanCon pic.twitter.com/mm9iIktEXM

— M☀️ (@yourkdramaunnie) July 30, 2018
Fans should know when it's too much already. Nam Joo Hyuk didn't look that happy. : (#PenshoppeFanCon#DaraAndJooHyukforPenshoppepic.twitter.com/HPVptLYqvb

— Raynne 💞 #8YearsWithEXO (@raynnexuniverse) July 30, 2018
NJH remained professional throughout the M&G but he also looked uncomfortable based on the videos. Local and international fans were quick to denounce the act and called for better protection for celebrities.
some fans from the M&G just really don't have manners and discipline. out of thousands of people you are already lucky to have a photo op and to be that close to Dara and Joohyuk no need to grab them. Are you happy now that NJH got annoyed in the end? SMH!!! #PenshoppeFanCon

— Angela Lara (@xoxogHeLa21) July 29, 2018
those girls who were touching and hugging nam joo hyuk was completely disrespectful. the guy felt so uncomfortable. where is the respect and privacy guys?

— bianca⁷ ♡ ᴇɴ- 🧈 (@missrightaee) July 30, 2018
Those fans who went wild during the fancon yesterday yall at least know when you should behave. You scared the shit out of Nam Joo Hyuk.

— 🤡 (@BBROYALTEAS) July 30, 2018
The actor has not said anything about the incident yet.
As someone who frequents concerts and has attended celebrity meet-and-greets, I understand how emotional and excited one can get when they're in front of their faves. But you should remember that it's not right to instantly pounce on a celebrity for a hug or to forcefully grab them by the arm. You can politely ask them if you can hug them or take a selfie with them (I also know people who ask for kisses on the cheek) and if they decline, you should respect that. Just offer a handshake and tell them "Nice to meet you!" as consolation if it's possible.
For instances like group photos, some productions will only give you a short time period to meet and take photos with celebrities. It's sad for many fans but it's true because the time may be limited and they have places to go. Just follow the rules, don't be rowdy, and don't run and grab a celebrity while you're being escorted by the guards to avoid altercations.
These reminders also apply when you see the celebrities walking around in public during their free time. Feel free to say hi but don't force your way into taking a selfie with them. Remember: Celebrities are people too and they don't deserve to be harassed in any way.
[
Koreaboo
]
Photo courtesy of Nam Joo Hyuk's Instagram account
For the latest in culture, fashion, beauty, and celebrities, subscribe to our weekly newsletter here
Follow Preen on Facebook, Instagram, Twitter, YouTube, and Viber
Related stories:
Nam Joo Hyuk is endorsing this local brand's holiday collection
Sandara Park is honored to be Korea-Philippines friendship ambassador
The stages of fangirling over K-pop according to Kris Aquino
Red Velvet's Irene read a feminist book and male K-pop fans are triggered