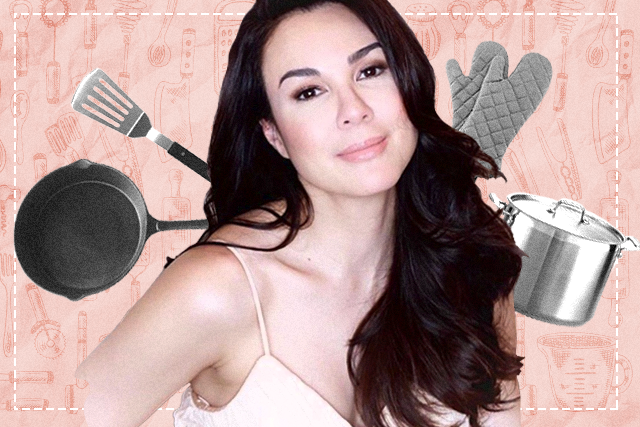 We were once obsessed with Gretchen Barretto's workout videos and how she can still eat cake for her cheat meal. This time, she's churning out content showing off her kitchen and her love for cooking. It's like we're all living vicariously through her daily tours and sinigang recipes.
If you follow Gretchen on Instagram, then you know how many videos she's posted on Instagram Stories and her feed where she's working in her favorite place. But in case you missed them, we're giving you a quick rundown and virtual tour. This will include a look at what's inside her drawers and cupboards, as well as her refrigerators (yes, with an S), and so much more.
The tools
Gretchen once shared the cookware she uses for her dishes. She has multiple drawers filled with pots, skillets, cooking utensils, serving trays, and a pressure cooker. She also mentioned brands like Le Creuset and All-Clad. This seems like a lot but one can never be too ready to prepare a meal for 10 people, especially if you often arrange get-togethers at home.
The plates and glasses 
Another kitchen tour shows Gretchen's plate and glass sets kept in well-lit cabinets. "I have the full antique collection. Please don't think I'm old," she joked in one video as she showed plates of different colors and designs.
Gretchen also has tea party sets, from porcelain to steel, for any occasion.
It's almost like she has a museum exhibit of dinnerware in her own kitchen.
Meals a la Greta
As we hinted earlier, Gretchen loves cooking for dinner and lunch. Her most recent dish was munggo with salted egg and veggie pinakbet for a Sunday gathering.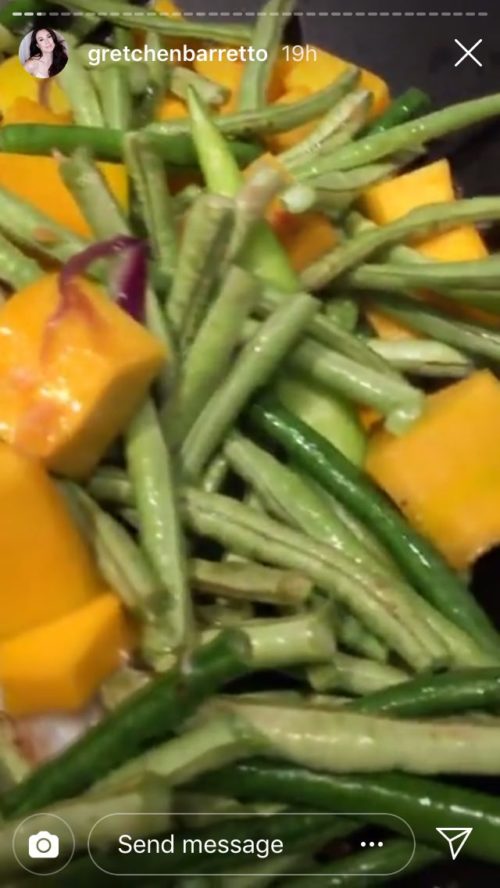 Gretchen also made sinigang using Knorr powder mix because she's a regular person just like all of us.
Last Easter, she made bahn mi using crab meat and liver spread. On the side, we saw packs of single cheese slices. Fancy.
Want to know how you can spruce up your regular pancit canton? Gretchen cooks the plain noodles with evaporated milk, butter, salted egg yolk, and chili oil. (Not gonna lie, this sounds yummy.)
Aside from homecooked meals, she shares updates on her quick snacks. We learned that she likes eating tuyo in olive oil for breakfast and she serves ube jam during dinner parties.
Shiny oven
Gretchen updated everyone that she got her Subzero-Wolf convection ovens cleaned so they'll look good as new. For those curious about the brand, they supply ovens with "unique digital technology senses the amount, size and shape of the food, and automatically adjusts all the details of cooking."
Insane fridge space
We're not exaggerating. Gretchen has refrigerators that can rival the nearby 7-11. In her home, she has a fridge stocked with ice cream—including homemade avocado ice cream, Carmen's Best, Häagen-Dazs, and more—and over at the cabana in her backyard, there's a drinks fridge containing sodas, juices, and beers.
Is she making sure that guests get their fill of dessert and beverages? Or is she stocking up for her apocalypse bunker? We'll never know.
Art by Marian Hukom
For the latest in culture, fashion, beauty, and celebrities, subscribe to our weekly newsletter here
Follow Preen on Facebook, Instagram, Twitter, YouTube, and Viber
Related stories:
Gretchen Barretto proves that you can eat and have a hot bod too
Gretchen Barretto, Camille Co, and Kim Jones remind us of the dresses we need
What are the secrets inside Cher's kitchen cabinet?
What we learned from Kris Aquino's kitchen tips and tricks