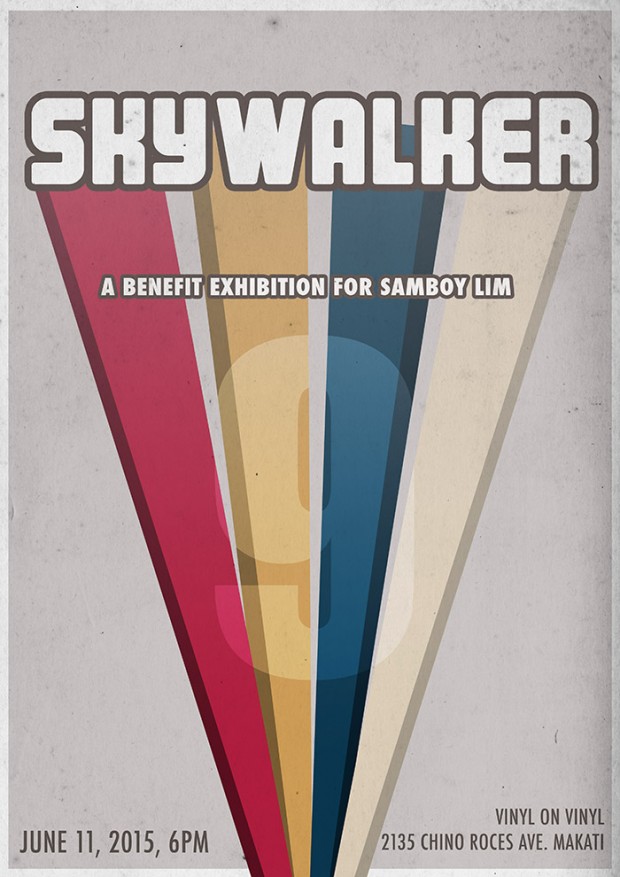 Art isn't always for art's sake. Drop by Vinyl on Vinyl on Thursday, June 11, and see just how much art can help a bigger cause.
Fresh from its street art exhibitions, the gallery is hosting a one-night-only show for Philippine Basketball Association (PBA) legend Samboy Lim. Late last year, the retired player fell into a coma after collapsing DURING an exhibition game at the Ynares Sports Arena.
He was in and out of the hospital for months until his doctor approved his home hospital room, complete with medical equipment and supplies as well as round-the-clock nurses and a daily PT program. While his condition has improved, there's still a long way to go to reach full recovery. But we remain positive, and so do these 31 artists.
Titled Skywalker, the show features works by Soler Santos, Luis Santos, Dexter Sy, Dennis Bato, Miguel Paulo Borja, Anjo Bolarda, Jood Clarino, Renz Bautista, Rendy Dela Cruz, Iya Consorio, Andres Barrioquinto, Edric Go, Bjorn Calleja, Ren Quinio, Chalk Zaldivar, Yeo Kaa, Johanna Helmuth, Levin Paras, Erick Villaruz, Joyce Ignacio, Tano Panaligan, Dennis Gonzales, Aiya Balingit, Roy Rosatase, Jett Osian, Gian Miroe, Kiko Urquiola, Mark Alexis Toñacao, Whooop, Dennis Gonzales, and Roberto Sanchez. Show starts at 6 p.m.
Avelino "Samboy the Skywalker" Lim is best known for his gravity-defying moves earning him not only his nickname, but also his spot in PBA's 25 Greatest Players.
Catch the one-night show at Vinyl on Vinyl Gallery. 2135 Warehouse 2 Chino Roces Ave. Makati. For other upcoming exhibits, visit their website.