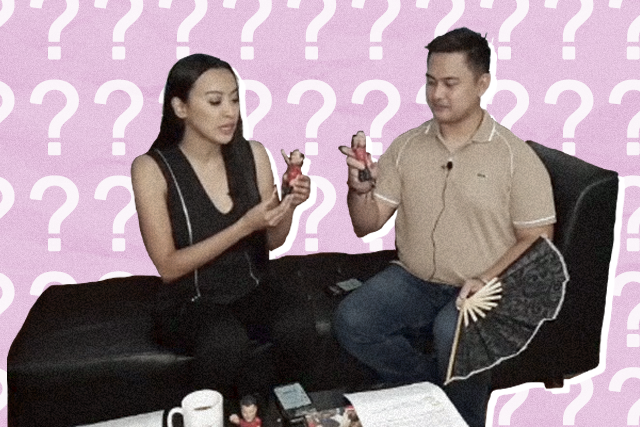 The criticism over the PCOO Asec. Mocha Uson's "Pepedederalismo" live video isn't going anywhere. She shot it with social media personality Drew Olivar in a game show format where they asked questions about federalism in hopes of educating citizens on the subject. While her intentions weren't bad, how they did it and the content were a bit problematic. And netizens aren't the only ones who are pointing it out, even senators from all sides are speaking up.
If you're one of those people who are confused as to what's wrong with the video, we've listed them down below.
Wrong information
Senate President Koko Pimentel, who is a supporter of federalism, lamented over Mocha's video. He said that even without the jingle and dance, the substance was still wrong. One example is that Drew said the US, France, and Singapore are federal countries. However, only the US is federal.
Mocha also said that the Philippines is the only Southeast Asian country "that is under a unitary form of government." One netizen corrected her and said only Malaysia is a federal country.
"… we are the only nation in Southeast Asia that is under a unitary form of government." (Mocha Uson, 2018)@MochaUson do you hate facts? There are only 4 federal states in ASIA: India, Malaysia, Pakistan, Papua New Guinea. 10/11 SEA states are unitary. WHAT ARE YOU DOING?

— Millennial Mangkukulam (@agasramirez) August 5, 2018
Well, Drew did disclaim that mistakes will be made since it was a live video. "Being real" is more important than being factual in their world, I guess.
It felt like a mockery
The discussion on federalism is a serious topic to tackle, and many people thought Mocha made it into a joke. Sen. Chiz Escudero said it was "downright vulgar & has no place in the public discourse on such an important issue."
Re PCOO's "pepedederalismo" – It is a desperate attempt to attract attention by intentionally offending our sense of propriety! It is downright vulgar & has no place in the public discourse on such an important issue as THEIR proposed shift to federalism & charter change!

— Chiz Escudero (@SayChiz) August 6, 2018
Sen. Nancy Binay said it is "not an amusement piece, nor is it a comedy material." She also recognized that even university professors find it complicated to talk about.
Federalism is not an amusement piece or a comedy material, Sen. Nancy Binay said as Communication Assistant Secretary Mocha Uson drew flak after her co-host in an online show danced lewdly to promote the form of government. https://t.co/6WH9PjWTEB pic.twitter.com/9M2eTE5rqe

— ABS-CBN News (@ABSCBNNews) August 6, 2018
"She's not doing her job right"
In response to the backlash, Mocha said she's not the spokesperson on federalism—PCOO Sec. Martin Andanar confirmed this—and emphasized that no government funds were used in the making of the video. But many netizens maintained that it's not about the money used. It's more on how she's using her position in the government to create the video.
One said that our tax money is going to waste because Mocha wouldn't take her job seriously and she didn't use her position to "heighten the level of discourse."
"Wala pong inilabas na pera dito sa video na ito…" – Mocha Uson

IT'S NOT JUST ABOUT PUBLIC FUNDS, YOU FUCKING IDIOT. IT'S ABOUT (1) TAKING YOUR JOB SERIOUSLY, (2) UPHOLDING THE DIGNITY OF PUBLIC OFFICE, AND (3) USING YOUR POSITION TO HEIGHTEN THE LEVEL OF DISCOURSE!!!! [1/2]

— Jeff Crisostomo (@jeffcrisostomo) August 5, 2018
Former COMELEC commissioner Gregorio Larrazabal tweeted that Mocha shouldn't have made it into a game show (like the ones with dancing ladies, we're assuming) because "government is serious business."
If you plan to do game shows, there are several TV shows that you can apply to join.
The gov't. is not the right place for fun and games. Gov't is serious business.
Maybe it's time for a career change…

— Goyo Y. Larrazabal (@GoyYLarrazabal) August 6, 2018
Inappropriate humor
Sen. Risa Hontiveros called out Mocha and Drew's use of "private female parts" to make the video humorous. "Inatasan at hinigan ng tulong si Ms. Uson para ipaliwanag sa publiko ang issue ng pederalismo, hindi para bastusin ang mga kababaihan at i-sexualize ang aming mga katawan," (Ms. Uson was tasked to help explain the issue of federalism to the public, not to disrespect and sexualize women's bodies) she said in a statement.
Sen. @risahontiveros on PCOO Asec. Mocha Uson's federalism video: Ano ang kinalaman ng maseselang bahagi ng katawan ng babae sa usapin ng pederalismo? | via @sherieanntorres pic.twitter.com/iHH81ZwIjc

— ABS-CBN News (@ABSCBNNews) August 6, 2018
One netizen noted that Mocha could've used her platform to do informative sex ed videos, not explain federalism in a sexual manner.
https://twitter.com/perksofjustine/status/1026042582558621696
Side note if you're talking about the innuendos used: Let's not slut-shame Mocha because of how she talks about sex and sexuality. Criticize her competency.
The live video happened during office hours
In relation to the previous point, Mocha definitely did this as part of her job since the video went live last Thursday (Aug. 2) at 4:19 p.m., according to the time stamp. The official end of her shift is supposedly 5 p.m., so she was still technically working. Even Drew mentioned briefly that they were shooting inside Malacañang.
Art by Marian Hukom
For the latest in culture, fashion, beauty, and celebrities, subscribe to our weekly newsletter here
Follow Preen on Facebook, Instagram, Twitter, YouTube, and Viber
Related stories:
Mocha Uson claps back at critics of federalism video
Sen. Koko Pimentel urges Mocha Uson to take a leave
Kris Aquino vs. Mocha Uson reinforces negative stereotypes about women
Criticize Mocha Uson all you want but don't slut-shame her