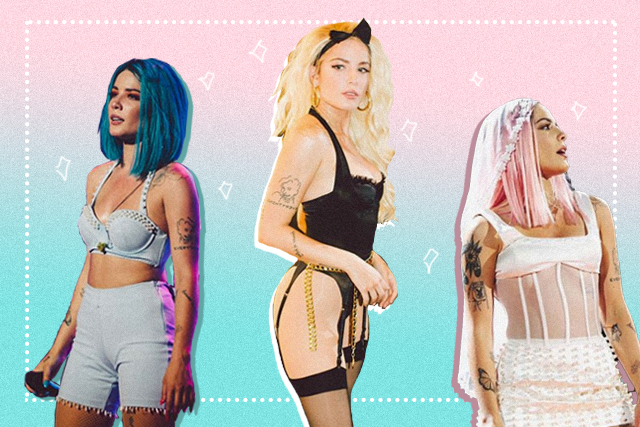 Halsey has come a long way from covering songs on YouTube and being a Tumblr icon. She now has two hit albums, one EP, and concerts worldwide. In fact, she's making the last stop of the Hopeless Fountain Kingdom Tour here in Manila tonight.
Throughout her musical journey, Halsey's onstage wardrobe has also evolved, giving fans some iconic looks. Partner that with her vast hair color change from a long bubblegum blue 'do to a blonde pixie cut. If you're watching her show tonight (like I am), you might be expecting to see these outfits—or even new ones—live. Allow me to list them down before we sing and dance the whole night.
The sexy wedding dress
During her last few shows, Halsey has been spotted wearing a short white lace dress complete with a veil. Daily Mail reported that she started doing this during her Rhode Island show, just a week after announcing her split with rapper G-Eazy. The outfit might not have any correlation to the breakup but we're living for Halsey changing up her wigs (so far, she's had on teal and pink) every time she wears this.
"Playboy" lingerie
Halsey played a show at the Marquee in Las Vegas and opted for black one-piece lingerie which she called "[Playboy] sh*t." She completed her look with stockings and a thin ribbon tied to her hair. This is probably her version of dressing up as a showgirl in Vegas.
Studded bras
This is a recurring piece in Halsey's shows. She often wears a bra and cycling shorts/skirt combo of various colors, and they're all studded with beads. Sometimes even pearls!
All that glitters
There are just some days when you feel like outfitting yourself in glitter. Halsey once wore a silver two-piece ensemble in Brazil. The top was a cropped vest over a shiny bra.
She also wore shimmering tights when she performed "Alone" on The Voice. It's a toned version of her Gatsby-inspired outfit in the music video.
A controversial headpiece
Halsey had on a bedazzled, balaclava-style scarf over her head while performing in Auckland, New Zealand. It matched her nude bodysuit for the night, but many people weren't too happy with her headpiece and accused her of appropriating Muslim culture. However, designer Bryan Hearns apparently created the ensemble to "resemble a ninja costume."
Halsey never wore this outfit or the headpiece in future shows again (as far as we know), but it's still a memorable one.
Dressed for combat
The Badlands era brought out Halsey's dark, badass persona. Some of her outfits, which were styled by Zoe Costello, consisted of black leather, combat boots, and vest with a hood. It's almost like she's ready to fight someone who'll get on her bad side.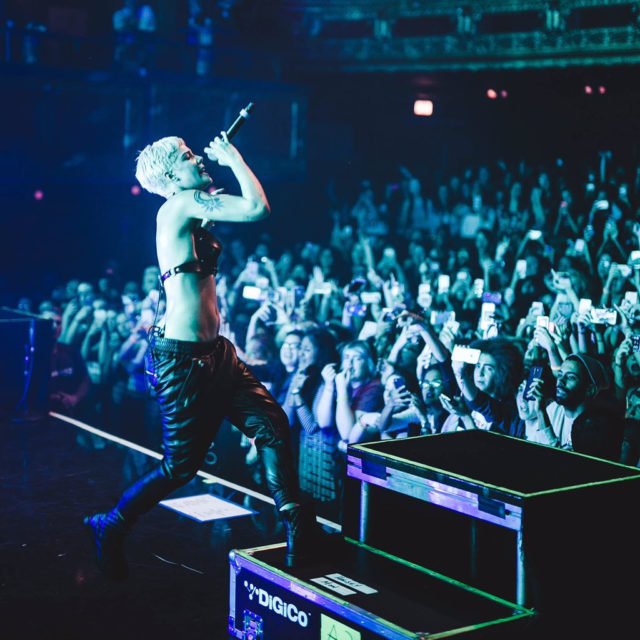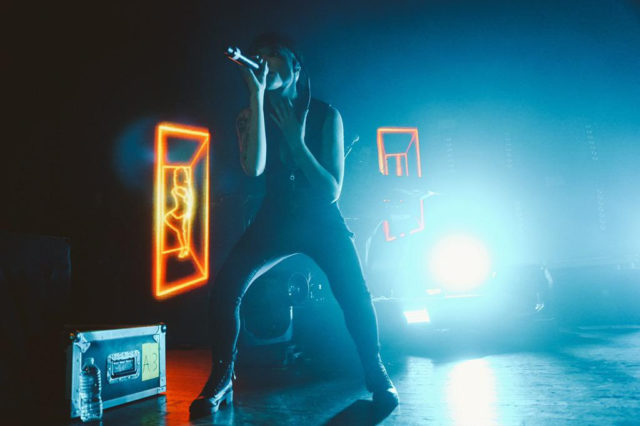 Flowy and ethereal
I consider this Halsey's "Tumblr days" because when her Room 93 EP  came out, she was in everyone's reblog list. She had blue hair and would wear flowy outfits while performing, like this feather-lined cardigan from her tour with The Kooks in 2014.
She was also known for wearing mini skirts and dresses when she was starting out. Look how far she's come.
Art by Marian Hukom
For the latest in culture, fashion, beauty, and celebrities, subscribe to our weekly newsletter here
Follow Preen on Facebook, Instagram, Twitter, YouTube, and Viber
Related stories:
Halsey spends some time with BTS in Seoul
Halsey, Lorde, and Camila Cabello's Billboard performances gave us new songs to listen to
Update your makeup stash with this cosmetic brand's new artist collabs
Concert blues: How do I spend on a ticket without regrets?
How Oh Wonder and Kesha are singing about heavy social issues