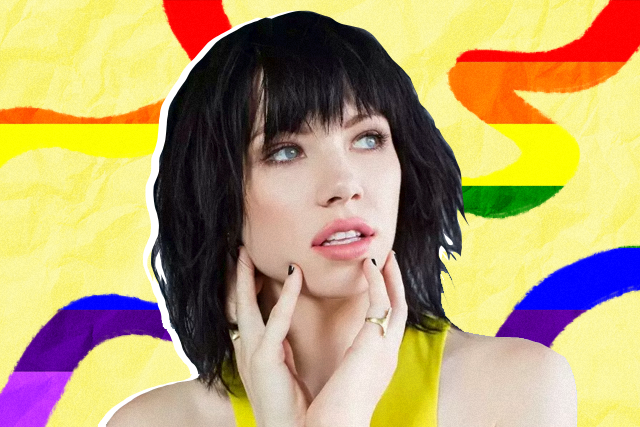 To most people, Carly Rae Jepsen will just be another singer associated with a song with an incredibly infectious tune. To the gay community, however, the singer-songwriter is regarded as a cult hero. Despite not being a part of the LGBT community, she is lauded as their "queen." If you're wondering where all the love is coming from, let me count the ways in which she has proven herself a true Pride icon
She refused to headline for an anti-gay organization
In 2013, the pop singer chose beliefs over profit by cancelling her supposed headlining concert for the Boy Scouts of America, an organization which at that time banned gay and transgender members. She backed out of the National Scouting Jamboree, urged by a petition from Change.org started by gay Eagle Scout Derek Nance, which earned over 60, 000 signatures. Derek issued a statement: "A Scout is brave, and I'm thrilled that Carly Rae and Train have joined me in standing up for what is right"
Through a tweet, the singer said she refuses to involve herself with a group prominent for being anti-gay.
As an artist who believes in equality for all people, I will not be participating in the Boy Scouts of America Jamboree this summer…

— Carly Rae Jepsen (@carlyraejepsen) March 5, 2013
Regular performer at the Brighton Pride
Since 2016, the singer has been a constant in the lineup of Brighton Pride, the biggest Pride festival in the UK. When her first participation was announced two years ago, best believe the community went crazy.
Carly Rae Jepsen is doing Brighton Pride… That is all.

— Regan Okey (@reganokey) April 14, 2016
So I think I'm going to have to go to Brighton Pride now to see Carly Rae Jepsen.

— Aaron Richardson (@AaronLR1991) April 14, 2016
Kind of got to attend Brighton Pride now I've found out Carly Rae Jepsen is performing.

— Aly (@mr_aly) April 14, 2016
Since then, the two-time Grammy nominee became a favorite, and her acts remain as one of the most looked forward to by festival-goers.
Her songs resonate with the community
Though she is best known for the hit "Call Me Maybe," Carly Rae struck a deeper connection with the LGBT community through several other songs. Intended or not, her lyrics, and even music videos prodded the heartstrings of her followers. One writer shared, "Even though Jepsen hasn't ever explicitly avowed her own queer artistic intent, the tropes in her lyrics—everything from emotional alienation to feverish anticipation to nostalgia for a yet-unexplored love—coupled with her unabashedly airy, glossy pop sound, are especially poignant to me: I think that Jepsen's music actually makes more sense to a queer listener."
Another wrote, "I chose Jepsen because she understood that duality, the way desire can burst and bloom but still remain impossible. Her odes to emotion—not to romance, not to relationships, but simply to the primacy of feeling—offered something I couldn't find elsewhere."  
Relationship with fans
She's aware of her fanbase, and she openly expressed how much she reciprocates the love. In an interview with PrideSource's Chris Azzopardi, Carly described her relationship with her gay fans as a "mutual love fest."
"I've always felt, when we go to wherever it might be—a festival or something along the lines—it's just a different kind of energy. Everyone is so joyful and you feel all of that as a performer."
She made her performance into a Pride celebration
During the recent Outside Lands music festival in San Francisco, her performance generated buzz for including surprise guest, Mark Kanemura. The stage instantly came alive with rainbow wigs, glitter, and the audience's uproar. The Pride icon and former dancer for Lady Gaga recreated his viral Pride month video onstage and later thanked Carly for making it happen.
Woke up this morning and realized this wasn't a dream.. WOW. thank you @carlyraejepsen ????❤? https://t.co/6pwvjwj71A

— Mark Kanemura (@mKiK808) August 11, 2018
Long live the queen!
Art by Marian Hukom
For the latest in culture, fashion, beauty, and celebrities, subscribe to our weekly newsletter here  
Follow Preen on Facebook, Instagram, Twitter, YouTube, and Viber
Related stories:
4 reasons why Carly Rae Jepsen is the pop star you deserve
A Valentine's Day playlist for every relationship
How to live the values of Pride month every single day
Bring lesbian, bi, or trans pride flags at your local march