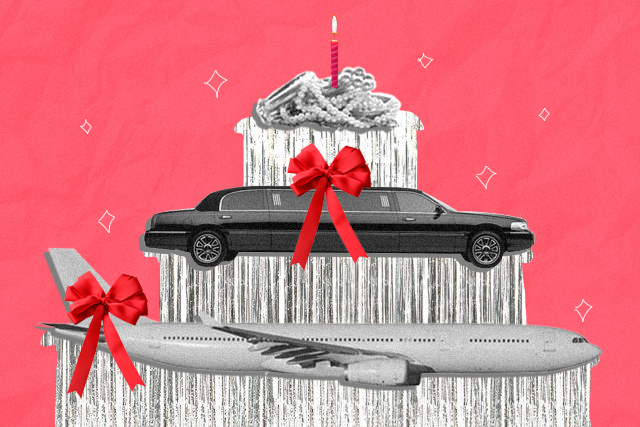 What's on your wish list for your birthday? I'm guessing there are electronics, clothes, and maybe even some decor pieces on that list. For celebrities, however, it's completely different.
Just like their daily lives, their birthday celebrations can be crazy extravagant too, and so are the gifts. Aside form the ones they get from their friends and family, their significant others go above and beyond to get them something extra special. Something they wouldn't get for themselves. Some of these range from cars to even pieces of land. If you want to find out some of the extravagant gifts they give each other, keep reading.
Kylie Jenner + Travis Scott
Celebrity couples give each other cars as gifts all the time and Travis Scott is one of them. For her 21st birthday, Kylie Jenner was gifted a white vintage Rolls Royce, complete with a red bow in front. But this isn't the first car she got from him. According to Harper's Bazaar, Travis gave Kylie a $1.4 million Ferrari after giving birth to Stormi. We can add that to our list of expensive push presents.
Kim Kardashian + Kanye West
Kim Kardashian and Kanye West are also known for giving each other extravagant gifts. In 2015, Kim decided to rent out the Staples Center so Kanye could play basketball with his friends. Kim also hired NBA referees and Lakers cheerleaders for the full effect. Guests included James Harden, John Legend, and Justin Bieber. According to TMZ, this birthday shindig costs $110,000.
Beyoncé + Jay-Z
When it comes to being extra and over the top, Beyoncé and Jay-Z do it well. Remember the music video they filmed at The Louvre? For Jay-Z's 41st birthday, Beyoncé decided to add a car to his collection. She got him a Bugatti Veyron Grand Sport that cost $2 million.
Ellen DeGeneres + Portia de Rossi
Birthday gifts don't always have to be about material things, just ask Portia de Rossi. Last February, Ellen DeGeneres celebrated her 60th birthday and her wife got her the most thoughtful gift. During one episode of her show, Portia came over as a guest to reveal that she established The Ellen DeGeneres Campus of the Dian Fossey Gorilla Fund in Rwanda. According to Popsugar, "The campus will serve as a center for tourism, education, and scientific research." On top of that, she also put up The Ellen DeGeneres Wildlife Fund. A great gift to help Ellen help others.
Victoria Beckham + David Beckham
One of the best investments is land so it makes sense that David Beckham gave Victoria Beckham her own vineyard for her birthday. This was back in 2008 in California. Aside from the amazing gift, she was also joined by friends Tom Cruise, Kate Beckinsale, and Seal.


Art by Marian Hukom
For the latest in culture, fashion, beauty, and celebrities, subscribe to our weekly newsletter here  
Follow Preen on Facebook, Instagram, Twitter, YouTube, and Viber
Related stories:
Ben Wintle sings his version of "Happy Birthday" to Iza Calzado
Don't just celebrate your birthday, make the whole month special
Matteo Guidicelli posted a buzzer beater birthday greeting for Sarah Geronimo
Solenn Heussaff had a surprise jamming session to celebrate her birthday