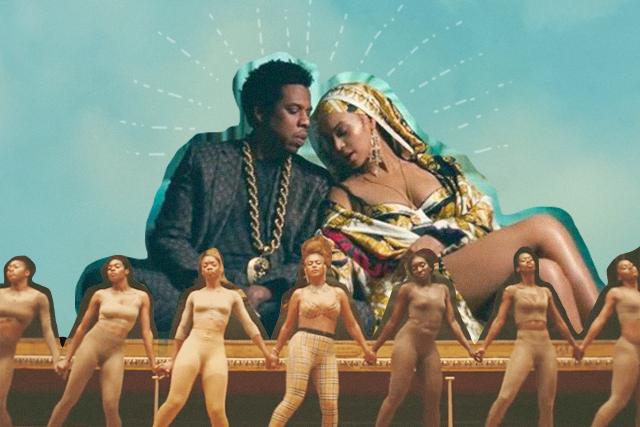 Just when you thought Beyoncé is done surprising everyone, she and husband Jay Z—collectively known as "The Carters"—suddenly dropped an album titled Everything Is Love and a music video for "Apes**t" over the weekend. Naturally, everyone lost their cool and probably hit the replay button way too much because the video now has over 10 million views—only a day has passed, people!
The video was shot at The Louvre (yes, the Carters rented out the whole damn place) and it's said to be a celebration of music and art. Aptly so as "Apes**t" hit several points in an artistic standpoint and it's just an overall visual treat. Like, seriously, it's so satisfying to watch. So we're here to list down our favorite, most aesthetically pleasing moments from the music video.
The couple photos to end couple photos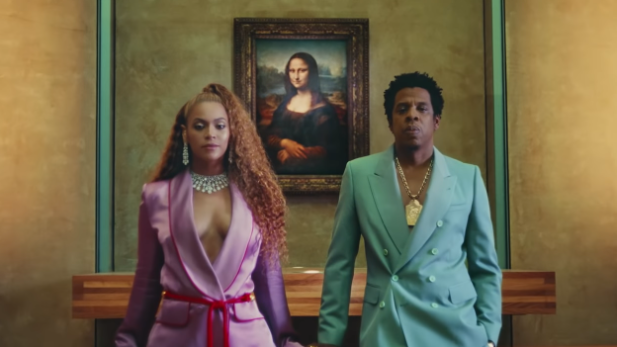 At the beginning of the video, we see Beyoncé and Jay-Z wearing pink and green suits, respectively, in front of the Mona Lisa. But that's just the first among many couple moments in the video. A personal favorite is the one where Bey is wearing an intricate white and gold robe with matching dangling earrings, while Jay-Z is wearing a chunky gold chain around his neck. This is inspired by the statue Sarcophagus of the Spouses.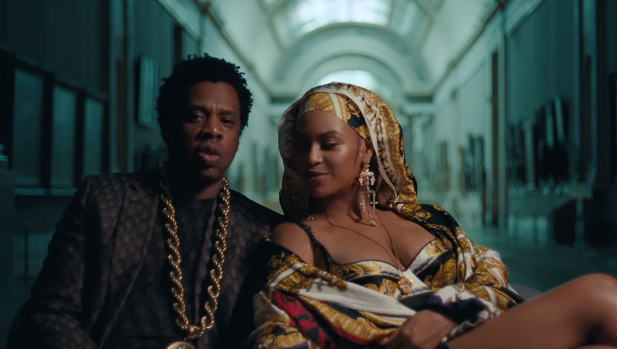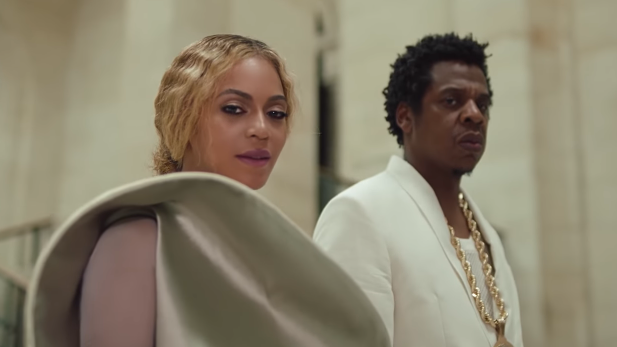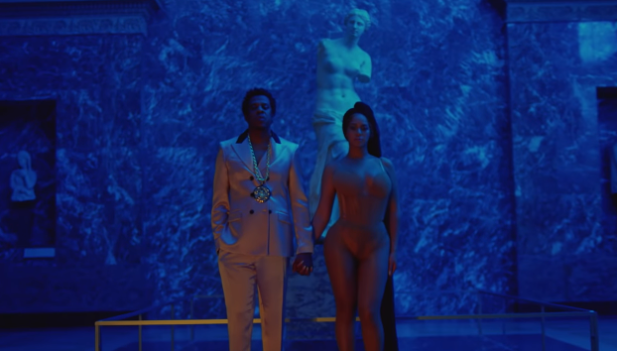 Highlighting the architecture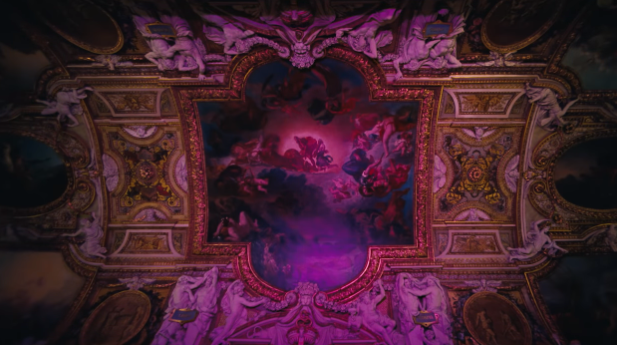 Throughout the video, you'll see shots of The Louvre's interior and exterior. The photo above is a shot of the ceiling. There are also shots of some of the famous statues in the museum like The Great Sphinx of Tanis and The Winged Victory of Samothrace.
A peek at the paintings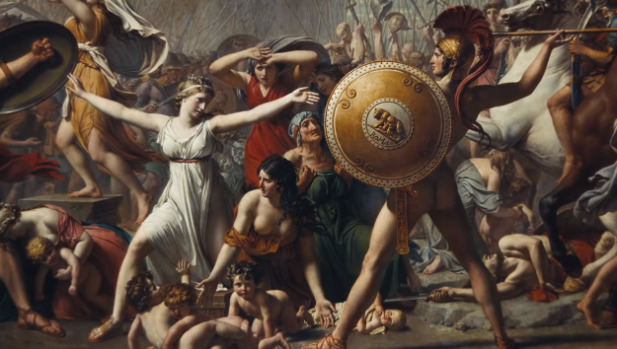 A tour of The Louvre isn't complete without the paintings. "Apes**t" highlighted several paintings, including close-up shots of the details. If you want to see all the artworks featured in the video, ArtNews made a comprehensive list.
Celebrating all skin tones
https://twitter.com/pxyonce/status/1008118463565529088
What caught everyone's attention is one scene where Beyoncé is dancing in-sync with women of different skin tones in front of a painting. There are also several moments that showcased and celebrated these beautiful women, like this choreography scene on the stairwell.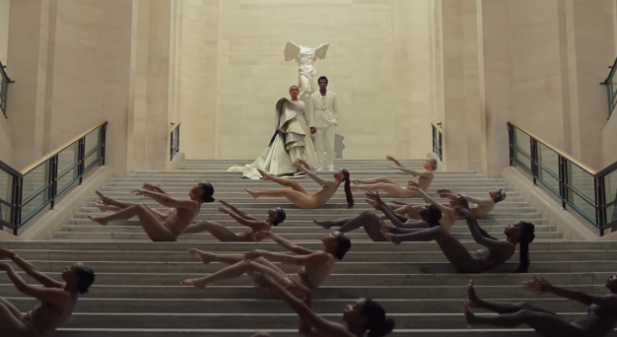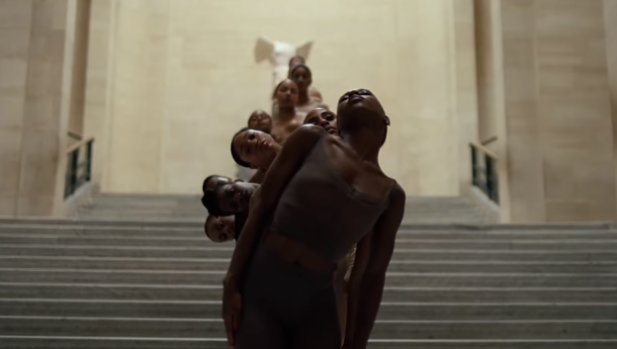 How to pose in front of artworks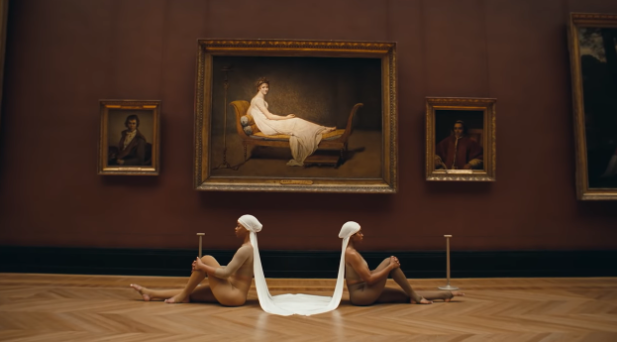 It's been an ongoing issue as to how people should act when in front of an artwork, especially if they want a photo with one of them. "Apes**t" showed scenes with women sitting solemnly in front of David's Portrait of Madame Récamier. Beyoncé also had a shot wearing a white gown to match The Winged Victory of Samothrace behind her. They looked so good and they didn't ruin the artwork!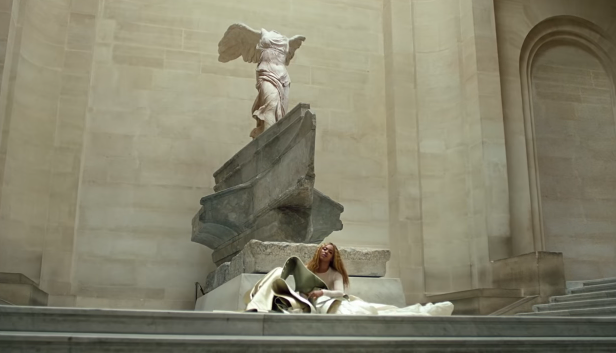 If there aren't a lot of people in the museum (which is unlikely) then this type of shoot would totally work for you.
Art by Marian Hukom
Screengrabs from YouTube
Follow Preen on Facebook, Instagram, Twitter, YouTube, and Viber
Related stories:
LOOK: Beyoncé and Jay-Z renewed their wedding vows
How to create OOTD videos like Beyoncé
Beyoncé and Kanye West are bringing back long music videos
The official Beychella look is more affordable than you think
Beyoncé's gown at the Wearable Art Gala took 10 days to create