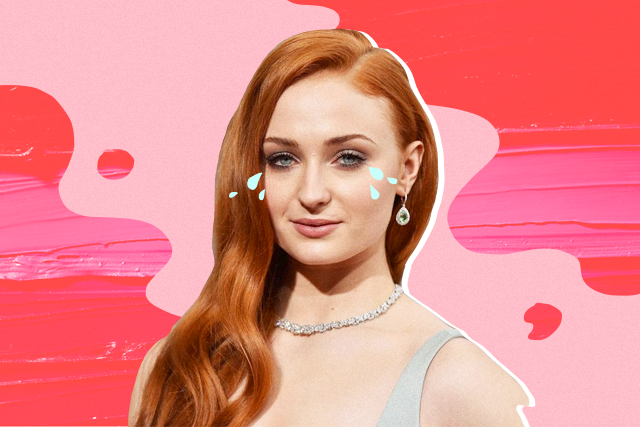 Over the weekend, Game of Thrones star Sophie Turner was snapped by paparazzis bawling her eyes out, while fiancé Joe Jonas comforted her. Naturally, fans, concerned and overly protective, were curious as to the reason behind her obvious distress. Some speculated she had a disagreement with Joe, who incidentally happened to be celebrating his birthday that day. Well, it turned out the real culprit for Sophie's tears was none other than menstrual cramps. The actress tweeted of the photo: "Lol. Thank god I have a loving fiance. Periods are a b*tch"
Lol. Thank god I have a loving fiancé. Periods are a bitch. https://t.co/O4EFGL80AM

— Sophie Turner (@SophieT) August 16, 2018
Girl, we understand completely—as did several other ladies, who's had similar experiences to what the actress has gone through.
I would have done the exact same. Periods are so annoying and I have no shame crying when the cramps are bad. Hope you feel better.

— C?itlyn (@CaitlynF26) August 18, 2018
It actually happened to me when I passed out once while being at my university because of the huge amount of pain I was feeling ??

— Covi (@Covadonga97) August 20, 2018
So do I, I just had my 2nd surgery because of it. They had to remove my fallopian tube and right ovary this time. All these people giving her such a hard time saying it's just a period makes me angry. I neglected my HEALTH bcuz of that & I paid a steep price. It hurts to see this

— Julieta Raygoza (@prettylilpist0l) August 16, 2018
But, as per usual, the Internet brought out people from the other side of the spectrum, aka trolls who can never be supportive but insist on bullying other people because… well, I'm not really sure why they do it. If you're one of those who think Sophie's reaction was exaggerated, then consider yourself educated, because this article is for you. Let these two dummies show you how NOT to react when a girl talks or complains about her menstrual woes.
This guy, for instance, somehow found it funny that she's crying over her period, as if it's an age-old joke; like he's pointing out how girls crying during their period is typical. Whatever his intention was, he came off as a douche. Once again, this kind of thinking promotes the belief that women are slaves to their hormones and therefore are weak creatures incapable of logic.
You cry because you are on a period??

— wouter van hees (@wouterhaze) August 16, 2018
Another user seem to think that the photo was a publicity stunt (seriously??) and even said it seems pretty unlikely that Sophie would cry that hard just because of her period.
Girl…. you've never had cramps

— Sophie Turner (@SophieT) August 16, 2018
Sophie rebutted with: "Girl… you've never had cramps." Preach. Menstrual pain is something I wouldn't wish on anyone, but honestly—calling it a "joke"? If anybody is entitled to an opinion, then his is definitely the last one we need. Just because you never experienced the pain, doesn't mean it isn't real. According to The Independent, "Men wait an average of 49 minutes before being treated for abdominal pain. For women, the wait is 65 minutes for the same symptoms. It's thought that this is because women are seen as exaggerating pain and being 'dramatic' due to sexist stereotypes." Menstruation, if not shamed, is openly ridiculed, especially by men. An advice to those who think they have the right to look down on women who show weakness while on their period: until you've experienced the same pain, it's better to just keep your mouth shut.
Now that we've covered what not to do, you're now wondering: how do you deal with someone on their cycle then? The answer is simple. You don't have to treat women on their period as a leper or as someone with disability. You don't even have to go out of your way to help them (though it's appreciated). At the end of the day, all we really need is empathy. While it's impossible for men to know what it's like to menstruate, all we're asking is for you to try—and if you can't even do that, then it's probably best to just stay out of our way.
Art by Marian Hukom
For the latest in culture, fashion, beauty, and celebrities, subscribe to our weekly newsletter here  
Follow Preen on Facebook, Instagram, Twitter, YouTube, and Viber
Related stories:
So how are we going to solve period pain?
Top 5 superpowers you get from your period
In this country, girls die because of their periods
Beat period cramps with food from your pantry
Let's talk about staying comfortable during your period