Here at Preen, we're fully aware that adult life doesn't always go as smoothly (and look as beautiful) as curated Instagram feeds. We all face challenges amidst all the good things. Meet Mikka Wee, a former food editor-turned-working gal in Singapore, who's about to share all the ups and downs that come with adulting and living. Welcome to Bless This Mess! 
When it comes to restaurants, I believe that what attracts me beyond the food is the chef's story. It is quintessentially impossible to separate the chef's DNA from each dish served. Experiencing a tasting menu is akin to having the chef take the seat opposite you and bare out his or her soul.
At the helm of Atelier Crenn, a Michelin-starred French restaurant in San Francisco, is Dominique Crenn. You may have remembered her from that Chef's Table episode, and my husband and I, being huge admirers of hers, were stoked to have attended her intimate talk here in Singapore called In Conversation with Dominque Crenn.
It is likely for a chef to talk about his or her craft—one that revolves around gastronomy and food. However, that wasn't the case with Dominque Crenn. From what I can remember, perhaps the only time she mentioned food was when a question was raised about food wastage. She talked more about her life philosophies and what she believed in, and I'm sure everyone present that day could see her spirit was on fire. Here are the five life lessons I learned that afternoon from chef Dominique Crenn.
In most cases in life, don't even think of having a "plan B"
"I do not believe in fear… When I decided to start Atelier Crenn, I didn't have a plan B; all I had was a plan A. So you see, I really needed to succeed."
You can imagine my slight shock, hearing this from Dominique. Unlike her, I always need to have a plan B because I am afraid of failure especially when it comes to big projects. Having a plan B is my way of creating a safety net in case plan A doesn't pan out the way I want it to.
However, I immediately understood what she meant. It is second nature to me to almost-always think of a back-up plan, but having heard what she said made so much sense. Pouring all your energies into a single plan and making it work, may sound so risky, but it pushes you to make sure it happens.
Make time to dance and disconnect
"I used to be ballet dancer—I was a terrible dancer, but I love to dance anyway."
Being in the same room as Dominique—it was impossible to ignore her magnetic energy. Her outlook in life is so different in a light and positive way—it's very, very infectious. Her humility shines through despite her successes, and it was lovely to know that one of the ways she stays grounded is by disconnecting.
"You go to an airport and what do you do? You bring out your phone, but why don't you pick up a book in the shop? Read the words, feel the paper, smell the paper! Write a postcard to your friend, your mom, your dad. Write about how much you love them…"
As much as I would love to disconnect, social media has become bound to me. Checking my emails, Facebook, and Instagram are fun and have become fused to this generation's lifestyle, however, learning to simply disconnect and place yourself in an analog bubble can do wonders to the heart, brain, and soul. It's easily forgotten with all this technology, and this was a good reminder of it.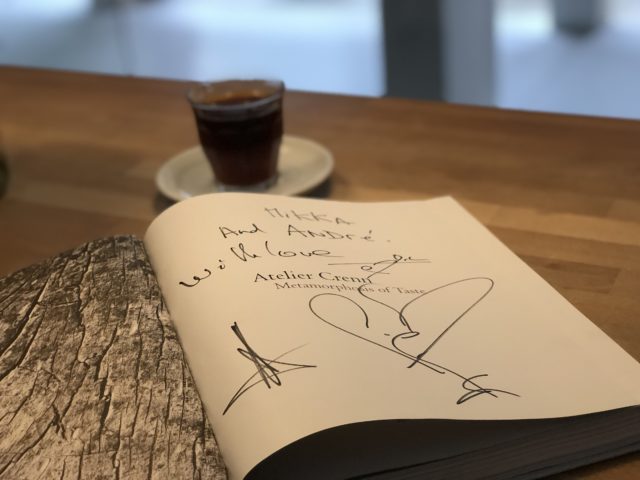 Aptitude, attitude, and altitude
"There is this quote that I always say when I hire new people to join my team. 'Your attitude, not your aptitude, will determine your altitude [by Zig Ziglar].'"
Dominique Crenn doesn't care about background or food knowledge. She cares about the things that make one human—attitude and authenticity. I wonder what it would be like to be interviewed for a job at Atelier Crenn. We would most likely have a conversation about personal growth, vision, and what lies in the heart.
Being a strong woman, whose purpose is focused on the greater good—helping those in need, standing up for what is true, and being an activist for what she believes in (gender equality being on top of them), Dominique is all about looking inside yourself. She encourages vulnerability, being uncomfortable by opening yourself up to others, and ultimately, staying true to your authenticity. 
It is important to understand your history and stay authentic to your identity
"I was adopted when I was a baby—but I had wonderful parents. I think that it is very important to understand your roots and your history because this is how you make your identity. This is how you get to understand humanity and how to navigate in this world."
Self-acceptance and self-love are tough—personally, these are things that I find myself struggling with from time to time. Dominique, on the other hand, embraces history and making the most out of the life we're given—often forgotten by many, myself included. "Knowing your history opens you up to the world more," she said. "It helps you figure out who you are, and makes you understand humanity. That we are one world. All unique individually, but we are one community."   
There will always be words
Atelier Crenn's menu format—Poetic Culinaria—comes in the form of a poem, with each dish reflected by a stanza personally written by Dominique. My kind of menu.
My work right now involves frequent research on what content works—every time I check, I learn that people are becoming more and more "lazy to read" nowadays and would rather resort to videos or images. It is not a bad thing; all are different expressions of art. Call me a purist, but I still believe that there is a certain way words draw you in, allowing you to understand the world in a different way.
I enjoy all these opportunities where I get to pick the mind of a person I admire. In my line of work, at least for the past several years, I have been fortunate to have experienced several of these moments. Meeting chef Dominique Crenn and listening to her beliefs and outlook on life left me in a state of wonder. Call it inspiration overload, call it a poignant encounter. But what Dominique has imparted to me that afternoon was a conversation that will so not easily be forgotten.
"Words, just like painting or singing or cooking, are a form of art. This is my way of expressing myself… through words and through food. If you come into my restaurant, you are entering my home. Welcome," she says with that knowing smile and sparkling eyes.
Disclaimer: The views expressed here are solely those of the author in her private capacity and do not in any way represent the views of Preen.ph, or any other entity of the Inquirer Group of Companies.
Art by Marian Hukom
Photo courtesy of Mikka Wee
For the latest in culture, fashion, beauty, and celebrities, subscribe to our weekly newsletter here
Follow Preen on Facebook, Instagram, Twitter, YouTube, and Viber
Related stories:
How social media affects me as a 20-something
Am I doing things because I like it or because it makes me braver?
Loneliness is a big part in the process of becoming
My 7 must-have apps for every working gal