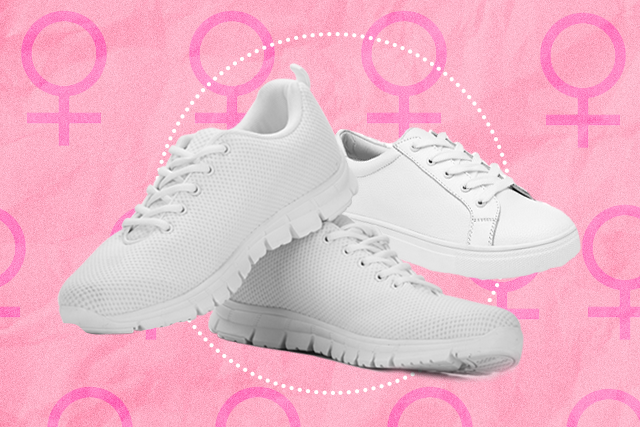 I grew up in a household of five brothers, so yeah, I understand how big of a deal athlete signature sneakers are to sneakerheads. And if you're observant, you'll notice that there is actually no sneaker line dedicated to female athletes today. The last it happened was in 1997—the Nike Air Swoopes, after WNBA player Sheryl Swoopes. Today, even the highest paid female athlete, Serena Williams, doesn't have her own signature sneaker line, though she did have player-exclusive shoes.
As Rolling Stones noted, "Today, female athletes are called on to endorse everything from headphones and hamburgers to credit cards and paper towels, but the number of shoe models on the retail market named for them is down to zero." Adding further that "female athletes receive lower salaries and less-lucrative sponsorship deals than their male counterparts is a distressing reality of professional sports today, but that signature athletic shoes named after women are nonexistent in a time when sneakers are more popular than ever is equally surprising." The publication also stressed how, although top athletic apparels sponsor a number of female athletes across different fields, and use their images to sell athletic merchandise, "the honor of having a shoe model named after them is not extended to any of these women. Meanwhile, shoes emblazoned with the names LeBron, Curry, Kobe, Kyrie, Rose and Lillard line sneaker boutique shelves the world over."
I'm sure we can all agree this is absurd. There are a lot of female athletes who deserve their own signature sneaker just as much (some, even more so) as their male counterparts. Here are some of them.
Naomi Osaka
This may not be so far-fetched as the tennis player reportedly has a multi-million dollar deal with sports brand giant Adidas. Hopefully, they'll give her a signature shoe of her own. I can just imagine young girls going excitedly to a shelf and saying, "I want a Naomi Osaka."
View this post on Instagram
Maya Moore
Maya April Moore is an American professional basketball player for the Minnesota Lynx of WNBA. She's won several championships, been named MVP for several years, and considered by Sports Illustrated as the greatest winner in the history of women's basketball.

View this post on Instagram
Margielyn Didal
Our very own, Margielyn Didal recently won a gold medal at the women's street skateboarding event in the 2018 Asian Games. The 19-year-old skater came into the Asian Games as a celebrated skater, having competed in the XTreme Games in Minneapolis.
View this post on Instagram
PV Sindhu
Pusarla Venkata Sindhu is the first Indian woman to win an Olympic silver medal, and one of the two Indian badminton players, male or female, to ever win an Olympic medal. The 23-year-old badminton player currently sits as the 7th highest female athlete earner in Forbes.
View this post on Instagram
Sydney McLaughlin
The American hurdler and sprinter has run numerous times in different relays, sometimes running under 50 seconds,and  holds a number of age-group world bests. She was 17 during Rio 2016, and is the youngest American to compete at the Olympics since 1972.
View this post on Instagram
Did we miss your fave female athlete? Write down in the comments section other female athletes you'd want to see release her very own signature sneaker, too.