Some of us are guilty of it—as trends pass by; we go with the flow and give in to short-term investment pieces like fast-fashion jewelry. We purchase what's hot based on trending styles via Instagram and since most of them are faux pieces, tarnishing becomes an annoying downside. What happens next is a repetitive cycle of disposability: we buy newer accessories and throw away the previous ones which just add up to the tons of non-recyclable waste we produce.
Until recently, a Filipino brand named FLOREIA is presenting us an alternative mantra to accessorizing and styling. Called the CIRCLE OF LIFE, we learn to practice sustainability and be stylish while wearing jewelry that is made of biodegradable and eco-friendly materials. We caught up with them at HOMI—Milano trade show and shared with us the humble beginnings of the brand.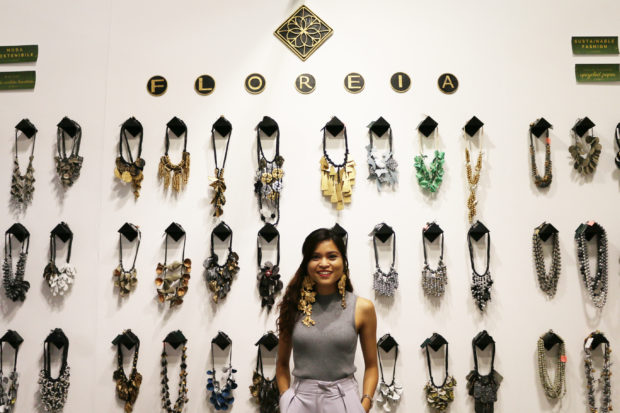 FLOREIA is a Cebu-based company which taps five local communities to produce and create hand-made jewelry pieces while giving livelihood programs to unemployed mothers. Handled by Fashion Institute of Technology New York-graduate and Managing Director Katrina Delantar, the brand now exports to more than 40 different countries worldwide. The managing director recounts that the brand started last 2012 and has been participating in various trade shows like Maison Objet, Bijorhca and Premier Class—all of which takes place in Paris; HOMI in Milan; Asia's Fashion Jewelry & Accessories in Hong Kong; and Manila Fame and Artefino in the local setting.
Floreia is well known for their statement necklaces, colorful bracelets and bold earrings which are all made using natural debris and upcycled paper—of which now has been patented by the brand. Since all the pieces are produced by hand, no two pieces are exactly alike which adds to the charm of the accessories and attracts foreign resellers more. Mostly inspired by nature, necklaces come in a variety of seasoned colors and take shape from motifs like leaves, butterflies and Calla lily flowers. The brand's vision is to redefine the concept of sustainability being cheap. Instead, the brand aims to elevate sustainability to a luxury level.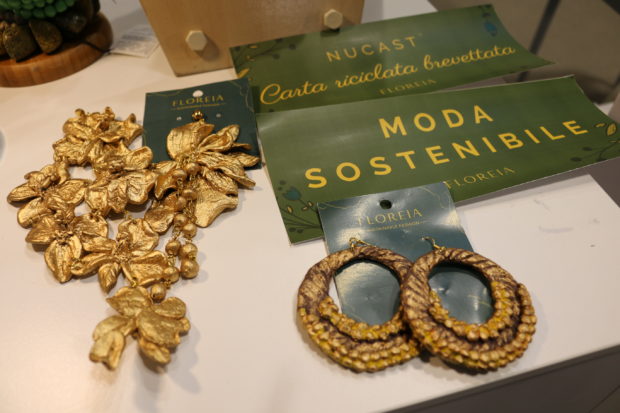 When asked what's in store for the brand, Katrina shares with us that e-commerce will soon open in their website and that the introduction of small machineries to aid and speed up production (without reducing the quantity of man power) will make them more equipped for international demands.
Photos by Dania Angela Flores
For the latest in culture, fashion, beauty, and celebrities, subscribe to our weekly newsletter here  
Follow Preen on Facebook, Instagram, Twitter, YouTube, and Viber
Related stories:
Paris is the dream, and these three Pinoy designers are living it
How to make a statement with these minimalist jewelry pieces
Zara launches its first sustainable clothing line
Sustainable beauty? Here's how three working women pull it off