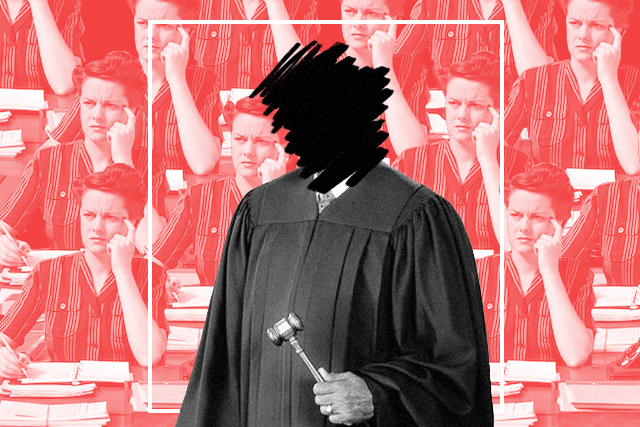 Brett Kavanaugh being confirmed as US Supreme Court justice is still a mind-boggling thing for many people. Did the US Senate really just put a man, who's accused of sexual assault by four women, into power? Yes, and the FBI investigation didn't help because it was soooo limited in scope that it even ignored testimonies from former classmates who could corroborate the allegations. Now he has this position for life. (FOR. LIFE.)
After a private swearing-in ceremony, Kavanaugh faced the cameras to thank Pres. Trump and his colleagues (mostly Republicans, probably) who helped him get to where he is now. He emphasized that the Supreme Court is a non-political and non-partisan body, and promises to uphold those values—as he should. He also said that women in the workplace should be given recognition and that he has hired four women to be his law clerks because "that is who I am."
According to the New York Times, Kavanaugh is the first Supreme Court Justice in American history to have an all-female team of law clerks. But this isn't exactly a win for feminism and all women just yet.
When a political figure is said to have brought some form of diversity into their office, they are seen as this trailblazer who's changing how things go. It's the same when Sen. Pia Cayetano once said that then-candidate Rodrigo Duterte wanted to give women an equal chance in the Cabinet. And yet, he's still disrespecting women via rape jokes and misogynistic comments.
Kavanaugh hiring women for his team doesn't necessarily save him from the sexual assault allegations, neither does creating this "I respect women" image. In fact, Yale Law School professor Amy Chua reportedly told law students that Kavanaugh would hire female law clerks that "looked like models." Sources told The Guardian that she would instruct female students who were preparing for interviews with Kavanaugh on how "they could dress to exude a 'model-like' femininity to help them win a post in Kavanaugh's chambers."
Prof. Chua's husband, Prof. Jed Rubenfeld also gave the advice. One woman told The Guardian that "Kavanaugh hires women with a certain look. He did not say what the look was and I did not ask." Although the Supreme Court Justice didn't openly say that he hired his clerks based on their appearances, this bit is still troubling.
In addition, Teen Vogue notes that Kavanaugh might overturn Roe v Wade, which is the Supreme Court decision that gave American women the constitutional right to access safe and legal abortion. He also previously referred to birth control pills as "abortion-inducing drugs," which is definitely not the case if he knew why women use them in the first place.
As of writing, Kavanaugh is doing his first set of hearings as Supreme Court Justice. We have yet to see how his presence would shape the judicial body but it doesn't change the fact that he is a disgraced judge. One who failed to keep his composure during his nomination hearing when he was put in the spot for his drinking. Here's a man who answered to claims of sexual assault with a hotheaded temper which, as Last Week Tonight host John Oliver noted, "is not the tone of a man who hopes to one day have the honor of serving on the Supreme Court, but the tone of a man who feels entitled to be on it and frankly can't believe you're being such a d*ck about this."
If you think Kavanaugh has any chance of trying to be a feminist icon, take a long hard look at his track record so far. His sexual assault case may be in limbo for now, but he's not exactly an ally for all women either regardless if he has an all-female team or not.
Art by Marian Hukom
For the latest in culture, fashion, beauty, and celebrities, subscribe to our weekly newsletter here
Follow Preen on Facebook, Instagram, Twitter, YouTube, and Viber
Related stories:
Boys will be boys—and Brett Kavanaugh will always be a disgraced judge in our eyes
Amy Schumer and Emily Ratajkowski were arrested for protesting against sexual assault
Dakota Johnson gave out her digits so sexual assault victims can share their story
Will Rodrigo Duterte give more women an equal chance in his cabinet?