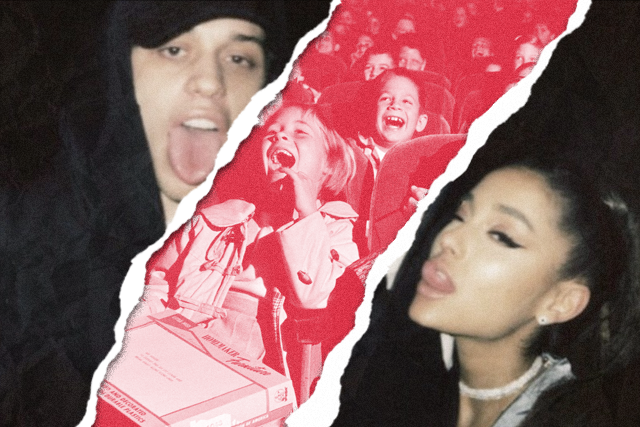 Just as quickly as it started, the Ariana Grande-Pete Davidson whirlwind romance has now come to an end. We don't really know what happened, except that it was amicable since both acknowledged it wasn't "the right time." But netizens are reacting anyway. Twitter especially has become a hotbed of reactions, especially from Ariana's fans. From the get-go, this relationship was a highly publicized one, and many have put in their two cents in the young couple's future, so it's not really a surprise that fans are giving them out again, now that it's officially over.
Browsing through Twitter, I immediately see six major reactions to this news. If you've tweeted your feelings too, see if you classify in one or more of these.
The heartbroken
These came from people who genuinely believed the couple will work out. They've become too invested in this relationship and now they're left heartbroken. Lesson of the day: Try not to get too attached to celebrity couples—especially to ones that happen too fast.
me: eh i don't care about Ariana Grande and Pete Davidson
TMZ: they broke up
also me: pic.twitter.com/YWjERKZdjX

— Ryan Schocket (@RyanSchocket) October 14, 2018
Me: I'm having such a good day nothing can bring me down. TMZ: Ariana Grande and Pete Davidson break up Me: pic.twitter.com/KvoV5Ak8Gn

— Avocado_guacaMolE? (@avocado714) October 15, 2018
The not surprised
If there are hopeless romantics, on the other side of the spectrum are the cynics. They're here to tell the above group "I told you so." This is the only natural end to this relationship, they say. Move on. That's it.
Breaking news: Ariana Grande and Pete Davidson split

Me: pic.twitter.com/alwUT4gvmE

— Giuliana (@xoprincess19) October 15, 2018
" ariana grande has called off the engagement with pete davidson " pic.twitter.com/w5zmSe7LHv

— ???????? ????? (@chanelscorpion) October 15, 2018
What do we do with the Pete Davidson track now?
There were things said, things done that the couple did to show each other how in love they were. Well, they can't take them back now. Case in point: Ariana Grande's "Pete Davidson" track. Not to mention, several tattoos, plus their shared home and pet pig. What'll happen to them now? Netizens think
Ariana after she changes the title of Pete Davidson pic.twitter.com/zmlofhRuqY

— IG: @disstressedhoe (@distressedhoe) October 15, 2018
ariana taking pete davidson off the set list pic.twitter.com/1Qsf6TPTaM

— a bitch (@buttholeeyes) October 15, 2018
so what are ariana and pete gonna do with their tattoos pic.twitter.com/QTH2IEpXZx

— harrys bicth (@stylessonvogue) October 15, 2018
Post-breakup Ariana Grande
Both Ariana and Pete haven't issued a statement yet other than that issue with the "timing." We're still waiting for any posts from Ariana on her social media accounts. But until then, we're left speculating on how she's taking life's latest curveball. Meanwhile, her fans seem to think this breakup is something she should celebrate.
ariana after breaking up with pete pic.twitter.com/WWjk7kC2vz

— hannah:246 (@eastdundito) October 15, 2018
Pete: *walks into Ariana's mansion*

Ariana: pic.twitter.com/AKFsGW0dxo

— diego (@masterfulmimi) October 15, 2018
Post-breakup Pete Davidson
While it was reported that the split was something they both agreed on, and there's no bad blood between the now exes, looking at tweets, it's pretty clear netizens believe that Pete "lost" in this breakup.  This new hashtag, #PeteDavidsonIsPoorAgainParty, says it all.
Pete Davidson when someone mentions Ariana Grande pic.twitter.com/4CExsXwrpA

— Screvesky (@screvesky) October 15, 2018
Ariana Grande kicking out Pete Davidson from her mansion pic.twitter.com/3iIsRe5YCS

— ? (@annellicious) October 15, 2018
When that one SNL writer brings up the idea of Pete Davidson doing a sketch about his breakup with Ariana Grande for next week's episode. pic.twitter.com/ODIFTvUxJw

— Jes (@DoYouEvenLIf) October 15, 2018
Pete Davidson checking his bank account #PeteDavidsonIsPoorAgainParty pic.twitter.com/GIEYLnsVRV

— Lindsay Lohan's Crackpipe (@WestHoeast) October 14, 2018
Namjoon as the new guy?
Calm down. It isn't what you think. Personally, I was surprised too when I saw that Namjoon's name keeps popping up on Twitter, tucked in between those other reactive tweets. But apparently, some fans are somehow making BTS' leader part of the narrative. Ariana Grande and Namjoon as a couple has somehow gained a fanbase. I researched, and there exists fanfiction of Ariana Grande and Namjoon on Wattpad. Yep. There's that.
— ? yoongi in my: g u t s ? (@panyoongay) October 14, 2018
MAYBE IF PETE DAVIDSON COULD DO THIS ARIANA WOULDNT HAVE LEFT HIM FOR NAMJOON… ? #PeteDavidsonIsOverParty pic.twitter.com/qyPb4tfXJd

— em (@jinquavious) October 15, 2018
THE MAN ARIANA LEFT PETE FOR #PeteDavidsonIsOverParty pic.twitter.com/q9wT12FOQZ

— em (@jinquavious) October 15, 2018
i truly hope ariana is okay after the breakup, i wish the best for pete and i'm sorry she's lost someone who made her happy but GUYS IVE BEEN SHIPPING ARI N NAMJOON FOR SO LONG N THE FACT THAT YALL- IM SJDKSJDJFK pic.twitter.com/1HaJgACvRd

— ♡ (@mo0nlightdolans) October 15, 2018
Art by Marian Hukom
For the latest in culture, fashion, beauty, and celebrities, subscribe to our weekly newsletter here  
Follow Preen on Facebook, Instagram, Twitter, YouTube, and Viber
Related stories:
Ariana Grande and Pete Davidson split after five months, but are we really surprised?
Ariana Grande and Pete Davidson engaged after 24 days together is the epitome of whirlwind romance
Pete Davidson proposed to Ariana Grande in a simple but sweet way
It's time we stop letting men get away with misbehaving and backward views