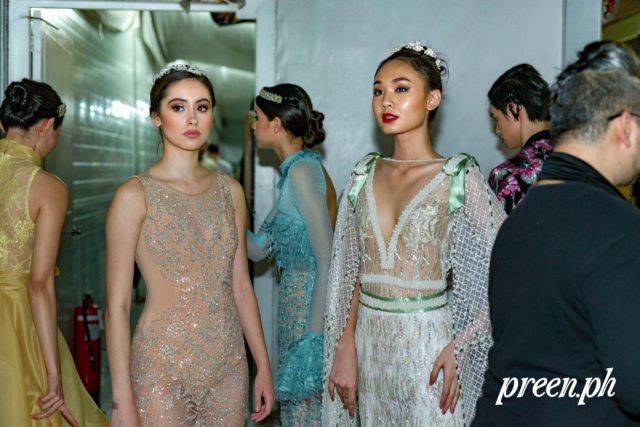 We all know fashion shows can be hectic, especially backstage. For the last day of Panasonic Manila Fashion Festival, we wanted to share that experience with you. From 8 p.m. to 10 p.m. we documented what went down from the hair and makeup up team setting up their stations to spotting props backstage. We even caught some quick changes that took five people to accomplish. To give you a peek at what happens before and during a fashion show, check out the timeline.
8:00 p.m. Waiting game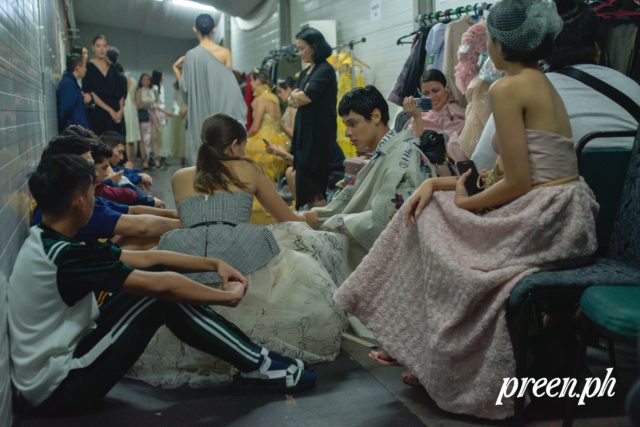 Entering backstage, we were surprised to see that everyone was calm and it wasn't so chaotic yet. Some models were already dressed and lined up, ready to walk. While waiting, models were on their phones, talking to each other, and dancing to the music. While these models waited, the others were still getting dressed by the designers.
8:27 p.m. Set up
At this time, the makeup and hair team started to set up outside with chairs, ring lights, and tools. This would be the station where models would quickly get their hair and makeup changed between designers.
8:37 p.m. Touch ups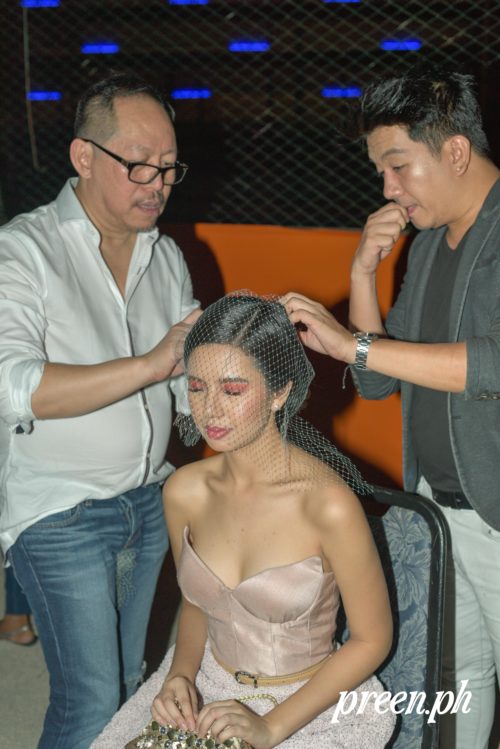 With the show just about to start, models were getting their last touch ups before hitting the runway.
8:47 p.m. Notes
With the audience waiting on the other side, the director of the show gave his last notes to everyone backstage.
8:52 p.m. Selfie time
We could hear the video intros signaling that the show would start in just a few minutes. Since this was the last day of MFF, everyone was pumped up. The hair and makeup team decided to take one last selfie before chaos began.
9:03 p.m. Starting line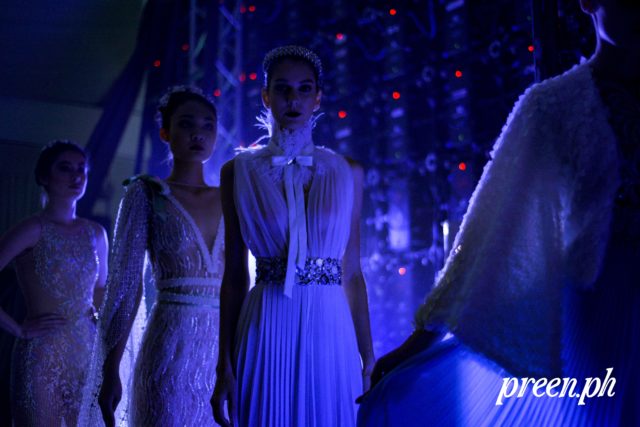 With everything prepared, the first set of models finally walked the runway.
9:14 p.m. Quick change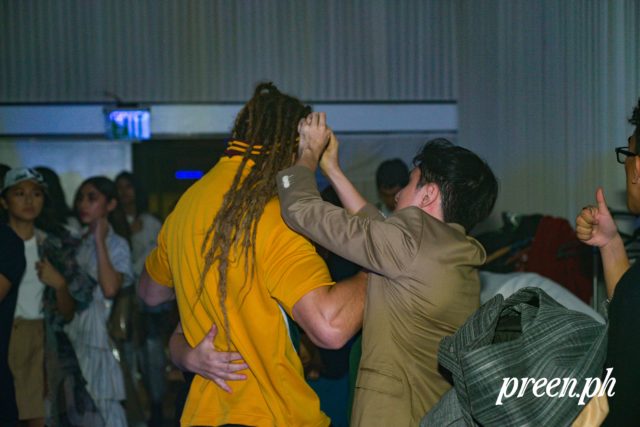 The first set of models rushed backstage to change into their next outfit. They then run to the hair and makeup station shouting their designer's name so the team knows what changes to make.
9:21 p.m. A wild Vespa appears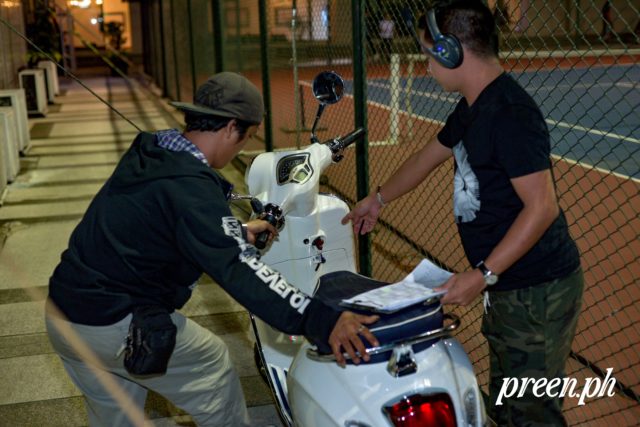 When you're backstage, you don't really see the whole show unfold so when we were asked to step aside, we were confused. We were even more lost when we saw a white Vespa being pushed out. Well, that's a fashion show for you.
9:26 p.m. More changes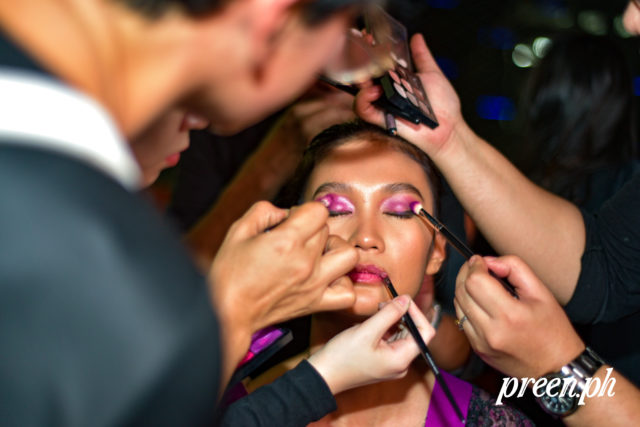 Halfway through the show, we saw even more outfit, hair, and makeup changes. Yes, it was definitely chaotic backstage.
9:27 p.m. Props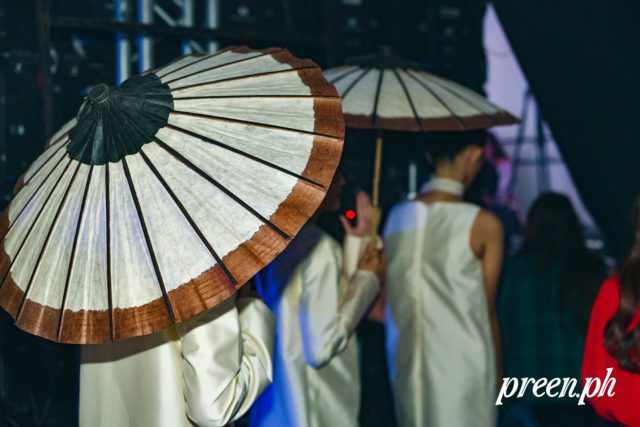 We're not sure how these looked on the runway but we saw models holding lanterns and parasols.
9:52 p.m. Final walk
With all of the collections done being shown, it was time for the designers and their muses to walk the runway one last time.
10:00 p.m. The end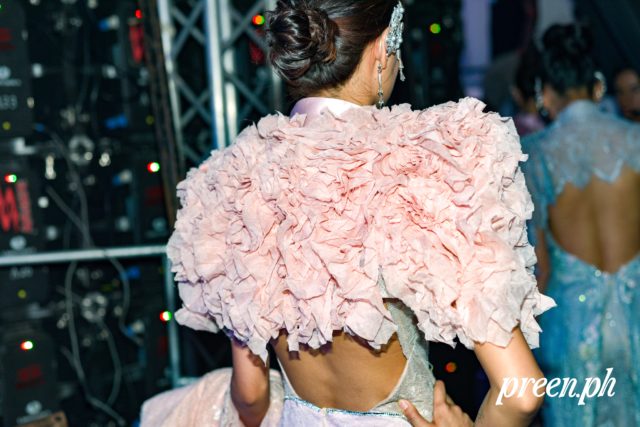 After a calm start and chaotic process, the last day of MFF came to an end.


Photos by Javier Lobregat
For the latest in culture, fashion, beauty, and celebrities, subscribe to our weekly newsletter here  
Follow Preen on Facebook, Instagram, Twitter, YouTube, and Viber
Related stories:
Androgynous fashion is breaking every gender norm at MFF
We hung out with bright "unicorns" at the MFF backstage last night
Backstage chaos was made better with beads, sequins, and everything sprakly
Thom Browne portrayed women as silenced objects on the runway