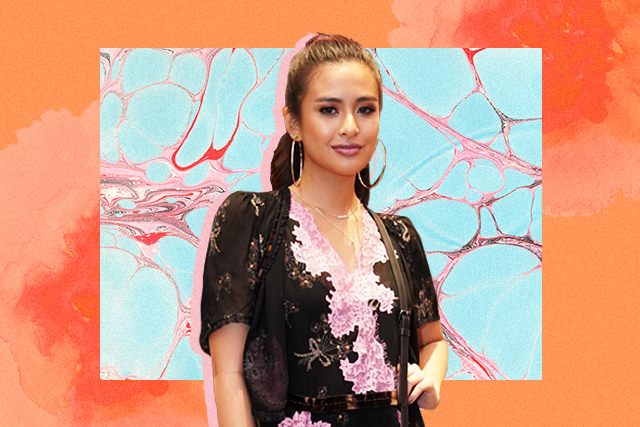 I'm sure you're familiar with local actress and recording artist Gabbi Garcia. We recently sat together while in our jammies and fluffy slippers at a slumber party—before you assume anything, yeah, I wish we're that close. Actually, we were at an event hosted by Pond's. As the brand's ambassador for their latest products, you could see why she fit the part. Up there, she looked flawless and beautiful, and I kid you not, but her glowing skin looked insanely good. She revealed that her secret to achieving this was that she always, always takes care of her skin, no matter how busy or tired she is after a long day's work—something that was taken into account in the brand's latest skin care routine offering, perfect for lazy girls like me.
But back to the actress. As I said, I caught up with her. And I thought she looked even prettier up close. In that moment, it's easy to get intimidated and forget she's just like us. But if you follow her, you'll know just how grounded she actually is as a person. She's not immune to being bashed and getting insecure for her looks. But she deals with it like a champion. In the past, she has asserted herself as an advocate of body-positivity. Last March, she posted a photo of herself wearing a one-piece swimsuit. She wrote, "Whenever I post swimsuit photos, people would always bully me for my body. Well, guess what!! Yes, I have no boobs, I'm flat chested + I have my own fair share of stretch marks. And I don't see anything wrong with it." She added, If your definition of being 'sexy' doesn't fit with my body type, well then sorry, but I LOVE MY BODY."
https://www.instagram.com/p/BgyrmQKAPpC/
In showbusiness especially, we all know there's a lot of pressure to look a certain way. So I asked her, how does she stay grounded? In such a  tough and competitive industry, where a lot of artists are deemed dispensable, how does she stay true to her values? She answered simply, "I always look back on what's my purpose and why I started—and that's because I love to perform and I love to act. It's not because I want to be this…some person na ibang iba from me. So I stick to that." And when it comes to dealing with bashers, she admits she gets provoked sometimes. "I'm not gonna be malinis because minsan napapasagot ako, if they're like really below the belt." She shares, "But it makes me more motivated and they tap my inner fire to just really pursue what I love doing." Ultimately, she tells me she takes it as a sign that maybe she's growing up and moving forward as an actress in the spotlight. After all, you can't please everybody. "So if you have bashers, maybe you're doing something right," she said.
While being criticized is part of her job as a public figure, those of us who aren't, still experience this nonetheless. For those who are struggling with their insecurities and are trying to keep up with society's impossible standards of beauty, Gabbi has a message: "The first step really is acceptance. To accept everything about yourself. I struggled with that at first, of course, [as I was] growing up. And it's not bad to feel that you're different." She then highlighted the significance of treating our "flaws" as assets: "Being different is what makes you unique of course. And I feel like if everybody's perfect and we don't have flaws, what makes us different from each other. Diba? So you have to embrace it lang."
Art by Marian Hukom
For the latest in culture, fashion, beauty, and celebrities, subscribe to our weekly newsletter here  
Follow Preen on Facebook, Instagram, Twitter, YouTube, and Viber
Related stories:
Aww, Gabbi Garcia posted a sweet message for her flight attendant mom
Gabbi Garcia isn't your average millennial
Iza Calzado's response to body snarking is a master class in self acceptance
Let go of the #Fitspo: The best sound bites from Preen Sessions on body positivity