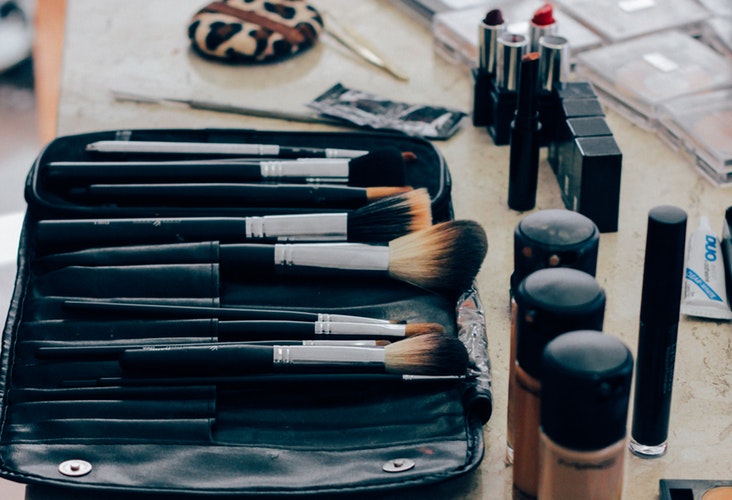 It's 2018. (Almost 2019.) Hopefully, we're getting closer to destroying gender stereotypes. Already, in the world of fashion, we see the rise of labels championing androgyny. We see this slowly translating to beauty brands. Though it's still generally marketed towards women, some brands are now openly recognizing that beauty is for all. And good. Because if you've been paying attention, men tend to their skin and body to—some even more than some girls do—and there's nothing wrong with that. A few beauty brands have now tapped into this. Sadly, these aren't available in the country just yet. But here's hoping they find a market enough to bring it here, and more importantly, that other local and international brands follow suit.
Chanel
https://www.instagram.com/p/BqXoqpOHnH9/
It makes sense for Chanel to launch Boy de Chanel, a line which caters to males, adhering to their motto that  "Beauty is about style. It knows no gender." Coco, after all, is known for being a pioneer in the world of fashion and beauty. The line—named after Coco's lover, Boy Capel—includes an eyebrow pencil, lip balm, and foundation.
MAC Cosmetics
https://www.instagram.com/p/7vO72TIpae/
MAC Cosmetics are also tapping into the market with their collaboration with the Brant brothers, Harry and Peter. Allure has this to say about the release of the impressive unisex line: "It's one of the most wearable collections MAC has released in a while, featuring user-friendly, universally flattering lip stains, brow gels, sculpting creams, and neutral shadows that feel refreshingly simple and incredibly chic."
Tom Ford
https://www.instagram.com/p/BntYpLvnwrE/
Tom Ford was one of the first high-fashion brands that tapped into male cosmetics. In 2013, it launched a range of concealers, bronzing gels, and brow gel combs for men. If they want to stand out, the Boys & Girls lipstick collection (Available at Rustan's Makati) is for them. According to John Demsey, group president of the Estée Lauder Cos., the line is "aimed at enabling men to present their best selves…and the man, who's shopping this category in this distribution feels very comfortable having this discussion."
Panacea
https://www.instagram.com/p/BiP7vfPl1JS/
Skincare should be for everyone—no one knows this more than K-beauty brands, most especially, Panacea. "We don't explicitly communicate that we are gender neutral," Terry Lee, the brand's founder says. "The press has associated us with gender neutrality, which I think is cool, because of our campaigns and imagery." True enough, as Refinery29 notes, "Panacea uses inclusive language and features people of various genders across its website, social media accounts, and the pamphlets sent straight to customers." Furthermore, the brand prides itself for seeking the perspectives of people other than cis women in every part of their development, from products and formulas to packaging and copy.
Jecca
https://www.instagram.com/p/BhbUW9hlSyE/
This unisex makeup brand was actually started with the trans consumer in mind. Its founder, London-based makeup artist Jessica Blackler realized the gap in the market after receiving numerous requests from transgender people for makeup tips. "They wanted someone that was accepting of the community, and they couldn't find this at beauty counters in the local shopping center," she said. To further fulfil its mantra #MakeupHasNoGender and advocacy for equality, 5 percent of its profits are donated to Stonewall, a UK LGBTQ+ advocacy group.
Non Gender Specific
https://www.instagram.com/p/BmgapW7geG4/
True to its name, NGS is a self-proclaimed "brand for all humans" that promotes inclusivity with a quality product—the Everything Serum—which it claims suits all skin types, regardless of gender. Comprised of vegan and cruelty-free ingredients, it promises to combat all major skin concerns such as wrinkles, skin fatigue, discolouration, and  elasticity, while giving you brighter complexion, firmer skin and reduced pore size—with quick results. In addition to inclusivity, it is also celebrated for its recycled packaging and low impact manufacturing processes.
CoverGirl
https://www.instagram.com/p/BLb4xYUAUT-/?hl=en
In 2016, CoverGirl got themselves a coverboy in the form of beauty vlogger James Charles. In an interview with Allure, he admitted that he receives a lot of negative comments. But regardless, he's having fun; being himself; and doing what he loves. Ultimately, "That's all that matters." In an Instagram announcement of his collaboration with the well-known makeup brand, he wrote, "I truly hope that this shows that anyone and everyone can wear makeup and can do anything if you work hard."
Photo courtesy of Unsplash
For the latest in culture, fashion, beauty, and celebrities, subscribe to our weekly newsletter here  
Follow Preen on Facebook, Instagram, Twitter, YouTube, and Viber
Related stories:
Watch this campaign for the fragrance industry's first genderless scent
Spanish retailer launches its first gender-neutral fashion line
Celine Dion is serious about destroying the gender binary
Androgynous fashion is breaking every gender norm at MFF