It's been almost four years since I graduated college and I only got my yearbook last December. I waited that long to lug around a 5 kg book that had all the photos of batch 2014 from every college and course in UST. It was a lot to handle, mostly because I had to turn pages upon pages before I could find the Journalism page and find my little face on there.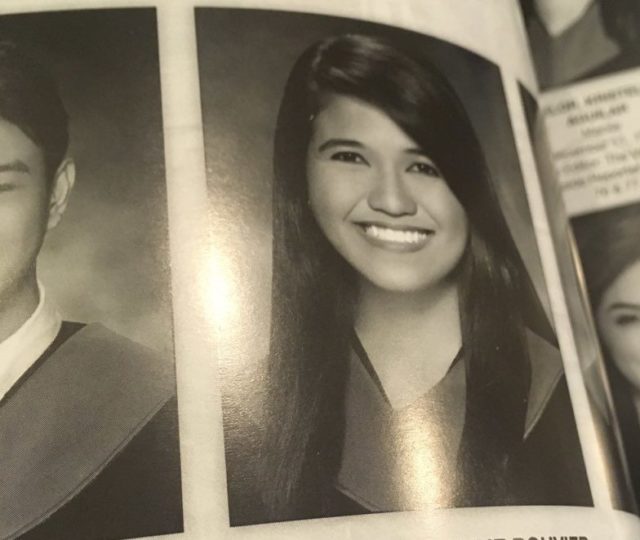 Oh, 21-year-old Jackie sure liked to get her hair straightened because she thought it looked better in photos.
Kidding aside, seeing this younger version of me (and all the people I was in class with for four years) was…kinda weird. It's like looking back at a mirror that showed all the immature parts of me and I just laughed to myself because 1) Some of those traits didn't seem to change—not yet anyway; and 2) It made me realize just how far I've gotten and all the good things that have happened to me since then.
It's officially 2019 today. Instead of the cheesy "I'm aiming to be a 'new me' this 2019" shtick, I want to take this time to look back on my college days, both the good and the bad times, and say a few things to my past self. Because if there's anything I've learned in the past year, and hoping to continue in the years to come, it's to be grateful and learn from all the things that has happened.
***
Dear college self,
1. You were always always scared that you didn't know what you'd be doing with your life. You knew you wanted to study writing, but getting subjects about media theories and news writing at 17/18 scared the sh*t out of you. Thank God you listened to your feature writing classes, though. If not for them, you wouldn't fall in love with lifestyle stories and eventually write articles for a feminist website. At 24, I still don't know where my career path will take me but at least I'm not wondering why I'm not pursuing lifestyle writing.
2. The fear of disappointing others sucks and I saw how you struggled with that all throughout college. You'd do fine with solo work but end up isolating yourself when it's a group work, burning a lot of bridges in the process. It wasn't okay and I wish I could help you with that, but I'm still dealing with it at the moment. Here's one piece of advice that I tell myself (rather, got it tattooed as a a reminder) when things go awry: "Control what you can, confront what you can't." Remember that and take baby steps to bettering yourself.
3. Speaking of doing things solo: Choosing to be alone and minding your own during your free time isn't always bad. Moreoever, you shouldn't feel guilt for opting not to go to outings and hangouts with blockmates and/or friends. There is more to life than being clique-ish because you think that's how you'll survive every year. Trust me, you're going to appreciate all the alone times you give yourself as you grow older.
4. In the spirit of Ariana Grande's "Thank U, Next," let me just tell you this: Your first relationship and breakup is going to hurt like a b*tch. But sooner or later, you're going to have to let go of all that resentment—for him and for yourself—and make room for the time, attention, and love you can give to others. Just wish your ex the best and move on when you're ready.
5. That said, and as Tumblr cliche as it sounds, not everyone who enters your life will stay and you have to be fine with that. There are a lot of good people out there that you have yet to meet. (A little spoiler: You'll meet them at concerts, your workplace, and even your travels.)
6. There's nothing wrong with the way you look. Don't believe what society tells you about "the ideal appearance." Do what makes you feel good and looks right for you, not because someone else told you to so you can appease their standards.
7. You're going to do just fine in the next few years—not astoundingly great, but good enough to feel contentment. Remember that merits and grades don't measure your intellectuality and your worth as a human being. Also, having ridiculous amounts of cash isn't what life's about—learn to appreciate the small things first. Just know that even if you have an average life compared to a lot of people around you, you are enough.
Hang in there, past self. I'm doing the same.
Photo courtesy of Unsplash
For the latest in culture, fashion, beauty, and celebrities, subscribe to our weekly newsletter here
Follow Preen on Facebook, Instagram, Twitter, YouTube, and Viber
Related stories:
Your "constant person" may not be who they seem
Why having a friendship breakup can be liberating
A list of things I actually miss about college
I couldn't wait to break school rules once I graduated