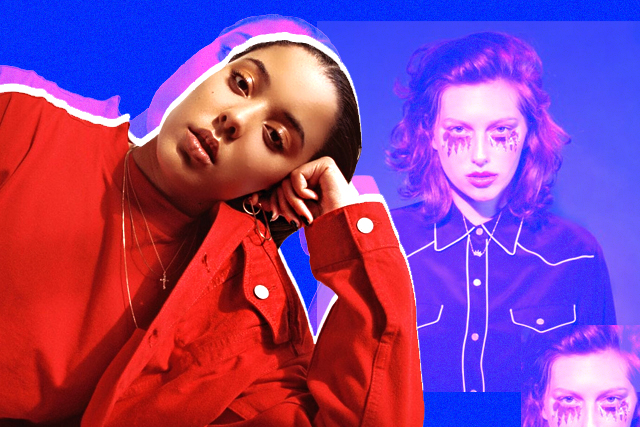 This year has been relatively great for women in music. Of course, there is still so much to be done for us to claim equality, but we do acknowledge the progress we've been seeing in the industry. In this year's Grammy's, for instance, women were duly recognized (finally). We only hope this will continue in the following years. If BBC's Sound of 2019 is any indication, it seems the incoming year will be a strong one for women in music, and we are already so excited to see and hear from them. Here are just some of the female bosses who will most likely dominate the charts in 2019. Get to know them now.
Flohio
Funmi Ohio aka Flohio is the 25-year-old British-Nigerian artist who first took the UK rap scene by storm in 2016 when she released "SE16" with God Colony. She's known for her gritty, fast-paced melody coupled with intelligent lyricism, and wrapped in a genre-bending production which The Guardian describes as "industrial techno meets metallic grime with the occasional trill of more traditional, clubby hip-hop."
Grace Carter
20-year-old, self-professed "angry child" Grace Carter channels all her angst, frustration, and heartbreak into soulful ballads. Influenced by the likes of Lauryn Hill and Nina Simone, she began songwriting at a young age, and at 14, was already performing her own material in public. At 15, she converted her bedroom into a makeshift recording studio to feed her passion and taught herself to play the piano by watching YouTube videos.
King Princess
King Princess was the first artist to sign to Zelig, the new label of producer Mark Ronson, who called her "a prodigy in the making." The EP she dropped this year, Make My Bed, earned nods from music critics around the globe. As a member of the LGBTQ community and feminist advocate, she makes sure to be the voice of her community through her songs and performances. Her full-length debut is expected next year so watch out for that.
Mahalia
British singer-songwriter Mahalia is looking like the next posterchild of women in R&B this 2019. She wrote her first song at age eight, started playing guitar at 12, signed a deal with major record label Atlantic Records at age 13, and now, at 20, has already performed gigs with Ed Sheeran, spent studio time with big time producer Evan Landry, nominated in this year's British Choice Awards, and even played a part in the 2016 film Brotherhood.
Pauline Jan Villanueva
You might know homegrown talent Pau Villanueva from the bands Carousel Casualties and Athalie. She's been playing music for around ten years. An architecture student, she said writing and singing is her way of letting loose from all the stress. She also uses it as a tool for self-growth. Listen to her distinct sound below.
https://www.facebook.com/southboundsessions/videos/959945217524574/
Art by Marian Hukom
For the latest in culture, fashion, beauty, and celebrities, subscribe to our weekly newsletter here  
Follow Preen on Facebook, Instagram, Twitter, YouTube, and Viber
Related stories:
Press play: 5 empowering female musicians
Female-fronted bands that flip off gender stereotypes in music
DJ Tokimonsta on battling gender and race stereotypes
How Oh Wonder and Kesha are singing about heavy social issues