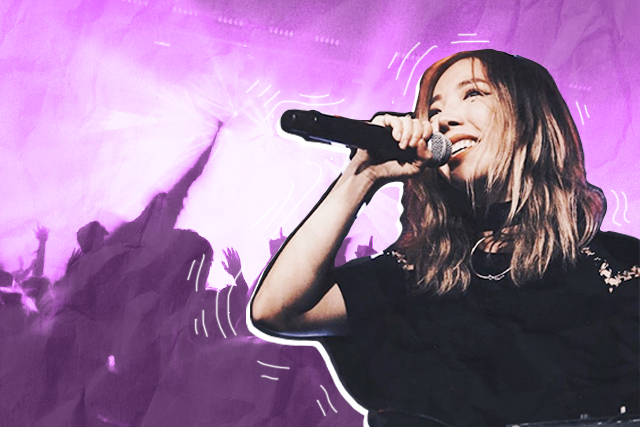 "I don't want to be rare," DJ Tokimonsta declared. "I don't want to be known as the only Asian female doing this."
The LA-based musician, also known as Jennifer Lee, arrived in Manila yesterday morning after a pumped-up show in Seoul. She said she slept the whole day before facing the press for an intimate Q&A before her set in XX XX.
Just like other DJs, Jennifer endured a lot throughout her career. She shared that she still struggles with putting out tracks that show vulnerability at times, "It's very risky to be vulnerable and to show everyone something unique," Jennifer said. And one of most sincere albums to date is Lune Rouge, which came after she recovered from an incurable disease called moyamoya. She underwent two brain surgeries, and lost the ability to speak and make music for a couple of months.
"Resilience is everything," Jennifer said. That seems to be her motto with everything, especially making it as a female DJ in a male-dominated industry. Also as a Korean who first made a name for herself in America.
"As you know there aren't many Asian females who are serious in the techno music world. I've seen many in other genres though," she said. "I wasn't very common but you know, my music is up to the standard of my male peers. My male peers respected the music that I made. So to some extent, I felt like I was one of the crew."
But the challenges came when she traveled to different countries and met with "more mainstream industries." "It started to feel like there was pressure to do things I was uncomfortable with. At the end of the day, it was up to me. But they were like, 'Do you want to be a spokesperson for this brand?' and it's something corny. Then the bigger you get, the more people would be like, 'Oh this is a good opportunity, Jennifer.'" Her least favorite offers are those that assume she'd like to represent a girly brand or product because "you're a chick."
The life of female DJs, regardless of location and country, isn't always glamorous. Many receive sexist comments from spectators and men don't respect their boundaries. If there's one thing that Jennifer learned in her career, it's to not let anyone step all over her.
"I always put my foot down and say, 'I don't do corny sh*t.' I want to make sure that I'm an artist of integrity and even though I don't set out to be an example, I take responsibility of that," Jennifer said. She also emphasized that she is more than her gender and her race. Even though Jennifer said that she doesn't primarily aim to be a role model for all, she recognizes that there are people who look up to her.
"I hope people will understand that you can't challenge women or Asians with that level of disbelief or the view that you're this four-leaf clover that's super rare," she said. "I want it to be normal so people like me who make music are in the same level as everyone else. The playing field will be even and the challenges for everyone will be equal."
I saw a lot of people nod their heads in agreement as Jennifer said these words. You just know that she earned their respect, not just through her music, but with how she wants to shake up the industry she works in. Funnily enough, I found myself listening to Lune Rouge from start to end right after the Q&A—and it won't be the last album I'll listen to.
Art by Marian Hukom
Follow Preen on Facebook, Instagram, Twitter, YouTube, and Viber
Related stories:
The not-so glamorous life of a female DJ in Manila
Press play: 5 empowering female musicians
DJ Jazzy Jeff on how music brought him and Will Smith together
DJ Sanya Smith's latest playlist will get you through any day of the week