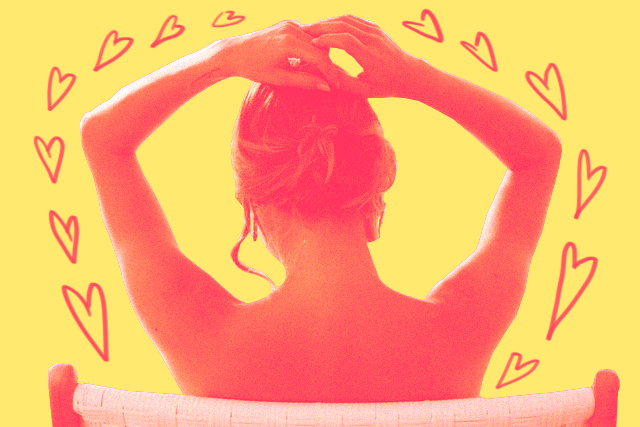 The other day, I was eating dinner with my friend. I noticed something was troubling her, so I asked what it was. She then asked me, "Why do you think people need to post photos of themselves online?" I was taken aback because it seemed to come from nowhere. She explained that her mom called her, asking to tell her sister to stop, or lessen, the photos she post online, most of which show her in bikinis. She said she wanted to defend her sister but wasn't sure how as she couldn't quite explain to her mom why she, like other people, does that.
She knows I talk about this a lot especially at work. I admit I have encouraged people to post online. I explained my point in those articles was to say that, as an advocate for body positivity, I want people to know that if they want to flaunt their bodies, then that's perfectly okay. But she wasn't content, and I know she was looking for an in-depth answer to her why. Of course I'm no expert, and acknowledge there is a much more complex answer to why people behave the way they do online, one that's rooted in psychology. But I wanted to understand too. So I did my research.
Speaking with Psychology Today, Mallorie Dunn, founder of body-positive fashion line SmartGlamour, said, "To me, body positivity means accepting the body you have as well as the changes in shape, size, and ability it may undergo due to nature, age, or your own personal choices throughout your lifetime. It's the understanding that your worth and what's going on with you physically are two separate entities — that no matter what's happening inside, outside, or to your body, you're still just as worthwhile as the person next to you."
https://www.instagram.com/p/BszTrMuFDQV/
As to the question of why people post, I'm sure there are many studies being conducted to understand this. I found some that piqued my interest. One person in Quora said, "We're human therefore we need and crave attention, validation, love, acceptance, and the list goes on. Some people more than others, which comes down to how much, often, or in what fashion people participate and utilize social media platforms." Another said, "People actually love to post their lives on social media. It can be the attention hungry attitude of the humans or the urge to let the world involve into their lives and share every bit of emotions."
Echoing this statement, Odyssey wrote, "Social media portals instill a culture of dependency in our society. We depend on the number of likes as a direct representation of our worth. Although as a child we are taught to be who we are and say what we feel despite the opinions of others, social media defies this notion. We use social media portals as a way for people to reassure us that who we are and what we are doing is acceptable."
Here, the desire for attention contradicts that of Mallorie's definition of body positivity. So then the link between body positivity and posting online becomes murky. We always see posts of people with the hashtag, but what does it really mean? I find myself questioning my previous articles. I thought, do having the confidence to share photos of yourself automatically mean you can brand yourself as someone who is "body positive"? Alternately, if you choose NOT to post your photos, does it mean you're not body positive?
Beauty Redefined directors Lindsay and Lexie Kite greatly helped me clear the misconceptions about it. According to them, "The image-focused nature of the Internet can confuse people about what it means to have confidence in your body and yourself. Online, body confidence and female happiness tends to look like wearing a swimsuit or sports bra and leggings and posting pics, but confidence doesn't have to look like a carefree swimsuit pic online.It might actually look like freedom from worrying about how you look (and that often means you won't have pics to post online). It might mean the confidence of not having to "prove" your confidence in a pics-or-it-didn't-happen mentality." Ultimately, they said, "You don't have to post photos of your body to prove your body confidence. You owe the internet nothing."
Lindsay and Lexie stressed that it's important to think about why you post. If it's simply to get validation through likes, then best to think twice before sharing. They additionally stressed that influencers have a huge responsibility in this narrative. They said influencers should always keep in mind if their posts are helping or hurting vulnerable followers. "These well-intentioned images can easily get lumped in with every other body-focused message women receive all day every day, whether the post has an #inspo caption or not," the experts said.
They also reiterated that not only influencers, but scrollers too must be aware of how these images affect them. "If you are prone to feeling defined by the look of your body, it is helpful to be conscious of who you follow and their impact. You have every right to unfollow, or mute anyone that sparks your body fixation." In line with this, they left us with this reminder we all could need today: "Your body is an instrument, not an ornament. Any message that makes you forget that doesn't deserve a place in your life."
https://www.instagram.com/p/BsmDrZzF80z/?utm_source=ig_web_copy_link
In conclusion, posting and interacting with posts may be more complex than we think. Remember that beyond just a hashtag or a marketing gimmick, body positivity, at its core, is about being comfortable and having a healthy relationship with your body. And that doesn't necessarily mean you have to post photos of yourself. Whether you choose to flaunt it, or not, is up to you. Sure, I would still encourage readers to post photos of yourself if you want to. Just always remember that validation should come from deep within you, not the number of likes or from other people.
Art by Marian Hukom
For the latest in culture, fashion, beauty, and celebrities, subscribe to our weekly newsletter here  
Follow Preen on Facebook, Instagram, Twitter, YouTube, and Viber
Related stories:
What body positivity means to Whitney Thore
Let go of the #Fitspo: The best sound bites from Preen Sessions on body positivity
Gabbi Garcia is the body-positivity queen we deserve
This weekend, remind yourself about how beautiful your body is