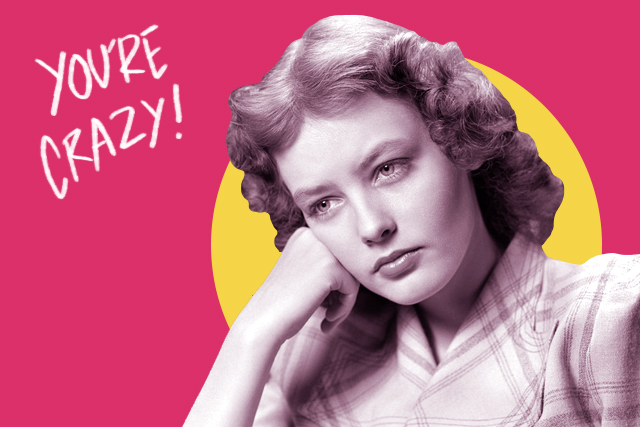 This column may contain strong language, sexual content, adult humor, and other themes that may not be suitable for minors. Parental guidance is strongly advised.
Ah, that tired old trope: women are emotional, women are irrational, women are hysterical, woman are unreliable. In short, women are crazy.
Crazy when applied to a woman is usually not intended as a compliment. Crazy when applied to a woman is usually not equated with the touch of madness that is often associated with genius. Crazy when applied to a woman is usually code for "not to be taken seriously."
But men, well, men are allowed to get angry. They're allowed to lose their temper when they need to vent their frustrations. They're allowed to raise their voices to make a point. They're allowed to do all that and when they do, they're heard and they're taken seriously.
Gender bias, much? 
Why is it that women are expected to keep their cool at all times and are excoriated when they lose it, while men are excused, and even applauded for the same kind of behavior?
We've seen it so many times. Like film actresses who make demands on the set are deemed divas who are "difficult," while temperamental male stars with a penchant for alcohol or sexual harassment are considered so prodigious in talent that everyone willingly overlooks their crassness. Or the highly competent, albeit vocal female executive passed over for a promotion in favor of a less qualified male whose flashes of temper are accepted as justified.
Recently, a calm, measured, though at times tremulous Christine Blasey Ford was deemed less credible than a blubbering, hysterical, calendar-showing, beer-loving—and most likely lying—Brett Kavanaugh, who was rewarded for his boorishness with a seat on the Supreme Court. 
Perhaps nowhere is this gap in the acceptable modes of behavior more evident than in the world of sport. Sometimes the sexism is subtle, but often it is blatant: the dress codes that apply more strictly to women than to men, the lack of tolerance for female athletes calling out referees on disputed calls, or even the derisive comments made about female players who do not conform to traditional standards of beauty and femininity.  Or even the constant demotion of a superb tennis player to "the greatest female player" instead of counting her among the greats, period, gender irrelevant.
READ MORE: Serena Williams can win no matter what she wears
If there's one person who would know about this insidious form of discrimination, it's Serena Williams. Remember last year when she faced Naomi Osaka during the finals of the US Open? She was handed three code violations that she felt were unfair, and she angrily confronted the umpire Carlos Ramos. Needless to say, she suffered a shocking defeat to her opponent, losing out on the chance to win her 24th Grand Slam title.
As she said at the time, "I've seen other men call other umpires several things. I'm here fighting for women's rights and for women's equality and for all kinds of stuff. For me to say 'thief,' and for him to take a game, it made me feel like it was a sexist remark. He's never taken a game from a man because they said thief."
In many quarters, Serena was lauded for standing her ground, but there were also those who vilified her and even lampooned her. An infamous cartoon ridiculed her behavior, depicting her with exaggerated simian features, alluding at once to her primitive behavior and African-American features. Her critics called her crazy.
Well, the tennis star, with the support of the ever so woke and ever so savvy sports apparel behemoth Nike, turned what was meant as derogatory into something to be celebrated, with a new ad that debuted a few days ago. If you think I'm crazy, the ad seems to say, then bring on the crazy.
READ MORE: Nike's new ad wants female athletes to embrace their "crazy"
It's a clever—and inspirational—way to call out sexism in sports. The new Nike ad is called "Dream Crazier," and in it Serena calls out the double standard in sports, and takes "crazy" to a different level—the level of excellence.
Serena's voice narrates the ad, which flashes footage of some of the most exceptional female athletes in the history of sport crying, competing, expressing their emotions, disputing a call: "If we show emotion, we're called dramatic. If we want to play against men, we're nuts. And if we dream of equal opportunity—delusional. When we stand for something, we're unhinged. If we're too good, there's something wrong with us. And if we get angry, we're hysterical, irrational, or just being crazy."
Serena goes on to feature the most inspiring moments of "crazy," things that women athletes continue to push for—the right to box, coach a team, wear a hijab while competing, run a marathon, not to mention what she herself did—"winning 23 grand slams, having a baby, and then coming back for more." In the end, she says, "Show them what crazy can do."
https://www.youtube.com/watch?v=whpJ19RJ4JY
Crazy, as Serena and her equally extraordinary colleagues such as the gymnast Simone Biles, the Olympic fencer Ibtihaj Muhammad and the US women's football team, fuels the dream.
And the rest of the world can just f*ck themselves, quite frankly, if it can't deal with this level of crazy.
B. Wiser is the author of Making Love in Spanish, a novel published by Anvil Publishing and available in National Book Store and Powerbooks, as well as online. When not assuming her Sasha Fierce alter-ego, she takes on the role of serious journalist and media consultant. 
For comments and questions, e-mail [email protected].
Disclaimer: The views expressed here are solely those of the author in her private capacity and do not in any way represent the views of Preen.ph, or any other entity of the Inquirer Group of Companies.
Art by Marian Hukom
For the latest in culture, fashion, beauty, and celebrities, subscribe to our weekly newsletter here  
Follow Preen on Facebook, Instagram, Twitter, YouTube, and Viber
Related stories:
This is how Stephen Curry fights gender inequality for his daughters
Serena Williams can win no matter what she wears
Naomi Osaka didn't deserve to be booed after winning the US Open
Serena Williams is not here for your sexist comments