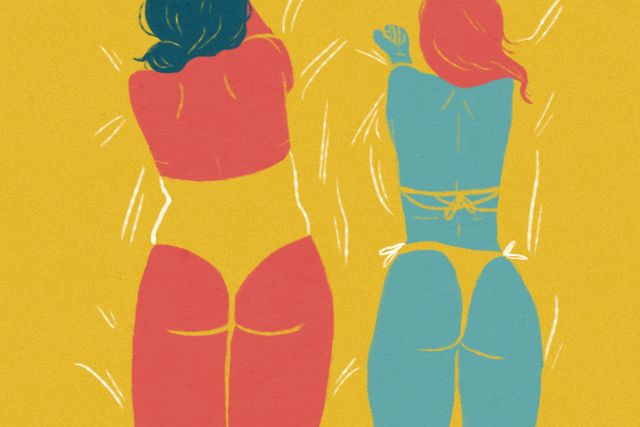 Can celebrities ever post photos of themselves without someone having to say a bad thing about them? Apparently not. Case in point: Supermodel and actress Emily Ratajkowski posted a picture of herself and her friend, Caitlin King, lounging on the beach on Instagram. Both of them were wearing swimsuits from the model's swim line, Inamorata, which she tagged in the caption. It was obviously meant to show off how the pieces look good on women of different sizes. But the trolls and haters had another thing in mind.
One user commented, "She knew exactly what she was doing when she posted this photo. She has the better body, she knows she does (but pretends she doesn't) and she's happy about that." Another wrote, "She makes herself feel better by posting a photo of a fat woman laying next to her! LOL…the ego!"
Um, seriously? Emily herself shut down these mean statements when she replied to one commenter: "I love my friend's body and both her and I think she looks great here!" The fact that Em had to assert herself is so messed up. Honestly, I feel bad for those people who feel that way—more so for their friends. I mean, why the need to compare? The fact that you have to question the model's intentions honestly says a lot about you, more than anything else. Just so you know, it is possible to be genuinely proud of a friend and think she's beautiful, without any judgments whatsoever. I hope you eventually feel that way towards your friends too.
Sadly, many of the commenters were themselves women. This goes to show just how much still needs to be done in our fight against internalised misogyny, as well as our advocacy for body positivity. With this one post, somehow, the Internet managed to insult both women with their rude comments. While some chose to focus on Emily and her "intentions," others outright targeted Caitlin.
One (stupidly) pointed out, "Go to her page, she is a plus sized woman meaning overweight. Unless she has a rare medical disease, she can lose weight and workout. Maybe even look hotter than Emily if she does squats too." Okay, let's be clear, those are not facts. Just because someone is plus-sized, that doesn't necessarily translate to them being obese or unhealthy.
READ MORE: Why fat-shaming shouldn't be used to motivate people
Another also ~stupidly~ said, "If the left one is as beautiful as Emily, give me a reason why she could not get 20 M followers as well???" Um, since when was beauty measured by anyone's number of followers? That's one of the biggest BS I've heard ever. Like Emily wrote, "All these haters are crazy. Just because you're used to seeing one body type on the internet doesn't mean it's the only one that should be considered 'beautiful.'"
Amen. Both women are beautiful in their own ways. And let's be real, they both look hot in their swimsuits. No need to overthink this IG post, haters. Your jealousy is showing.
Art by Marian Hukom
For the latest in culture, fashion, beauty, and celebrities, subscribe to our weekly newsletter here  
Follow Preen on Facebook, Instagram, Twitter, YouTube, and Viber
Related stories:
Amy Schumer and Emily Ratajkowski were arrested for protesting against sexual assault
Model Emily Ratajkowski defends Melania Trump from slut-shaming
Emily Ratajkowski is British 'GQ' cover girl, twice-over
Body positivity advocate Jameela Jamil got called out for being "slim"