https://www.instagram.com/p/Bv_amN4nr82/
I know I'm not alone when I say that I hate when people tell me I should cover my body. I like to show it off and there's nothing wrong with that. Lorin Gutierrez, daughter of Ruffa Gutierrez, knows what I'm talking about.
On Instagram, like many people, she posted a photo of herself wearing a bikini. Totally normal but someone was triggered. Lorin shared on IG Stories a comment from a netizen telling her that she should hide her body and should only be seen by a "special na tao." This is so wrong on so many levels.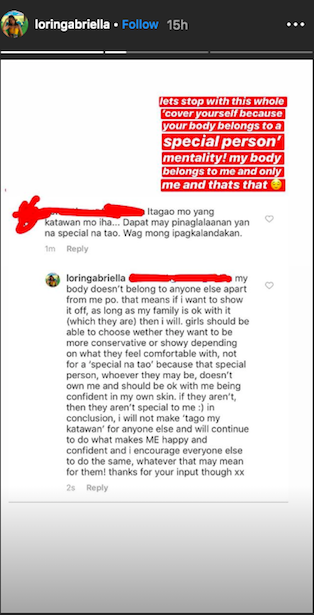 Luckily, Lorin stood up for herself and put the netizen in her place. "My body doesn't belong to anyone else apart from me po." Preach, girl. She continued, "Girls should be able to choose whether they want to be more conservative or showy depending on what they feel comfortable with, not for a 'special na tao' because that special person, whoever they may be, doesn't own me and should be ok with me being confident in my own skin." For everyone, please let her statement sink in because she's right. Stop telling girls what to do with their bodies, it's theirs and they can do whatever they want with it.
Photo courtesy of Lorin Gutierrez' Instagram account
For the latest in culture, fashion, beauty, and celebrities, subscribe to our weekly newsletter here  
Follow Preen on Facebook, Instagram, Twitter, YouTube, and Viber
Related stories:
Selena Gomez responds to people who have been body shaming her
High Schools need to rethink their prom dress codes
Sam Smith had a liposuction at 12 years old because of his body issues
Body positivity advocate Jameela Jamil got called out for being "slim"