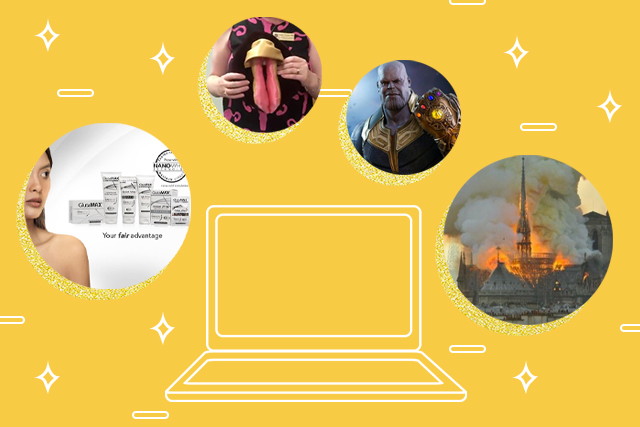 Welcome to another series of stories on Preen.ph called "Best of." Every last day of the month we will be breaking down the best of, well, anything. These will cover different categories like culture and fashion. We will get into specifics like best new liquid lipsticks or restaurants for lunch breaks. Want to know our recommendations for the month for a specific topic? Let us know in the comments section or through Twitter (@preenph) and Instagram (@preen.ph).
We usually highlight all the positives that have happened in the past month in this segment. We're making a tiny exception for April because most of the memorable things occurred on social media—and we all know just how messy the Internet can be.
For this edition of "Best of," we're tackling some highs and lows, and why these conversations became relevant and important to many of us. Yes, even the social media moments that made everyone furious as hell.
The conversation around whitening
Local brands SkinWhite and GlutaMAX received a ton of flak for their tone-deaf ads on social media to promote their whitening products.
SkinWhite tried to send the message that all skin tones were beautiful, but failed to cast actual morenas in their ad. Instead, it looked like they gave light-skinned talents a heavy dusting of bronzer. Meanwhile, GlutaMAX told everyone that if you had lighter skin, you'd have the same "privileges" as them. Um, excuse me?
It's a sh*tty thing to do and it further proves that we have a colorism problem in the Philippines. Thanks to widespread social media outrage, GlutaMAX acknowledged the insensitivity of their ads and issued a public apology. SkinWhite, on the other hand, hasn't budged and still has their promotional materials up. (Any minute now…)
READ MORE: Blackface or not blackface? The online reactions to SkinWhite's controversial ad
Thievery and plagiarism
If we didn't have the Internet, we wouldn't get news immediately about Jeffree Star's stolen concealers and Feanne's art being plagiarized by UK brand, Rixo. These two opened up about how they were affected and why their followers should be wary of people and brands who are making money off of their work. Likewise, we hope they get the justice they deserve for the inconvenience these thieves caused them.
Katie Bouman and the blackhole
Here's the moment when the first black hole image was processed, from the eyes of researcher Katie Bouman. #EHTBlackHole #BlackHoleDay #BlackHole (v/@dfbarajas) pic.twitter.com/n0ZnIoeG1d

— MIT CSAIL (@MIT_CSAIL) April 10, 2019
This smart lady is the reason why we have the first photo of a blackhole. Netizens were also the ones who blasted her photo everywhere so she can be recognized for her hard work. We hope more women like her get this much fanfare, especially since, historically, female scientists are rarely given recognition for their accomplishments. (See: Hidden Figures)
The sadness over the Notre Dame fire
Last April 16 (PHT), the Notre Dame in Paris was engulfed in flames, which saddened several French citizens and netizens who have either visited the cathedral or have yet to see it in person. The 856-year-old structure is still standing and will be rebuilt according to Pres. Emmanuel Macron. Elite personalities like François-Henri Pinault, who owns luxury group Kering, even made donations to help out.
The Notre Dame blaze also brought up important discussions about another religious structure that experienced a fire on the same day: the Muslim Al-Aqsa Mosque in Jerusalem. According to ArchDaily, the fire started in Al-Marwani Prayer Hall and was put out a few hours later.
"What if a similar fate overtook al-Aqsa Mosque in Jerusalem? This building is older than Notre Dame, built by the Umayyad caliphs in the eighth century, and has a long, rich history" | Ghada Karmi https://t.co/wgTiGv0fW1

— Middle East Eye (@MiddleEastEye) April 24, 2019
#DontSpoilTheEndgame
In an attempt to stop Avengers: Endgame spoilers from prematurely spreading on social media, the Russo brothers started the #DontSpoilTheEndgame hashtag campaign. Surprisingly, it worked during the first week. Of course, there were still some who couldn't keep their mouths shut even during opening day (ugh). But we commend everyone who followed the campaign and kept their thoughts off of social media.
The sex ed Twitter thread we all needed
We recently stumbled upon a series of Twitter videos featuring Kelly Grove of the Center for Health Advocacy and Awareness. Here, she tackled how female orgasms can be achieved and why it's important for sexual partners to focus on pleasure in bed. It's an informative thread and one that we'll go back to—perhaps even send to people who need to be reminded.
READ MORE: What's missing in sex ed lessons? Female orgasms
Celebrities who are done with your sh*t
Sometimes people really forget that famous figures are just like us. This April, two interactions stood out with us.
First was Lorin Gutierrez's calm yet assertive reply to a netizen who told her to cover up. "Let's stop with this whole 'cover yourself because your body belongs to a special person' mentality! My body belongs to me and only me," she wrote on IG Stories.
The next one happened just earlier today. It involved Cara Delevingne and Ashley Benson who both told off homophobes on Instagram after they were told disgusting things about their relationship. Yes, queens, don't let anyone trample all over your love!
***
Did we miss a social media moment that you personally loved and/or hated? Let us know in the comments or tweet us @preenph!
Art by Tricia Guevara
For the latest in culture, fashion, beauty, and celebrities, subscribe to our weekly newsletter here  
Follow Preen on Facebook, Instagram, Twitter, YouTube, and Viber
Related stories:
Public Service Announcement: #DontSpoilTheEndgame
Lorin Gutierrez has a message for people telling her to cover her body
Tell me Glutamax didn't just promote "fair skin privilege"
Social media 101: IG Stories hacks you're missing out on