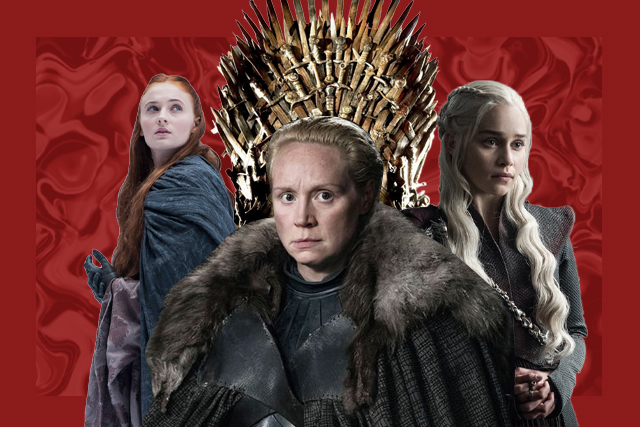 WARNING: This article contains spoilers
The labeling of the immensely popular TV series, Game of Thrones, as feminist has always been up for debate. Especially at the onset of the show, crass objectification of female characters and gratuitous sex and rape scenes were prevalent. But as the show progressed, it became easier to identify it as progressive, what with the number of strong women throughout the series with complex arcs and significant roles—something that's been greatly missing in the genre, and what female viewers are craving for, it seems.
In 2013, data from Nielsen showed that at 42 percent, nearly half of GOT's total viewership are in fact women. Moreover, the women who are part of the fandom are very much included in the discussion surrounding the show. Glamour reported via Wired that women "were having 50 percent of the conversations online about the show, and only positive mentions were counted, so it wasn't negative discourse." And in 2018, there were more women (53 percent)  than men who participated in a survey by fan site Watchers on the Wall.
Gwendoline Christie on how audience input affected women's roles in #GameofThrones: "What they want are more female characters and they want more complex female characters" https://t.co/pwhX7AmHzw pic.twitter.com/YemudQNZjA

— Variety (@Variety) April 4, 2019
In fact, Gwendoline Christie, who plays Ser Brienne of Tarth, told Variety at the season-eight premiere in April that the show has numerous powerful female characters in part because of the overwhelming demand of their female audience. It really did seem like the writers were listening to their audience. In the teasers leading to the final season, we were basically prepped for female power. Yes, we actually don't have a problem with the villains (Yeah, we're including Dany here) being female. It's refreshing to be honest. Certainly not anti-feminist. Plus, the fact that that made Arya kill the Night King—despite expectations that Jon Snow aka the supposed "Prince that was Promised"—gave us hope. But that hope was squished, thanks to the latest episode.
First off, let's discuss Dany and her megalomaniac tendencies. As mentioned, we're not mad at that. Furthermore, it was actually pretty much established in the previous seasons. (Her setting the Tarlys on fire was a HUGE red flag.) We have come to accept that Dany most probably isn't made for the Iron Throne. But it became problematic when Tyrion and Varys discussed how Dany is too "strong" for a husband to control. And I get the allusion to her turning into the Mad King, but for me, the way in which she was portrayed as too emotional to be a leader seemed… off. Especially since we, ladies, have certainly heard that one before. I guess I'm just worried this show would contribute to that long-standing narrative.
Also, if you think that even without his Targaryen name, Jon Snow is the best fit out of all the characters for the throne, we beg to differ. Like The Guardian noted, "Sure, he hasn't resorted to solving his problems with explosions, which is certainly a tick in the plus column, but he's also a notoriously terrible politician." Explaining, "Last time he was put in charge of something he got murdered in a mutiny. None of his major battles were won by him–Sansa bailed him out in the Battle of the Bastards, and Arya saved the day in the Battle for Winterfell." Honestly, maybe the two Stark sisters would be better suited for the throne.
Meanwhile, a lot of people have also criticized the treatment on Sansa's traumatic past. In one scene in the last episode, The Hound mentioned her being "broken in rough," obviously referring to her being raped and exploited by the men around her in the previous seasons. "You've changed, little bird," the Hound told her, to which she replied, "Without Littlefinger and Ramsay and the rest, I would've stayed a little bird all my life." According to The Guardian, by crediting her newfound strength to her abusers, "It undermines a character who has refused to be beaten or defined by her suffering."
Rape is not a tool to make a character stronger. A woman doesn't need to be victimized in order to become a butterfly. The #littlebird was always a Phoenix. Her prevailing strength is solely because of her. And her alone.#GameOfThrones pic.twitter.com/TVIyt8LYxI

— Jessica Chastain (@jes_chastain) May 7, 2019
Actress Jessica Chastain sees it this way too. "Rape is not a tool to make a character stronger. A woman doesn't need to be victimized in order to become a butterfly," she wrote on Twitter. "If the writers don't understand that, how can we trust them to tell Sansa's story properly?"
Glamour additionally noted that that kind of narrative isn't unique to Sansa. "Daenerys Targaryen was serially raped in the first season, then forced to overcome and "grow stronger" from it." Further pointing out, "While many of the powerful female leads' motivations are gendered and based in trauma, the strong male leads on the show, like Jon Snow or Tyrion Lannister, grew more powerful because of their natural ability to lead—they're conversationalists, warriors."
Remember when Sansa was like "you know, it actually was a good thing I got raped and otherwise assaulted and abused all those times, bc now I am a Strong Woman." Interesting. #GameofThrones pic.twitter.com/Xd6klW0dKN

— alanna bennett 😩 (@AlannaBennett) May 6, 2019
I would have rather Sansa been like "it is what it is" to the events that lead her to this season versus basically implying getting assaulted and shit made her "stronger". Just….pitiful.

And def written by a cishet man 🙄

— Clarkisha Kent (@IWriteAllDay_) May 7, 2019
This, here. Abuse and trauma didn't make us stronger. We survived it because we were *already* strong. We are strong *in spite of* those events, not because of them.

— Kaara *Dollar Store Galadriel* (5.5 Spoiler-ish) (@NimueSnow) May 7, 2019
Moving on to Brienne, I am really, utterly disappointed. Just after her proud moment of finally being knighted (which I'm sure affected a lot of other women as it has affected me)—not to mention, seven seasons of badassery—the writers just threw it all away in the last episode by making her play this stereotypical role of a woman clinging onto her man and begging him not to go. I mean, I get that she's a romantic in a sense (after all, the whole reason she's in too deep in the story is, she was heartbroken over Renly Baratheon's death), but that scene of her pathetically crying over Jamie was honestly tough to watch. And as Digital Spy pointed out, it was as if the writers merely used her as a tool "to service Jaime's internal struggle regarding his twisted devotion to Cersei."
All in all, I think most would agree that, simply, the last episode was a reflection of bad writing. Even the one redeeming scene of Arya rejecting Gendry's proposal was for me cringe-worthy. At this point, it's impossible not to mention the lack of women behind the scenes. Back in 2018, reporter Mo Ryan broke down the offscreen gender issue on the HBO series. He revealed that throughout the entire series, only one woman has been tapped as director— Michelle MacLaren—and she has only directed four out of the 73 episodes. And to no one's surprise, season eight is written and directed entirely by men. In the writers room, there have been only two women. Glamour reports, "They had full or partial writing credit in only four episodes, and the last time a female writer was credited was in 2013."
While GOT has managed to create great female characters, it seems the white, male writers and directors running the show are ultimately not capable of giving them justice. We still hope, of course. But with just two more episodes before the series' conclusion, we figure it's best not to expect much.
Art by Tricia Guevara
For the latest in culture, fashion, beauty, and celebrities, subscribe to our weekly newsletter here  
Follow Preen on Facebook, Instagram, Twitter, YouTube, and Viber
Related stories:
The women and the claim to the Iron Throne: Cersei Lannister
Game of Thrones fans theorize battle between Sansa and Daenerys
Why we won't miss the rape scenes and White Walkers on Game of Thrones
Sexist term of the day: Mary Sue