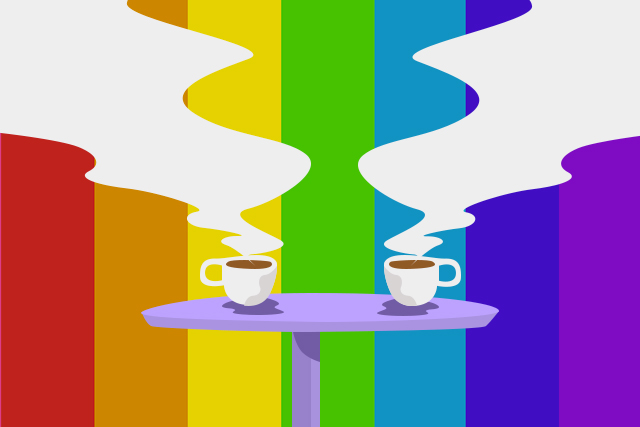 Compared to other countries, it's true we are "gay friendly"–a sad thing really, if you think about it. Because reality is, we still treat gay people like sh*t over here. Makes you think how much they endure in other parts of the world. I mean, even here in our supposedly progressive country, discriminating against the community remains prevalent. Sure, official reports of violence against the LGBT community isn't as common as in the US. But that doesn't mean they don't happen.
In 2014, a Google interactive map, prepared by The Trans Murder Monitoring (TMM) showed that at least 20 trans and gender variant people have been killed in the Philippines since 2008. According to ABS-CBN News, "Naomi Fontanos, executive director of Gender and Development Advocates (GANDA) Filipinas, believes the figures reported in the website are way lower than the actual count of transgender and people of other orientation who were killed in the Philippines." Highlighting,  "A study funded by the UN Development Program and the US Agency for International Development showed that 28 killings involving the LGBT community were tallied in the first half of 2011 alone."
Although perhaps the most publicized killing case was that of transgender woman Jennifer Laude, Naomi actually described that as a "classic case" of violence against a transgender. Noting the lack of laws in the country to protect the community, she further told ABS-CBN News, "'LGBT Filipinos are usually helpless when they are victims of crime in the Philippines. This shows that LGBT Filipinos, in spite of the Constitutional provision on equality under the law, are really unequal in the eyes of the law when it comes to seeking redress or justice."
And in terms of us being regarded as an "accepting" country, she added, "Acceptance for me is problematic because it accords privilege those accepting LGBT people. That is still an unequal relationship. We don't want to be accepted. Instead, we want to be treated as human beings with equal rights as anyone."
Naomi's call for equality is something the queer community has always fought for. Regardless of whatever labels or recognition we've been awarded, the sad fact remains: discrimination due merely to gender identity is an existing danger here. This brings me to a question: Are safe spaces for LGBTQ+ an overlooked necessity in our country?
Last year, a video recording by Jervi Li, better known as KaladKaren Davila, went viral. The clip explicitly exposed a local sports bar and restaurant's discriminatory policies against gays and transgenders. Jervi wrote, "My friends and I were denied entry to H&J Sports Bar and Restaurant in Poblacion, Makati dahil bawal raw po pumasok ang mga 'BAKLA.' HINDI dahil sa DRESS CODE or whatever, pero dahil BAKLA po kami. Totoo ba, dear???" (My friends and I were denied entry to H&J Sports Bar and Restaurant in Poblacion, Makati because they said "gays" are not allowed. [We were denied entry] not because of a dress code or whatever but merely because we were gays. Really, dear??)
The bar's manager later explained that it was a misunderstanding, but the damage had already been done. It revealed the LGBT's plight of constantly being denied entry to an establishment simply because of their gender identity. Like Jervi said, with the incident, she felt like "natapakan yung pagkatao namin dahil di kami pinapasok (we were degraded because we were denied entry) because of our gender identity which I think is a form of discrimination."
With outright discrimination in several establishments, the question of making exclusive public spaces for the LGBTQ+ community thus becomes a tempting and even sensible concept. Them notes that across the US, "queer cafés, mixers, and stores are providing options that aren't gay bars—and that's revolutionary."
True enough, for the longest time, gay bars were the only establishments where the queer community could gather freely and feel a sense of belonging. But like the publication stressed, "for everyone else who identifies as LGBTQ+, such spaces are less than ideal, and for youth and those who are sober or in recovery, they aren't an option at all." Thus, these so called "sober spaces" become imperative in a way.  Although we cannot discount the positive impact of gay bars, like one owner of a sober space stressed, "creating more options, more spaces, for each other" is certainly a welcome development. Additionally, "another bonus to being a sober space is the accessibility for queer people of all economic situations."
Here in our country, there are only limited establishments, such as Fred's Revolucion at Cubao X, which offer a safe haven for the LGBTQ+ community. It's also important to note that they mostly exist within the metro only, and more or less accessible to those with economic capacity.
While I fully support the inception of these public spaces, I ultimately want to say that I think the long-term solution lies within the government. The fact that these establishments even exist in the first place is upsetting, once you really focus on its roots. Our legislators have a huge responsibility in making sure the people they are serving—no matter the gender identity—feel safe wherever they are. It's their right.
In other words, this is why the SOGIE Bill has to be passed, NOW.
Art by Tricia Guevara
For the latest in culture, fashion, beauty, and celebrities, subscribe to our weekly newsletter here  
Follow Preen on Facebook, Instagram, Twitter, YouTube, and Viber
Related stories:
The Safe Spaces Bill was passed in Congress
KaladKaren's experience is proof of how much we truly need the SOGIE Bill
Sen. Loren Legarda calls for immediate passage of the SOGIE bill
Let's continue to show that #LoveIsAllWeNeed for the SOGIE bill