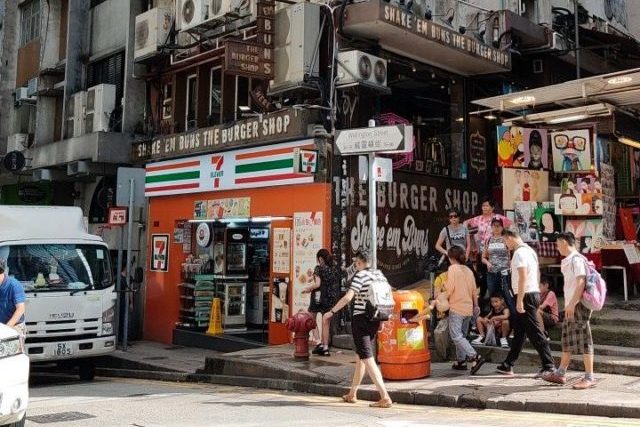 Recently, I went on a solo trip to Hong Kong so I could explore other places I couldn't go to the first time. And no, I didn't go to the über popular spots like HK Disneyland and Ocean Park—saving that for next time.
Hong Kong is divided into three main parts: Hong Kong Island, Kowloon, and the New Territories. Each place can be accessible via public transport—my personal favorite is the subway system, the MTR.
This brings me to my next point: Aside from the fact that I was on the MTR half the time, I was also walking a lot. Not only did this save me cash for food and souvenirs, it also gave me freedom to check out inner streets with the help of Google Maps.
If you're planning a trip to Hong Kong soon and want a quick guide on the places I went to or encountered while walking, check it out below.
Tsim Sha Tsui
TST is located in southern Kowloon and it's considered the "cape on the tip of the Kowloon Peninsula." This is a great place to try affordable food from street vendors and restaurants in the inner roads. And if you walk along Nathan Road a bit, you'll get a gorgeous view of Victoria Harbour and the cityline of Central.
Kowloon Park
The park is located in the middle of TST's bustling city—it has several entrances along Nathan Road and Kowloon Park Drive. It's a tranquil space where you'll find foliage, an aviary, a swimming pool for families, and the Avenue of Comic Stars, where you'll find statues of popular HK cartoons.
Hong Kong Heritage Discovery Centre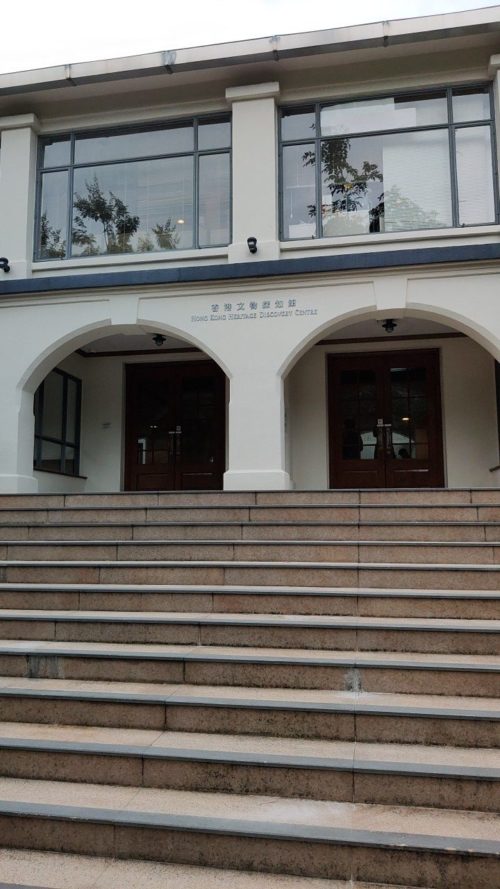 The Hong Kong Heritage Discovery Centre promotes the city's history and culture. Each gallery showcased several Chinese eras with cases showcasing stone pieces, preserved insects, and photos of old homes in Hong Kong. The best part is you can check out the exhibits and the available film screenings for free.
Block 18 Doggie's Noodle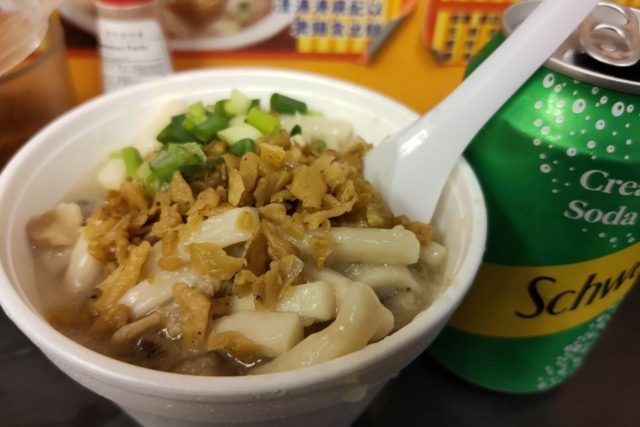 Doggie's in Jordan has recognition from the Michelin Guide for its bowl of fried pork fat noodles with pork skin and radish, and another bowl with roast duck leg for less than 30HKD (around P200). Luckily, you can find a branch along Granville Road—you just have to keep an eye out for their bright yellow sign and the photo of their famous noodles. If I were to describe the dish though, it's perfect for the cold weather and even a hangover meal (it's open 24 hours, BTW!).
Caterking Dim Sum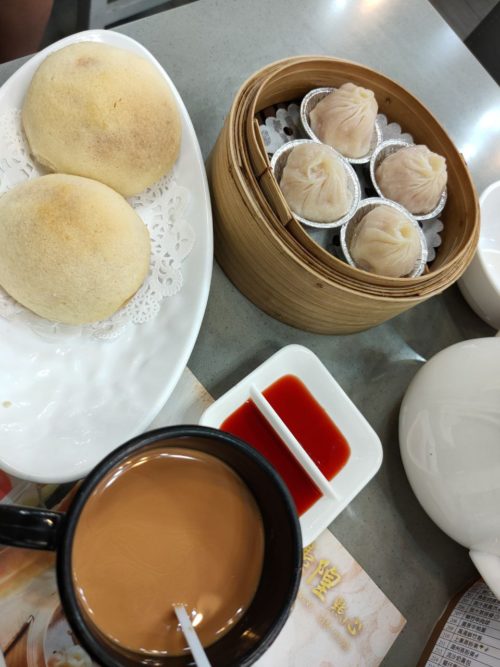 If you're looking for great dimsum and barbecued pork steam buns, then check out this quaint restaurant along Hau Fook Street. When I went there, I ordered xiao long bao, shumai, pork buns, and hot milk tea—it doesn't sound much for a whole meal, but believe me when I say it was a hearty brunch.
Hong Kong Museum of History
Hong Kong Museum of History offers an in-depth look of Hong Kong's prehistoric to modern eras. You get to learn about the type of people who lived in HK's territories, what happened before they gained sovereign independence from the People's Republic of China, and during the British colonization. Make sure you allot at least two hours when you're touring the exhibits because all eight parts are big and there are a lot of historical facts to read.
Old Town Central (Sheung Wan/Central)
Old Town Central is one of the oldest yet dynamic places in Hong Kong. Here, you'll find street art, vintage shops, and food places that you can visit on foot. Fair warning though: There are several uphill roads here, so prepare your water jugs and cardio ability.
Street art
As mentioned, you'll find a lot of street art along the main roads and inner streets. Some of the landmarks in the OTC map show Shingo Katori's art along Shelley Street and the colorful murals along Hollywood Road. It's a feast for the eyes while you're walking from point A to point B.
PMQ
PMQ is a hub of creative and design industries where you can find stores selling clothes, accessories, and other knickknacks. Probably my favorite part of the place was the hidden café inside jewelry store, Loupé, located at the Hollywood Road side. It's quiet, you can hang out inside and in the main hallway to charge your phone while drinking coffee, and you can grab something to eat too.
Dream Tofa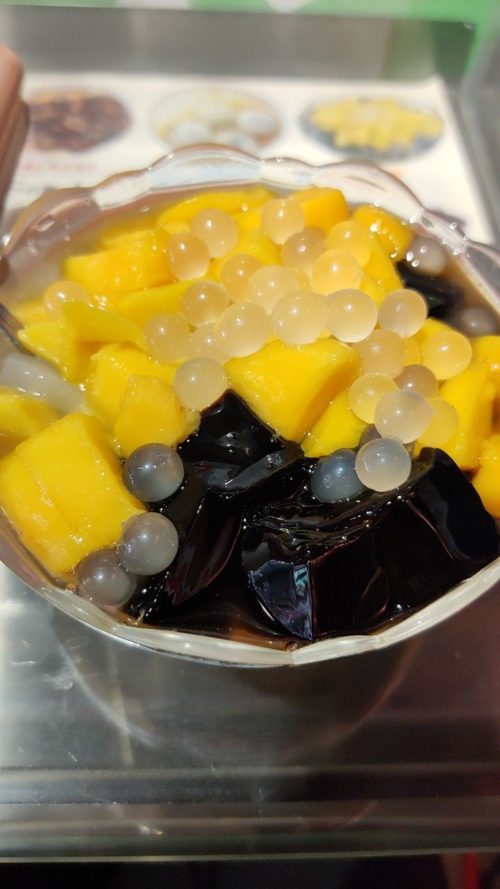 If you're looking for a palate cleanser after trying so many dishes in OTC, stop by Dream Tofa. It's a sweet bean curd place where you can choose variations with different toppings. I got the Mango Combo which had mango chunks, popping boba, nata de coco, grass jelly, and sweet syrup.
Prince Edward/Mong Kok
The area of Prince Edward and Mong Kok is known as a major shopping area in Kowloon. Aside from affordable clothing, you can also find a variety of street food and fresh markets. If I had any regrets during the trip, it's that I didn't try all the curry fish balls and dried squid that I wanted.
Kam Wah Café and Bakery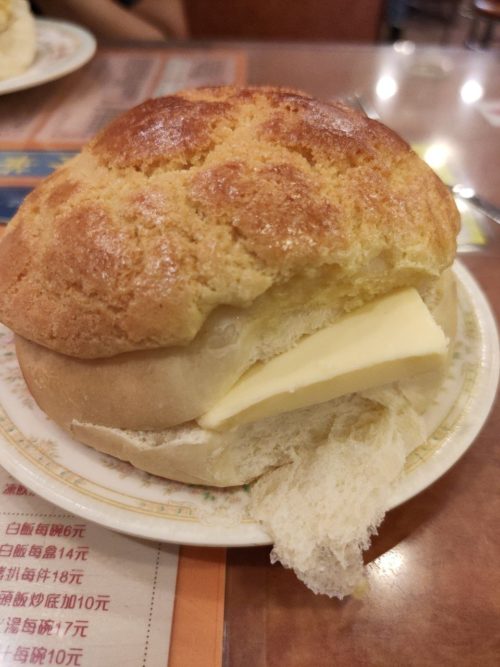 Kam Wah is known for its warm pineapple buns (which isn't made with pineapples) with butter that's a popular breakfast and afternoon snack choice. If you don't have a big appetite, the portion can be good for two people. My advice? Try it with their yuenyang (pantyhose coffee with HK milk tea). You'll be energized throughout the rest of your stroll.
Ladies' Market
This street reminds me of the Divisoria stalls in Manila. Each vendor sells discounted items from clothes to trinkets. Don't go there if you're not planning on doing a full-on shopping spree because you will be tempted.
Photos by Jacqueline Arias
For the latest in culture, fashion, beauty, and celebrities, subscribe to our weekly newsletter here  
Follow Preen on Facebook, Instagram, Twitter, YouTube, and Viber
Related stories:
Take this Wan Chai Ghosts tour when in Hong Kong
Kryz Uy's favorite Hong Kong souvenir involves a raw salmon phone case
Hong Kong proved that women in revealing clothes don't cause rape
Listen, solo travellers: Affordable rooms aren't always the best