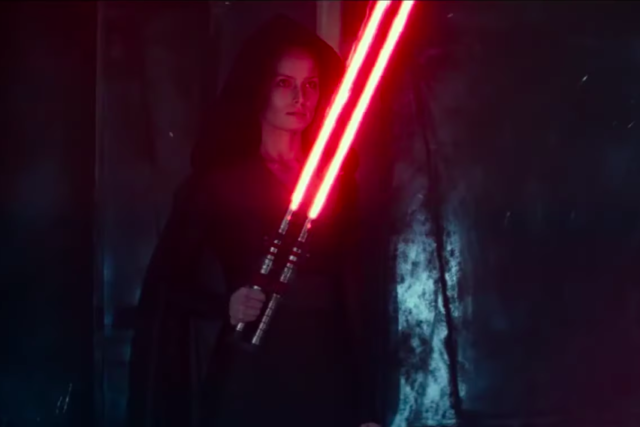 Oh, no. It seems like Star Wars: The Rise of Skywalker is going to have another "Join the dark side" moment. Rey, the Jedi-to-be whose origins are still a mystery since she appeared in The Force Awakens, was shown wearing a dark cloak and wielding a red double-ended lightsaber—basically the starter pack for any Dark Lord.
The new footage premiered on Good Morning America a couple of hours ago. This comes days after fans got an exclusive sneak peek during the D23 Expo. Daisy Ridley, who plays Rey, said at the Disney panel that they "explored some things" while filming The Rise of Skywalker.
Polygon theorized that the "Dark Rey" transformation may be connected to the character's visit to the mysterious cave in The Last Jedi. Here, she asked the Force who her parents are, but instead saw several reflections of herself like it was a circus attraction. Director Rian Johnson explained this was similar to Luke Skywalker's Empire Strikes Back scene where he confronted a vision of Darth Vader while in a cave.
"The idea was if the up top is the light, down underneath is the darkness. And she descends down into there and has to see, just like Luke did in the cave, her greatest fear. And her greatest fear is [that], in the search for identity, she has nobody but herself to rely on," he said.
Another theory could be that Dark Rey is a clone. If that's the case, it's possible the real Rey will have a face-off with her. (I'd pay good money to see that!)
What do you think of Dark Rey?
[
CNET
]
Screengrab from YouTube 
For the latest in culture, fashion, beauty, and celebrities, subscribe to our weekly newsletter here  
Follow Preen on Facebook, Instagram, Twitter, YouTube, and Viber
Related stories:
We'll be seeing Carrie Fisher as Princess Leia in Star Wars: Episode IX
I wanted to do my makeup like Emilia Clarke after watching Solo: A Star Wars Story
Women become a force to reckon with in Star Wars: The Last Jedi
Louboutin designed the Star Wars heels you always wanted