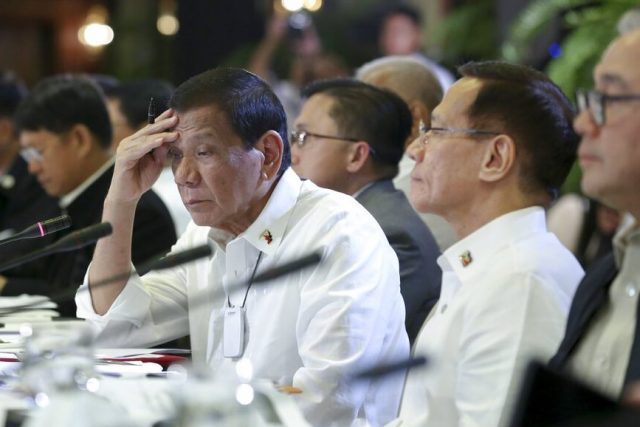 While many of us were sleeping, the House of Representatives and the Senate approved a bill on Tuesday, Mar. 24,  granting President Rodrigo Duterte the "necessary and proper" powers to adopt "temporary emergency measures" to deal with the COVID-19 outbreak in the country.
Also known as the Bayanihan to Heal as One Act (Senate Bill No. 1418), the bill seeks to place the country under a state of national emergency due to COVID-19. Once signed into law, some of the the additional powers that will be given to President Duterte will include:
Allocating funds and investments held by any government-owned or controlled corporation (GOCC)
Directing the operation of privately-owned health facilities and other establishments
Directing the operation of public transportation of frontline personnel
Expediting and streamlining accreditation of testing kits
Facilitating prompt testing of PUIs (person under investigation) and PUMs (persons under monitoring), as well as compulsory isolation and treatment of patients.
Amendments to the bill were also made during the Senate hearing. These include providing financial aid to health workers affected by the coronavirus and directing PhilHealth to shoulder all expenses of public and private health workers.
The bill passed the House with a 284-9-0 vote and the Senate with a 12-0 vote. The powers given to Duterte will only be effective for three months "unless extended by Congress." Luzon is currently on enhanced community quarantine until Apr. 14.
As of writing, many netizens woke up to the news of the president's emergency powers. Most of them were confused as to why the president needed so much power to address the pandemic.
Hindi talaga natin mawari bakit kailangan ni Duterte ng emergency powers. Akala mo naman may ginagawa siya.

— LA #OustDuterteNow (@Iancealvin) March 23, 2020
medical supplies and basic necessities. We asked for medical solutions, they have given us the burden to take care of ourselves.

With 12 plenary affirmative votes in favor of the proposed bill, the Congress has granted Duterte emergency powers to address the COVID-19 crisis.

— KALikha – UP Diliman (@KALikhaUPD) March 23, 2020
ang bilis ng pag-grant niyo kay duterte ng emergency powers pero sa pagtulong sa mga mamamayang pilipino ang kukupad niyo. sa puntong ito, tanging may kapit at kapangyarihan lang ang maliligtas.

— syd 🍔 (@___kirstin131) March 23, 2020
Giving Duterte more power is unconstitutional.
Other leaders and LGU walang emergency powers but they're doing good. Hahahah.

— Jenny (@jenrei_) March 23, 2020
Good morning, Philippines! Your @HouseofRepsPH and @senatePH just voted, with overwhelming majority votes and almost minimized opposition, to grant the Executive under Duterte emergency powers as we deal with the COVID-19 pandemic.

Goodluck. #NoToEmergencyPowers #OustDuterte

— karl #DuterteTraydor (@eicvsfascism) March 23, 2020
In the days leading up to the House and Senate hearings, both Malacañang and Senate president Tito Sotto denied that Duterte would receive emergency powers if the bill would be passed into law. On Mar. 22, presidential spokesperson Salvador Panelo told reporters that Duterte will get "powers necessary to carry out urgent measures to implement the national emergency, not emergency powers."
On Mar. 23, Sotto assured the public that he didn't put "emergency powers" in the Senate bill and that they shouldn't be afraid.
What are your thoughts about the bill and Duterte's additional powers?
Photo courtesy of Inquirer.net
Follow Preen on Facebook, Instagram, Twitter, YouTube, and Viber
Related stories:
Pres. Duterte made a misogynistic joke in his COVID-19 address
#NoToVIPTesting: On politicians abusing their power to get COVID-19 tests
The country needs to conduct mass testing now
PSA: Hold the government accountable for COVID-19 response