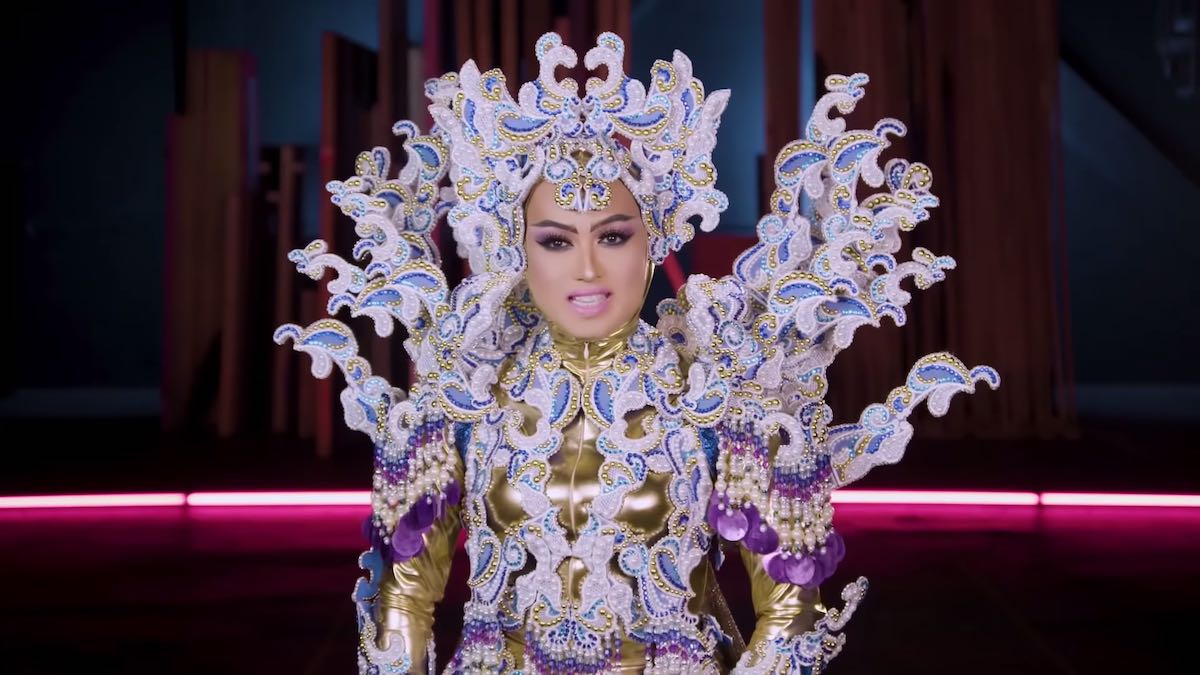 Man the bells, sound the alarms: While we're still left in the dark about how exactly "RuPaul's Drag Race" season 12 is going to play out (given that since season four, the queens are crowned in front of a live studio audience after the rest of the season is aired), World of Wonder has given us fans something else to chew on by ruvealing the queens of "All Stars 5." 
You've read the title, you know where I'm going with this, but let me list down all the other (deeply talented and amazing!) competitors first. Season two's Laotian babe Jujubee is back as well as season three's Alexis Mateo, making them the third and fourth "All Stars 1" queens to return to "All Stars" after last season's Manila Luzon and Latrice Royal tandem. It's also making it crystal clear that the show's agenda to make a soft reset on "All Stars 1" is still very much happening.
There are two other queens from season three: India Ferrah, who also acknowledges that she's unfairly known as the queen that Mimi Imfurst lifted up, and ball scene legend Mariah Paris Balenciaga, who had a stint as a "RuPaul's Drag U" drag professor. 
There are no more queens from the Form Decor Interior Illusions era, and the roster jumps to season eight with villain edit victim and Britney Spears super fan Derrick Barry, who seems to be introducing a "I'm not Britney, I'm my own person now" storyline with her entrance. Season nine's non-binary icon Shea Couleé is also here, as well as three queens from season 10: Blair St. Clair, who's kinda having a Sandy from "Grease" moment that I'm living for, Mayhem Miller (I don't have much to say about her because she left too early!) and "time for dinner!" Miz Cracker. 
(BTW, did you know that Miz Cracker writes regularly for Slate? I learned that a year ago and I haven't recovered since. She was the one behind this viral piece about "Call Me by Your Name" not being a gay movie.)
Now. Let's talk about Ongina.
Ongina is a lost season queen, appearing on the very first season of the show. She's also FilAm (she's from QC, y'all) and her previous drag name was Pekpek Galore. From the beginning she was a genderqueer hero, unapologetically rocking a bald head and an experimental club kid form of drag. She's also the person who gave the show its first two major emotional moments, which elevated "Drag Race" and served as proof of concept that there was a point to dedicating a reality show to drag queens. 
The first one "is still cited as one of the series's most impactful moments." Ongina wins the Viva Glam challenge by presenting a positive spin on HIV awareness. "Celebrate life," she uses as her slogan. After hearing Ru announce her win, she breaks down and on national television confesses that she is HIV positive. It is the most authentic and touching moment the series has ever had, one that was so radical and moving. 
(If you're a jaded fan like I am, you'll note that this moment is something that Ru has been trying to recreate ever since.)
The second is her elimination, when Ru tells her to sashay away in favor of Bebe Zahara Benet, who in two episodes would go on to win the season. 
"Ongina, the first time I saw you I thought you could walk away with this competition. You know why? Because you're a winner, baby. And I know you'll take that with you wherever you go. Though this breaks my heart to say, sashay, walk away," Ru tells her.
I love Bebe to bits, and I really am glad she won, but Ongina is unequivocally the original robbed queen. She more than anyone deserves a spot at "All Stars," save for maybe Shangie and Porkchop, who also desperately needs to be brought back. They even did a kinda bait and switch in the first "All Stars" by having her and Porkchop make an appearance, but as drivers taking the top queens to their gigs. The audacity!!!
I'm glad the show has finally, finally given her her due, even if it did take 'em 11 years and five "All Stars" seasons to do it. 
Also? What an entrance. "So you thought I'd never get here. Sorry, I was stuck in traffique," Ongina says as she steps into the werkroom in a jaw-dropping piece by fashion designer Patrick Isorena, who has previously designed the national costumes for our beauty pageant contestants. 
"Inspired by the 7,000 plus islands of my beautiful country the Philippines. The one known as, "The Pearl of the Orient Seas!" It represents a mix of my Filipino heritage and my life across the Pacific," she writes on her IG page. "The silhouette was taken from our female, Filipino superhero, Darna, but exaggerated for drag to represent beauty, strength and individuality."
Suddenly I'm deceased? Suddenly I don't care about whether or not Gigi Goode wins season 12 anymore?
Featured photo is screen grabbed from the "All Stars" five Meet the Queens
Follow Preen on Facebook, Instagram, Twitter, YouTube, and Viber
Related stories:
'RuPaul's Drag Race' S12 isn't safe from controversies
Thoughts on watching Sherry Pie in 'RuPaul's Drag Race' S12E2
Shangela, Eureka and Bob the Drag Queen's makeover show is having a digital premiere kiki
Friendly reminder: Drag has always been political, #periodt