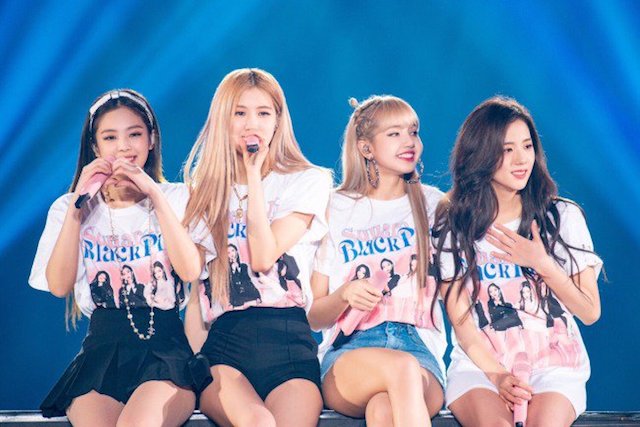 It's an inside joke among K-pop fans that Blackpink fans are always starving for new content. But this year, things are finally looking up for Blinks. YG Entertainment tweeted the comeback teaser posters for the group's single pre-release today and we want to see them hung in The Louvre. Despite the half-covered faces, the girls' Vogue-worthy poses scream power. In the tweet, the entertainment company also announced that they will be dropping the track on June 26. 
#BLACKPINK COMEBACK TEASER POSTER 

Pre-Release Single
✅2020.06.26 6PM#블랙핑크 #JENNIE #제니 #JISOO #지수 #LISA #리사 #ROSÉ #로제 #PreReleaseSingle #Comeback #TeaserPoster #20200626_6pm #Release #YG pic.twitter.com/EDzHwKHluh

— YG FAMILY (@ygent_official) June 15, 2020
Apart from new music, fans can look forward to getting more glimpses of the members in their new reality show "24/365 with BLACKPINK." Will it be similar to their previous variety show "Blackpink House" which aired back in 2018? We'll have to wait and see.  On June 13, Blackpink released a prologue video for the show. Jennie, Lisa, Jisoo and Rosé were careful not to reveal too much but shared that the vibe of the upcoming release is hipper and reminds them of King Kong. That definitely piqued our attention. The girls also talked about their recent activities during the quarantine. They promised that we'll be discovering more about their day-to-day experiences in the next episodes.
#BLACKPINK '24/365 with BLACKPINK' Prologue

🎥https://t.co/AlkbMPJSr7#블랙핑크 #24_365_WITH_BLACKPINK #PROLOGUE #YOUTUBE #YG

— YG FAMILY (@ygent_official) June 13, 2020
The date of the group's comeback has been pushed back several times but with the teaser posters out, fans can finally breathe easy with the knowledge that they'll be streaming another song besides "Sour Candy" soon. Still, YG Entertainment owes us another update. When are we getting the full-length album? 
Update: We have a name for the pre-release single and new visuals from the girls. On June 16, YG released the first title poster for the group's pre-release single "How You Like That" and released the second poster one day after. We got two new looks from the girls that tease this comeback's new concept. Could this also mean a possible music video for the new single?
#BLACKPINK 'How You Like That' TITLE POSTER

Pre-Release Single
✅2020.06.26 6PM

#블랙핑크 #LISA #리사 #ROSÉ #로제 #JISOO #지수 #JENNIE #제니 #HowYouLikeThat #PreReleaseSingle #TitlePoster #20200626_6pm #Release #YG pic.twitter.com/rUZgh4EHFT

— YG FAMILY (@ygent_official) June 16, 2020
#BLACKPINK 'How You Like That' TITLE POSTER #2

Pre-Release Single
✅2020.06.26 6PM#블랙핑크 #ROSÉ #로제 #JENNIE #제니 #LISA #리사 #JISOO #지수 #HowYouLikeThat #PreReleaseSingle #TitlePoster #20200626_6pm #Release #YG pic.twitter.com/pTlb7QL8x3

— YG FAMILY (@ygent_official) June 17, 2020
Photo courtesy of Inquirer.net
Follow Preen on Facebook, Instagram, Twitter, YouTube, and Viber
Related Stories:
We have a date for BLACKPINK's comeback and we hope it's final
BLACKPINK Lisa's manager got away with about P41 million of her money
Blackpink's comeback has been pushed back—again
Get the look: The sweet and bold style of Blackpink's Lisa