We live in a world where being alive is political and stating that everybody deserves a good quality of life is sometimes met with disagreement. It's frustrating to say the least but knowing that you're not alone in wanting to change this and hearing about the different steps people are taking to make the world a safer place is a big comfort. For the LGBTQ+ community, Pride month is a time to better amplify initiatives connected to LGBTQ+ welfare and rights. 
In 2020, a growing number of people are dedicating their energy to provide more platforms for the LGBTQ. Take gay social app Blued for example. Recently, Blued Philippines launched a campaign that aims to provide insightful conversations where Filipino gay men could engage in and learn from on their platform. Blued Philippines' country marketing manager Evan Tan said, "#Let'sTalkOnBluedPH is a continuation of our mission to inspire, educate, and empower Filipino gay men to live their best lives not just for themselves, but for the society at large."
The community discussions series will be aired live via the Blued app and led by key LGBTQ+ opinion leaders. For its media launch on June 10 via Zoom, Blued invited Filipino drag queen Vinas Deluxe, creative director Vince Uy, photographer BJ Pascual and representatives from their beneficiary organizations. We got a taste of the online chikahan with event host Mela Habijan and some of our favorite LGBTQ+ creatives. Here's a peek at the type of conversations you could be having on Blued's live chats.

A still of Mela Habijan on #LetsTalkOnBluedPH's Zoom launch
Mela: Very common in the gay community ang ma-shame ka because you're effem(inate) or you're [a] bottom, 'di ba? Kayo ba, Vince and BJ, na-femme shame na ba kayo?
BJ: Ako a lot. Parang it's been a whole journey dito sa shaming na 'to. Kasi in the beginning, syempre starting Instagram, people would only see me through Instagram. I mean, yung mga people na hindi ako kilala in real life. So it's just the picture that they see. And when they see me talk—biglang may video—parang nagugulat sila. Parang "Oh my god, yung itsura mo ganyan tapos yung boses mo, boses kiki ka." Ganyan. Kahit naman before pa ng social media age, I would get a lot of shame for my voice. For having a gay voice. It's always been a point of struggle for me. There was a time na kinahihiya ko sya. I wouldn't post videos talaga. Ngayon naman I post yung mga pa-yummy na pictures—
Mela: Which I like ha. Ang sarap-sarap mo ngayon, Tita BJ.
BJ: So kunwari pinopost na sya ng mga thirst account. Nirerepost yung mga pictures ko. Syempre magcocomment yung mga tao doon. "Eh, malambot naman yan in real life." Ganyan. So parang, paano ba dapat magpose? Dapat ba kapag nakahubad ako, nakakembot din ako? So it's hard. Parang now naman, I've recently been masc-shamed naman. This whole quarantine, syempre nakapambahay lang naman ako all the time sa mga [IG] stories. Lagi akong naka-gym outfit—yun lang kasi yung ginagawa ko dito sa bahay since walang work. I got a tweet na basically masc-shaming. "Oh ngayon, pa-masc masc ka na ngayon. Kinakahiya mo na yung pagiging effem" blah blah. Parang ako, hindi naman. Hindi lang ako makapag-outfit ngayon kasi wala naman aawrahan ngayon.
Mela: So, na-femme shame ka, na-masc shame ka. Saan ka lumugar?
BJ: [Laughs] Wala. Kung ano lang feel ko. You don't have to be pressured by anyone to be a certain way. It doesn't matter what other people say. Madali siyang sabihin, alam ko. Syempre nakaka-affect, but it's a journey to self-acceptance. Yung coming-out, parang maraming stages yan eh. For me, when I came out parang sobrang out ko agad. I was super proud of it and then I got comments na parang, "Masyado ka naman atang out there." At some point, nag-hold back rin ako. It took a while for me to realize na okay lang.
Mela: Do you also share that, Vince? It doesn't matter what other people think?
Vince: Ako, I'm so over it. Obviously ako ibang generation than Beej. So, medyo malayo ang generation gap namin.
Mela: Hindi halata!
Vince: Ako nung time ko, it was also hard. Because when I came out, I had no notion that gay men can be masculine.
Mela: Oh, talaga?
Vince: And I remember na during my first group eyeball,⁠—
Mela: Ang taray ng group eyeball!
 Vince: Oo! Ganun. Wala talaga. Wala akong community noon. That's why now I appreciate this, what Blued is doing, because you are creating a community. Kasi I had none. I had no one. So, imagine me stepping into a restaurant. Pagpasok ko, sabi ko, "Oh my god. Lahat kayo guys." Tapos sabi nila, "Yeah. Eh, bakla kami so we're guys." Ako my notion was, pag bakla ka—yung concept mo of how it is was how gayness was portrayed on TV. Like parlorista, ganun yung notion ko. So I was so afraid to come out. Kasi it made me question na, "Ganun ba ako?" And then I realized na if I'm masculine or feminine, that's me. It took me a while to get there. I know how important it is to have a support system that will really encourage you or inform you of these things. Kasi ako, I didn't have that back then eh.
Mela: Ang sabi nga ni Jebby ngayon [through chat] eh, "I think it roots sa fact na ang toxic talaga ng masculinity na if you act within the boundaries of what society thinks a female is, mahina ka na. Malamya ka na. Sobrang unfair to women and their strength."
Vince: True. Exactly.
Mela: Some men in the gay community think that being gay is at the top-most level of the LGBTQIA+ community. Yan pa yan. Kaya maraming mga gay men ang phobic. Phobic sa lesbiyana. Phobic sa transwomen. Phobic sa lahat.
BJ: Totoo.
Mela: Kayo, anong stand niyo dito?
BJ: The sad part is yung nagpeperpetuate rin ng ganitong notion is tayo-tayo lang din. If you look at yung comments sa section sa mga thirst accounts, grabe yung effem-shaming dun. Dun ako nagrereact eh. Usually kasi dinededma ko na lang because I get it so much. But pag yung mga comments sa public forum na parang may picture ko about my body blah blah blah and then yung comment "Eh, malambot naman yan in real life." Sasagutin ko talaga sya. "Eh, ano ngayon?" Ganun. I react differently to these things. I choose my battles syempre. If it's someone I know, I will correct them. Pag yung mga trolls lang na accounts talaga, di ko sila pinapansin.
Mela: Vince, have you corrected someone, especially kung gay man siya? Have you ever corrected him kasi ang baba ng tingin nya sa lesbiyana, sa trans?
Vince: Yes!
Mela: What happened?
Vince: Kasi, parang I see to it. Kasi ako, I always say that you have to start within your circle. And it's important to have these conversations with your friends. Like ako, ang dami kong gay friends. Kwarenta yata kaming magbabarkada na mga bakla.
Mela: Isang section!
Vince: Isang class! Ganun. Alam mo yun? You have to initiate these conversations and you have to correct them with the right term. Kasi sa akin, I think it's very important right now that we constantly educate ourselves. Ako mismo, I'm still educating myself. Kasi constant urge yan to better yourself. May instance na we were at a PR and meron kaming barkada na trans. Nung naglakad sya, parang sinabi sa kanya, "Dito po, sir." So yung mga barkada ko tumawa. Talagang dinagukan ko talaga sila. Actually, bago ko sila dagukan, kinorek ko muna si guard. Sabi ko, "Ma'am po siya. Hindi sir." Tapos kinausap ko yung mga friends ko na, "Guys, ano ba! Hindi ito joke." Alam mo yun? May instances lang na parang you have to consider reminding everyone din within your circle. Even sa family, constantly reminding them na these are the terminologies. Ganun.
We are rarely given the chance to have intimate conversations with industry leaders on topics that are pressing but sometimes avoided even within the LGBTQ community. Of course, we don't have to wait for opportunities like these to come up before we push ourselves to speak up. Still, a little inspiration can come a long way. The bi-monthly sessions are going to be held until November this year. The topics will range from fighting social injustice to improving home cooking.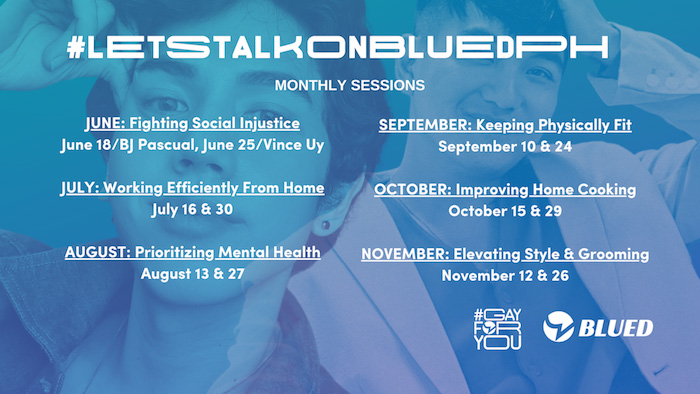 Tan shared how #LetsTalkOnBluedPH aims to go beyond covering queer lifestyle. To champion and echo advocacies through the app, they partnered with Home for the Golden Gays (HGG), the AIDS Society of the Philippines (ASP), and the Society of Transsexual Women of the Philippines (STRAP). "Since pumasok nga yung pandemic, yung quarantine, we realized na we can give a bigger purpose to this campaign, which is helping members of the LGBT community who have been affected," Tan added.
The seniors of the drag community are some of the worst hit financially during the quarantine. HGG's president Mon Busa narrates, "Yung mga pinagkakakitaan naming araw-araw at yung mga oportunidad para kumita, lahat nawala yun. Kasi nga lockdown completely, hindi kami makalabas. Walang transportation, bawal ang mga seniors bumaba. Kaya talagang napakahirap para sa amin na suportahan ang mga pangangailangan namin sa araw-araw."
Program officer of ASP Vashti Rebong revealed that they have been working hand-in-hand with STRAP to extend help to transgender women who have been feeling disenfranchised as well. "Ang pinaka-immediate na kaya nating matulungan ay ang economic concerns nila. That's why nagkaroon kami ng fundraising initiative in partnership with STRAP, to raise funds for our sisters. And we will be giving out cash aid to them," said Rebong.
Aside from their initial donations, Tan said that Blued will be asking their featured opinion leaders to donate directly to the three organizations which are Home for the Golden Gays (HGG), the AIDS Society of the Philippines (ASP) and the Society of Transsexual Women of the Philippines (STRAP). Join in on the conversations and give these LGBTQ+ groups some love.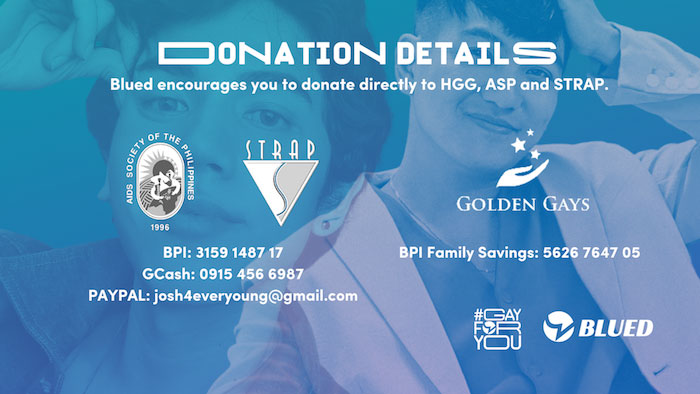 Photo courtesy of Blued Philippines
Follow Preen on Facebook, Instagram, Twitter, YouTube, and Viber
Related Stories:
Power to the parlorista! We kiki'd about Zsazsa Zaturnnah with her creator
This local org is pushing for safe spaces for this year's Pride Month
Read 'em and weep: The free, queer books that will prep you for Pride month
Celebrate Pride month with this screening of 'Ang Huling Cha-Cha ni Anita'